We only have a small four game slate here for Wednesday, so it feels like a day where the stars and scrubs roster construction is best. We will see a lot of overlap tonight with so few options and some that really stand out as top plays. Here is a list of those that stand out based off my view of today's games.
Point Guard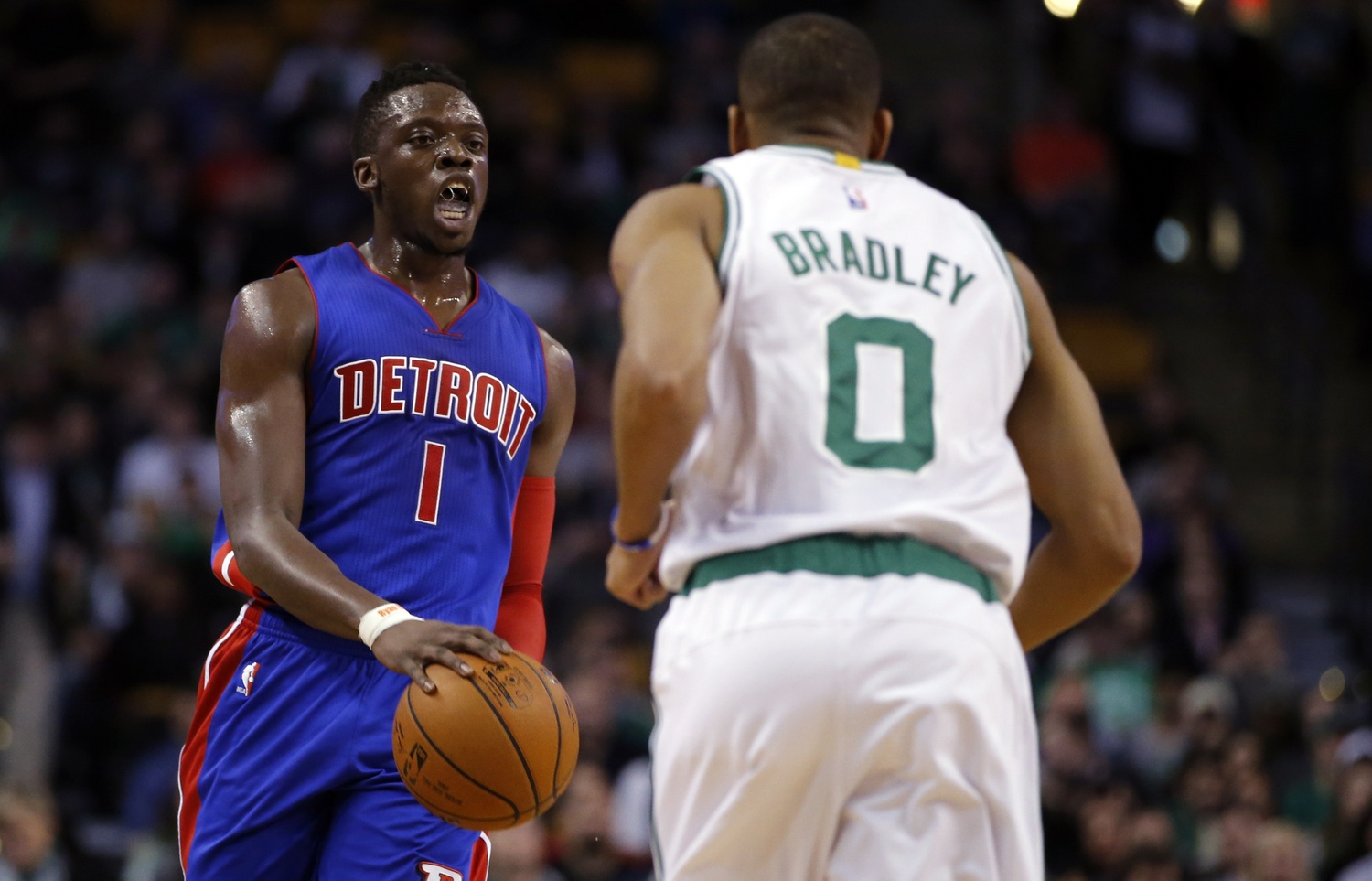 Stud
Reggie Jackson ($6800) – R-Jax has a lot of things going his way today. His price has come down which is a big positive for his value, and his production should be going up. Kentavius Caldwell-Pope left the last game with an injury and will probably miss tonight. That means more minutes, shots, and usage for guys like Jackson, Jennings, and Johnson. The Knicks are not as good as the numbers may indicate at stopping point guards, especially in some of their more recent games. Jackson had a tough matchup with a Celtics team that has stopped point men all season in his last game, so this should be a much softer spot. With the increased production he should see with KCP out, the price here is too low not to use him when the top priced options are not in great spots.
---
Small Slate Stars
---
Value
Patrick Beverley ($4900) – Bev has always been known for his defense, but his minutes and recent production make him a viable option at the point today as well. His price has jumped from the low $4000 range, which is not ideal, but it is warranted as he has produced 25-30 fantasy points in 6 of his last 7 games while averaging over 30 minutes. The matchup with Phoenix is one of the best in the league as they play fast and have struggled to defend everybody. He is a solid cash game option with a pretty safe floor in the low to mid 20s and can also give you some upside into the low 30s which would make him a supreme value at over 6X.
Brandon Jennings ($4000) – The guy that you can look at here for tournaments is Brandon Jennings. The Pistons played KCP a ton of minutes, so with his injury we should see some more minutes for Jennings, who may even be on the floor with Reggie Jackson at the same time now. Jennings was a guy who was fantasy relevant two years ago before he missed most of the season and the start of this one with an injury. At only $4K and with a huge minutes bump coming, he is an intriguing GPP play. He is not an option for cash games as we really are not sure how this works out, but he could make for a nice low owned swerve with the potential to pay off big in tournament play.
---
Shooting Guard
Stud
James Harden ($10800) – Harden is the only must play I really see on this slate. The matchup with Phoenix is ideal as they play fast and struggle to stop people, but that is not the main reason why I think Harden is a must play. Neither is the fact he went for 53 or more fantasy points in 7 of his last 8 games. The real reason I love him is positional scarcity. You can make a viable case for a solid player with a good price at every position but center and shooting guard today. The top priced options at both those spots are clearly head and shoulders above the rest of the field. Whenever I can not find a viable safe cheap option in a good spot it forces me to pay up for the stud. I think the shooting guard position today is one of those spots. Plus it is tough to cash on a small slate when you miss out on a monster game and Harden has been the guy with the most monster game potential on this slate so far this season.
Devin Booker ($6000) – Booker and teammate Archie Goodwin are priced about the same and both eligible at SG. I debated the two and think I like Booker slightly more. Booker has been very consistent since taking over the role. He has scored a minimum of 4.6X value in all of his last 8 games with half of those being big upside games that have touched 6x+. He faces a fast paced Rockets team and draws some James Harden defense which we have been picking on all year long. Goodwin may have more upside, but he is not nearly as consistent or safe with his production or his minutes. I would not argue people going Goodwin over Booker in GPPs if they choose to, but I'm comfortable with Booker in tournaments too and he is the superior cash game option.
Value
Langston Galloway ($5000) – With Jose Calderon out, Galloway has started and produced nicely at the point guard spot. He does not have huge upside, and that is especially true now that the price has jumped. He has still managed to crack 35 fantasy points in 2 of the last five, with 25-30 in two others, and one bad game against a good defensive Celtics team when it comes to point guards. He is playing about 31 minutes per game with no Calderon, so he is has a solid projection of 25-35 fantasy points if that is the case again. That may not sound great but it would be a 5X-7X return and make him one of the better value options on the day.
---
Small Forward
Stud
Carmelo Anthony ($8500) – When I first looked at this slate I thought Melo was going to be the same as James Harden with respect to opportunity cost. I did not see anyone I loved in the cheap section and was thinking that would force me to play Melo at the position. With some recent injuries though, that is no longer the case. I do think Melo is still likely to be the highest scorer at the position, but I do not think he is the best value per $ at his elevated price and with his dip in production. Sure Melo has still put up 40-50 fantasy points over the last three games since returning from injury, but that is barely reaching value for a guy priced at $8500. If we did not have some viable cheap options, I would be forced to play him, but I think you can get some value now at SF, so unless you think he outscores guys like Harden and Brow, it makes more sense to save here and pay up elsewhere.
Value
Stanley Johnson ($4400) – Stanley Johnson was the one viable option I was kicking around to use over Melo and the KCP injury only helps vault him to the top of my rankings for today. Johnson had already seen his minutes bump up into the 30 range, and that should be steady or climb higher with KCP out. He has also been consistently putting up around 10 points with a few rebounds and other stats added to it. Those also should climb with the minutes and increased usage he will see now. $4400 is a nice price for a guy who is on the upswing and should be seeing bumps up across the board. I like him a lot for a safe 23 points for cash and think he has 30+ point upside to use in GPPs as well.
Corey Brewer ($4000) – Brewer is also a viable option now as the Rockets injuries pile up. Dwight Howard returns from suspension, but Terrence Jones, Motiejunas, and Capela may all be out for this game. That means we will see a lot of Josh Smith, Corey Brewer, and Trevor Ariza playing that four out, one in (Howard) offense that NBA teams have been using. Brewer lacks huge upside and is very erratic. I expect him to see 30+ minutes here, but he has both done well and struck out with the same number of minutes in other recent games. Phoenix is uptempo and bad defensively though, so I think he does have some merit here, but mostly for tournaments.
---
Power Forward
Stud
Anthony Davis ($10000) – Davis is a polarizing figure for me today. On the one hand he is playing well and is priced fairly. He has scored at least 40 fantasy points in the nine games since returning from injury, so his floor is safe. He finally broke out to the upside for a 60 point fantasy game in his last outing and he draws a great matchup with a horrible Lakers defense in a high total game. He is very likely to be the top scorer at the position on the day and one of the top 5 scorers overall. On a value scale though, he basically is averaging just shy of 5X for the price. Plus you always have to worry about him setting a screen and missing two quarters of the game while being in the locker room. I'm not going to call him soft and make fun of him like others do, because he is an elite athlete and a great player, so he is far from soft. As a DFS player though, I would be lying if I said I was not concerned. It comes down to a question of would you rather pay up for Brow or Harden here to me and I just look more at the upside, durability, and consistency of the Beard and it's higher than the Brow.
Markieff Morris ($5700) – Another reason I can talk myself into coming off Brow is because of Markieff. Markieff is still priced like the guy in coach Hornacek's doghouse, but he is not that guy anymore. The new coaching regime talked about reinserting him into their offense and making him a focal point of it. He saw 41 minutes in their last game finally and rewarded the coaches with 58 fantasy points for having some faith in him. That means not only is he a better value at the discounted price of $5700, but he also has a chance to get near or surpass the score Brow can put up today. If I can get the same upside for $4300 less, I think I would prefer to do that and use the money to get a stud somewhere else. That's why Morris is my top play and will be incredibly highly owned in cash and GPPs.
Value
Josh Smith ($4800) – Motiejunas has been out, Capela is banged up and will likely sit, and news came last night that Terrence Jones was in a car accident and will also miss this game. Dwight Howard is back, but the only real power forward left on the roster now is Smith. Sure they may go small ball with some Ariza and Brewer at the forwards, but I can not see how Smith doesn't play 25-30 minutes in this one. Since coming to the Rockets, he has played 20+ minutes in five games and scored at least 25.75 in four of those five. He can rack up fantasy stats when he is on the floor and for under $5K, I think he is a safe 5X with upside of 7 or 8X depending on his minutes.
---
Center
Stud
Dwight Howard ($7400) – The rockets big men are dropping like flies as we discussed above with guys like Brewer and Smith. The same applies to Howard here. With no real viable options, he should see a ton of minutes here. Howard's production is correlated closely with his minutes. Lately he has been seeing 25-30 and putting up 27ish fantasy points a game. Go back a few weeks and you see him in the 35-40 range and a slew of 40-50 fantasy point performances went with it. Just due to the lack of bodies, I can see him in the 30-35 minutes range or more here today. That would put him in the range of 35ish fantasy points with 50 as an upside against a weak defense that plays fast in Phoenix. The cheap options are limited here, so spending up for the position definitely has some merit.
Andre Drummond ($8600) – Before the Terrence Jones news bumped up Howard for me, I was 100% all in on Drummond. The positional scarcity idea is a main factor as center is one of the spots I do not really love the value options at. Drummond is not consistently hitting the lofty numbers we need to justify his value, but he is a double double machine that is giving you big scores on a nightly basis. He is in a paced up game with the Knicks and has been averaging 18, 14, and 2 blocks over his last five games. Those numbers would put him at about 40 fantasy points and make him and Howard the top two scorers by a pretty wide margin over the rest of the center options.
Value
Meyers Leonard ($3900) – I do not really love Leonard or the thoughts of paying down at C today, but I figured I would give you a punt option if you need one. His minutes have jumped from the 18-24 ranged into the 26-32 range in the last two games. Even at 18-24, he was giving us a floor above 4X and flashed a ceiling close to 8X value. His price has not moved, so those numbers and ranges stay pretty much intact. I still prefer to pay up whenever possible today, but if I can not do that for some reason, Leonard would be the guy I would look to save salary with.