On Saturday we have eight NBA games on the menu, with an early bird special tipping off at 3:00pm ET featuring the Miami Heat and the Boston Celtics along with over $100K in guaranteed prize pools and then seven games beginning at 7:00pm ET with nearly $1 Million in available cash and prizes. Sounds like a good time ahead for everyone, so let's start to piece together today's puzzle.
Point Guards
STUDS
Russell Westbrook – OKC vs GSW – $11,000 – Over his last four meeting with the Warriors, Westbrook has come out to play with 24.8ppg, 7.0rpg, 10.3apg and 2.5spg for 54.6 DraftKings points in 35.8 minutes of playing time. Much like the game last night between Toronto and Cleveland, this is a measuring stick game and we should be treated to a real barnburner.
Stephen Curry – GSW at OKC – $10,700 – Curry is playing some transcendent basketball right now and in his last three games he is averaging 35.3mpg, 43.0ppg, SEVEN made three-pointers (which are worth a bonus half point on DraftKings), 6.7rpg, 7.7apg and 2.0 combined blocks/steals for an insane 68.0 fantasy points. Now, this is the sixth straight road games for the Dubs since the All-Star Break, however, with this such a marquee matchup and their next game on Tuesday, Curry should be in line for his usual workload.
VALUES
Shelvin Mack – UTA vs BKN – $4,500 – It seems that the Jazz have finally tired of giving Raul Neto ceremonial starts at the point guard position and are now casting their lot with recent acquisition Shelvin Mack. The Jazz are Mack's fourth team in four years but as a wise man once said "Minutes equal opportunity…" and that is what we look for in daily fantasy NBA. In his first three games with Utah, Mack is averaging 28mpg, 13.7ppg, 2.3rpg, 3.7apg and 1.3 combined blocks/steals for a solid 23.6 DraftKings points. He is a nice option on Saturday and will allow you to upgrade at a couple other positions.
---
Shooting Guards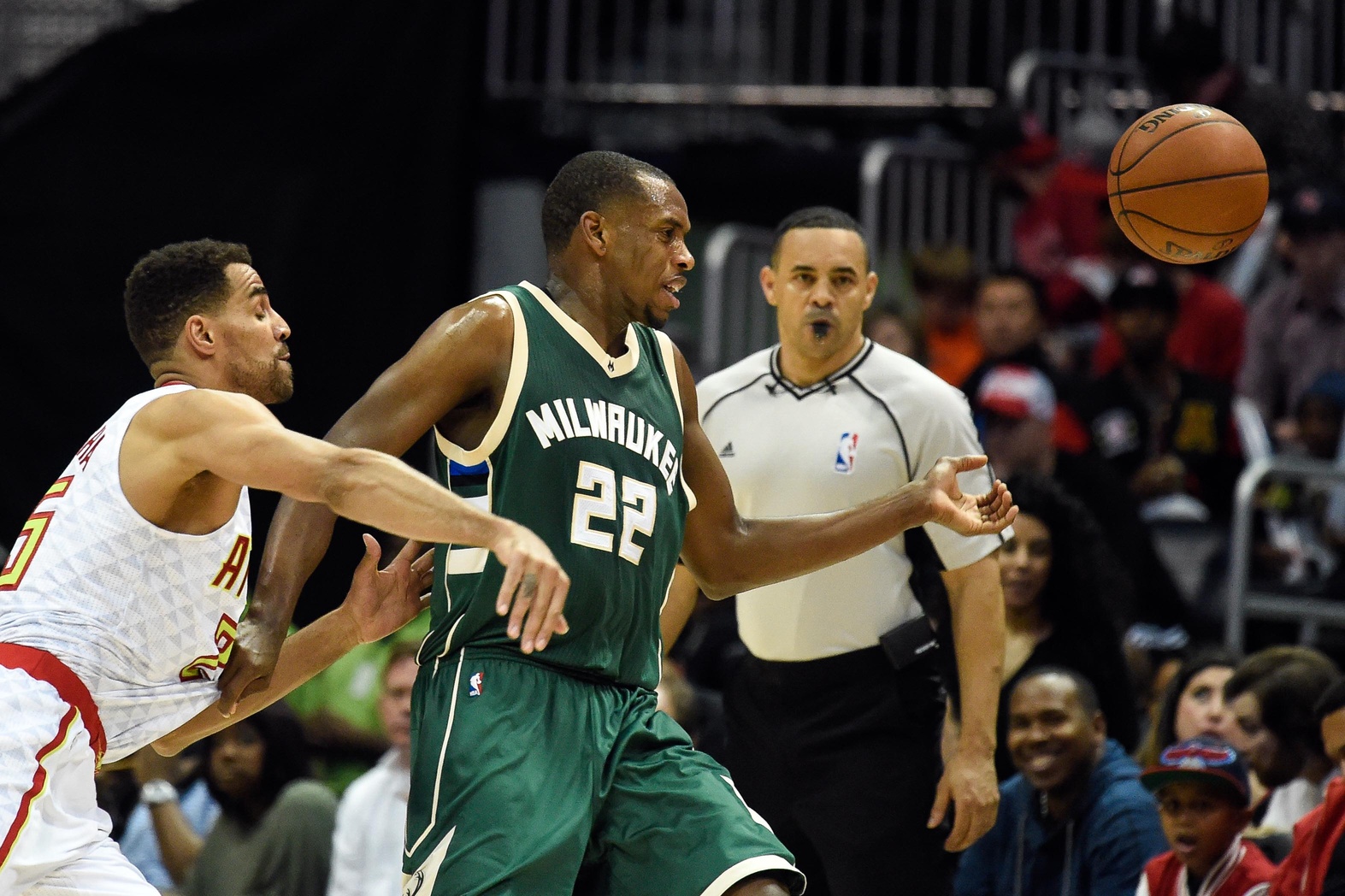 STUDS
Khris Middleton – MIL vs DET – $7,100 – Middleton is having a fine season and he has been seeing steady minutes under Coach Jason Kidd, which cannot be said for his teammates. The Pistons are a middle of the road team against wing players and in the first two meetings between these squads, Middleton tallied 30.5 DraftKings points on 28.1 minutes per game. That is a reasonable projection for him tonight and he has 40 fantasy point upside.
VALUES
Danny Green – SAS at HOU – $4,600 – Coming off two of his better fantasy performances in Phoenix (30.8 DraftKings points) and in Sacramento (36.3), Green was held scoreless in Salt Lake City on five field goal attempts. He is a tournament option only, but anyone who looks at his game log will be turned off, which actually works in our favor as Green will be lightly used in tournaments.
Zach LaVine – MIN at NO – $5,300 – If you are looking for a steady value option as an alternative to the volatile Danny Green, then LaVine is your guy. He has had fourteen straight games with 20+ fantasy points and he has gone for 30+ DraftKings points in a dozen games this season.
---
Small Forwards
STUDS
Gordon Hayward – UTA vs BKN – $7,000 – The Spurs kept Hayward in check on Thursday ending his streak of seven straight 30+ fantasy point outings. The three prior matchup with the Nets have culminated with Hayward flirting each time with the forty fantasy point plateau and he is a fine option in all formats tonight, particularly if you are looking to create a balanced lineup with most gamers likely drawn to the Thunder and Warriors.
VALUES
Mirza Teletovic – PHO vs MEM – $5,300 – It looks like Coach Earl Watson has decided to unleash Teletovic who has responed with 33.7 DraftKings points over his last four games with 20.5ppg, 3.5 three-pointers, 7.3rpg, 1.8apg while averaging just shy of 30 minutes of court time.
Matt Barnes – MEM at PHO – $5,600 – It is really no surprise that the Suns are actually one of the nine teams that Barnes has played for in his twelve year career and with the organization putting a big giant stamp on the envelope that is their season, we should see some fantasy goodness in this matchup. Yes, Barnes is mercurial both on and off the court with his performances, however, with so many of his supporters feeling shortchanged in his last few games, he should be relatively underutilized in large field contests on Saturday.
---
Power Forwards
STUDS
Gorgui Dieng – MIN at NO – $6,800 – In case you haven't noticed, and judging from his popularity most daily fantasy gamers have not, Dieng is on a major heater. Over his last dozen games he has failed to reach 30 DraftKings points just twice and in that time frame he is averaging 15.8ppg, 10.0rpg, 2.8apg and 1.4 combined blocks/steals for 36.3 fantasy points. He is a nice building block in all formats today.
Draymond Green – GS at OKC – $8,400 – Green will be a popular option on Saturday and with good reason. In his last half dozen games against the Thunder he is averaging 36.0mpg, 10.2ppg, 11.0rpg, 5.6apg and 2.8 combined blocks/steals for 38.2 DraftKings points. Draymond is leading the league this season with eleven triple doubles and he should be flirting with one again tonight based on past performance in this matchup.
VALUES
Boris Diaw – SAS at HOU – $3,500 – Bear with me here. Diaw is not a play for the faint of heart, however, he generally sees close to 20 minutes per game and he is one of the few Spurs that Coach Popovich never seems to give a full game off, he just cuts his minutes in half from time-to-time. In the first three meetings this season against the Rockets, Boris is averaging 19.6mpg and 20.2 fantasy points. If you are willing to assume just a little risk, he is a fantastic discount option on Saturday.
---
Centers
STUDS
Pau Gasol – CHI vs POR – $8,500 – The Trail Blazers are not equipped to deal with Gasol and he should be able to roll up another outstanding performance. Keep an eye on his status as he has been fighting off an illness, however, he has not missed any playing time yet with Derrick Rose out the last two games.
Andre Drummond – DET at MIL – $8,200 – Drummond will be facing his old teammate Greg Monroe once more and he has been outstanding in the first two meetings averaging 16.0ppg and 19.0rpg as the foundation to 48.5 DraftKings points. This could be a night where he approaches a 20/20 game, so having him on a lineup or two is prudent in tournaments.
Greg Monroe – MIL vs DET – $7,200 – Monroe has returned the favor in his matchups against his former team this season and has posted 41.8 fantasy points per game in the first two meetings. He has been coming off the bench for the Bucks, however, he is still seeing his usual 30-33 minutes per game and actually has the advantage when he is going against the second team of the opposition. On DraftKings we can play two centers by using the utility spot and that seems like a fine strategy tonight.
VALUES
Enes Kanter – OKC vs GS – $4,800 – In the last meeting between the Thunder and Warriors, Oklahoma City was much more effective with Kanter on the floor and trading buckets with Golden State than when they were trying to play defense. Hopefully the coaching staff did notice this and give Kanter more run. He has 40 fantasy point potential if they do and he could very well be the key to tournaments tonight.