We only have a small six game slate for the last day of the year, but it does feature some of the higher scoring, higher paced teams we have in the league. The Warriors/Rockets and Suns/Thunder games should feature a ton of scoring and really hot paces. This is a very tricky slate with some lower scoring games and some potential blowouts. Game selection will be a very important part of your choices for Thursday. Let's take a look at some top options by position.
Point Guard
Stud
Russell Westbrook ($10600) – On bigger slates it is easier to find another way besides stars and scrubs to get a top scoring roster, but the smaller the slate the more important it is to have the high scorers and Westbrook is likely to be the highest scorer on the day. He has an uptempo matchup against a Phoenix team that has allowed a lot of fantasy points to opposing guards. Not only does he have a good matchup, but he is one of the top fantasy performers we have in the association. The blowout risk is a concern, but the game has the highest total and OKC has the highest team total by a wide margin. We could see a few less minutes for him, but we could also see him with a triple double before the end of the third quarter with the hot pace expected. I do not mind taking a star in a blowout if his team is on the business end of it. I do expect OKC to give Phoenix the business in this one, but I expect Westy to be involved in much of that and still put up a nice score.
Chris Paul ($9100) – With Blake Griffin out, the Clippers need scoring. Paul is one of the few players on the roster able to give them more of it. This game has the second highest total and a much closer spread at only -2.5. That will likely mean full run for both sets of starters in a paced up game where the Clippers top options should see increased usage. Paul is able to rack up steals and assists to go along with those points, which still makes him a solid play on this short slate despite the rising price.
Michael Carter-Williams ($6700) – The Cheap option that has consistently reached value lately is MCW. He has returned 5.5X or better in 8 of his last 11 games. His minutes are up above thirty and he is filling up the stat sheet with rebounds, assists, and steals to go along with double digit points. I doubt he puts up bigger numbers than the top two options, but he can get you 35-40 fantasy points which would make him a better value based on his cost.
Value
Shaun Livingston ($3800) – We do not know for sure if Steph curry will play, but if he does not then you have to look at Livingston. I realize he did not play well last night, but he is still cheap and the logic was sound for using him. This actually is a positive that he had a bad game, because I doubt 70% of cash game ownership will be on him today and he still has one of the best chances to go 6-8X on his salary and help you win a tournament.Today if he does it, the ownership will be much lower and the upside on that is greater.
Shooting Guard
Stud
James Harden ($10300) – Harden has the highest price to go along with the highest floor and ceiling at the position. If you are worried about an OKC blowout, then this is the guy to spend up for instead. The Warriors looked lost without Steph yesterday and there is no telling if he is even 100% if he does play. The Rockets and Warriors both like to play fast, so we could see a game with a ton of scoring here. Vegas is slow to post a total with the uncertainty around Curry, but I would expect this to be above 215 if and when they do. In a high scoring game that should remain close, I would have no hesitation rolling Harden out there.
C.J. McCollum ($7800) – This one also relies on some injury news breaking our way. Damian Lillard has missed the past few games. With no Lillard, C.J. has become the highest usage player on the Blazers. He has consistently put up 35-40 fantasy points and flashed a ceiling in the 70s. His aggressive attacking style would be a tough one to back against a healthy Utah frontcourt, but Gobert and Favors have both been missing in action lately, so they really do not have a rim protector to discourage C.J. from going to the hole. He racks up stats across the board and with Lillard out, you have to respect the insane usage rate he will see.
Value
Khris Middleton ($6400) – O.J. Mayo is seeing less minutes and the Bucks are back to their best lineup which includes MCW at the point with Middleton at the SG spot. He is averaging over 37 minutes in the last 9 games and has produced 5X or better in 8 of those starts. That makes him a solid cash game play in a paced up matchup against the Pacers. In 6 of those 9 games he has also produced 6.1X or better which means he is also a very viable option for tournament play. I do like C.J. and Harden for more overall points here, but Middleton is likely to be the top points per dollar producer of the guys at the high end.
Small Forward
Stud
Kevin Durant ($10100) – Durant is a solid cash game option, but I would not use him in tournaments. The blowout risk is a concern, but he has also consistently put up 50 fantasy points which leaves him right around 5X every game. That is an acceptable amount of points, especially on a medium sized slate like this one, but it does lack the upside to win you a tournament.
Gordon Hayward ($7500) – Hayward has seen his fantasy points and usage go up with Gobert, Favors, and Alec Burks all out. Those three were all starters at some point this season and guys who found themselves on the floor at the end of close games as well. With them out, we have seen Hayward handle the ball more often, get more shots, score more points, and up his numbers across the board. He also should see his ownership down with a sub par effort last night, but the pace of Portland and their lack of defense should help him put up a nice stat line anyway.
Value
P.J. Tucker ($4100) – With Bledsoe out, we needed to see who would benefit. After looking at the early numbers, it seems P.J. Tucker is that guy. Tucker's minutes were already trending upwards, but since Bledsoe's injury we have seen them jump into the mid 30s range. He has produced 6X or better in 4 of the last 6 with the two misses coming against San Antonio and Utah who are two of the teams we usually avoid taking players against. His $4100 price tag and probable 35 minutes are tough to ignore. I see him getting 25-30 fantasy points here and providing you enough value and savings to go get some of the high priced studs. Tucker is a lynchpin in a lot of my lineups. I think he is mis-priced for what he offers currently.
Power Forward
Stud
Draymond Green ($9300) – Draymond disappointed big time early in the game last night, as did all of his teammates. The good news is that he picked it up in the second half so I do not think the injury he is playing through affected him too much. Power forward is a tough spot to nail down on this slate and I think others will shy away and try to find some value here. That makes Draymond a great tourney play in my eyes as most others will be trying to pay for Harden or the OKC guys. Dray has a great matchup in a high paced game. Houston has actually allowed the most fantasy points to the power forward position, so this seems like a good spot to give one of the best overall fantasy performers in the league another shot. The ownership will likely be lower today too, so you get that added bonus as well.
Value
Ersan Ilyasova ($5100) – Detroit does not use the bench a ton, so the starters see big minutes. Ersan is playing 30+ often lately and has produced 5X or better in 7 of his last 11. He has flashed a ceiling just shy of 40, so he has returned 7X on multiple occasions with a price around $5000. I expect big minutes and a solid floor in the 20s. With upside of about 36-38, he also makes a solid cost saver if you choose not to pay up for Draymond Green at PF today.
Center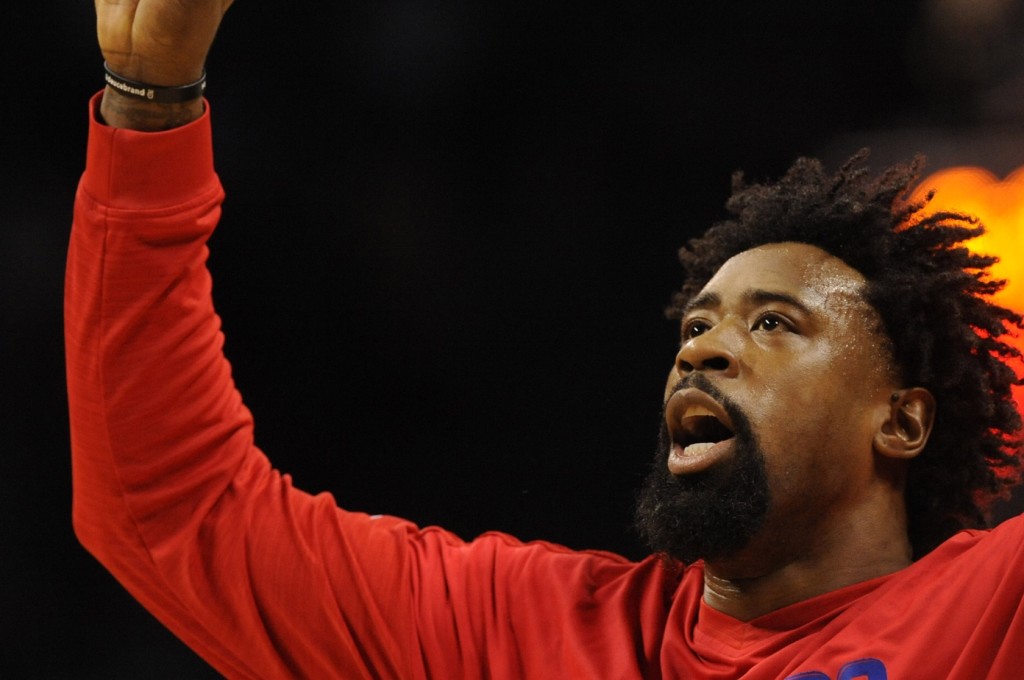 Stud
DeAndre Jordan ($7600) – Jordan has been good, but not great with Blake out. I'm still waiting for that big upside game from him. He sat out the fourth quarter of a few recently due to blowouts and disappeared after a big first quarter yesterday. He faces a New Orleans team that has been horrendous against centers this year, so if there is a chance for an upside game from him, this should be the spot.
Dwight Howard ($6900) – We have a lot of options at this price point. After watching the Warriors last night, I am convinced Howard is the way to go. Zaza Pachulia was having his way with Andrew Bogut in that game. With no Ezeli, Bogut is the only real big they have. Bogut can not play as many minutes as Howard can, so Howard will have a solid matchup when he is on the floor and a huge mismatch when Golden state has to go to Speights or Draymond to guard him. Howard has been rebounding and playing more assertive on the offensive end. He threw up a 50 fantasy point performance last out and we know he has the ability to do that. I think this is a great spot for hi and I like the upside more than a lot of the other guys priced right around him.
Value
Meyers Leonard ($4100) – If I am saving here, Leonard is my guy. He is back from injury and way too cheap. He is starting to pick up more minutes and we have now seen his minutes surpass those of Plumlee who was keeping his spot warm. Remember that Leonard was the starter before he got hurt. It seems he is back in shape and ready to reclaim those minutes. Take advantage of it now as his price is still cheap, but rising with every solid game he puts up.