Today's NBA targets breakdown looks at Wednesday's 12-game slate, with an eye towards the studs, sleepers and mid-range players you want to have rotating in your lineups.
---
Looking for more NBA content? Check out these articles:
NBA Cheat Sheet
NBA Tournament Plays
NBA Game Breakdown
---
POINT GUARDS
Studs
Stephen Curry vs. PHO ($10,700) – You always want Curry, and when you draft him, you're hoping for 60+ and not 40-50. Against an opponent whose only choice is going to be to try to outscore the Warriors, and might actually be able to keep it close, the odds are in favor of hitting the higher end of that spectrum tonight.
Reggie Jackson vs. BOS ($7,500) – Jackson is the best pure scorer on the Pistons, and despite the fact that Boston plays good defense, you could see him produce better-than-usual value just because he's involved in a faster-paced, higher-scoring game than he's used to. If he ends up in the 25-30 point range, he should get enough production in other categories to push for 50+ fantasy points.
Values
Michael Carter-Williams @ LAC ($5,900) – He's got a floor in the teens, so there is certainly risk – he has been anything but consistent so far this season. The main reason is his scoring – in his last eight games, four times he has scored fewer than 10 points. In what could be a game where the Bucks needs the points to keep up, I can see him getting to that 15+ number you need. When he gets into double-digits, or even up into the 20's, there is almost no doubt a big fantasy night is coming, considering the way he can produce rebounds, assists, and defensive stats.
Jrue Holiday @ UTA ($4,700) – The announcement finally came that he can now play both sides of a back-to-back set, which means you can finally feel comfortable getting him in your lineup without having those last-second, lineup-checking panic attacks. It's also just as a good sign that he is rounding into 100% effectiveness, with the ability to start reaching his own ceiling again. The fact that he has at least 29 fantasy points in each of his last four doesn't hurt either.
---
SHOOTING GUARDS
Studs
Eric Bledsoe @ GS ($8,400) – He has been putting up stats in multiple categories all season, but over the last week, it's all been coming together for him at once. He has 50+ fantasy points in three straight, and in the last two, he's done it without scoring more than 23 points. In the last two games, he has ten rebounds, 16 assists, six blocks and seven steals.
C.J. McCollum @ OKC ($6,900) – Lillard is going to have the full attention of Westbrook and the rest of the Thunder defenders. If they're going to let one of the Blazers guards try to beat them, it's going to be McCollum. And even if he doesn't do enough to come through for Portland, he could come through for your fantasy team. He has hit at least two three-pointers in eight of his last ten, and has been over 35 fantasy points in six of those (and never fewer than 25).
Values
Evan Turner @ DET ($4,900) – One of the primary beneficiaries of the minutes and opportunities that became available when Smart got hurt, Turner plays a type of combo guard when he is out there, usually playing the point on offense but defending two's or even three's on the other end. He's been over 30 fantasy points twice in his last three. The way he spreads his usefulness out over several categories, his productivity is tied pretty directly to how well the Celtics as a whole played that night.
J.J. Redick vs. MIL ($4,500) – With double-digit shot attempts in eight of nine (and nine attempts in the other), Redick has been much more involved on offense lately than earlier in the year, and he has come through with 15+ points in five of those nine.
---
SMALL FORWARDS
Studs
Paul George vs. DAL ($9,700) – He missed yesterday's practice, but everything seems clear for him to be active in this one. One of the best, most consistent players in the NBA this year, he has therefore been one of the highest-floor, highest-upside fantasy plays as well. He has had a couple of bad shooting nights in a row, but that seems more fluky than anything else, and I for one am not worried about the matchup. It seems much more likely to me that George is the bad matchup for the Mavs. He is shooting .438 from the floor for the season, and if he gets close to that mark tonight, he will be worth this price.
Kawhi Leonard vs. WAS ($8,600) – The good thing about the Wizards matchup, I hope, is that they can score enough to keep it close, and make Pop continue to require Kawhi's services well into the second half. In his last ten games, he has scored fewer than 42 fantasy points while playing more than 30 minutes only once.
Values
Robert Covington @ ATL ($6,800) – A volume play, Covington does enough things wrong that he wouldn't get much run on a good team. But the 76ers are not a good team. And just by virtue of the nature of basketball, they still need someone to shoot the ball sometimes, and sometimes, their players are going to get rebounds, record assists, get defensive stats, etc. Sometimes. He has been over 30 fantasy points three times in his last six, and this is the lowest his price has been over that stretch.
Andre Iguodala vs. PHO ($5,500) – With Barnes out, he is averaging about 5 minutes a game more PT than he was earlier in the season, and his price has remained just about the same. It's that simple, really. In what should be a plenty high-scoring game, I like that usage to translate into usable fantasy production.
---
POWER FORWARDS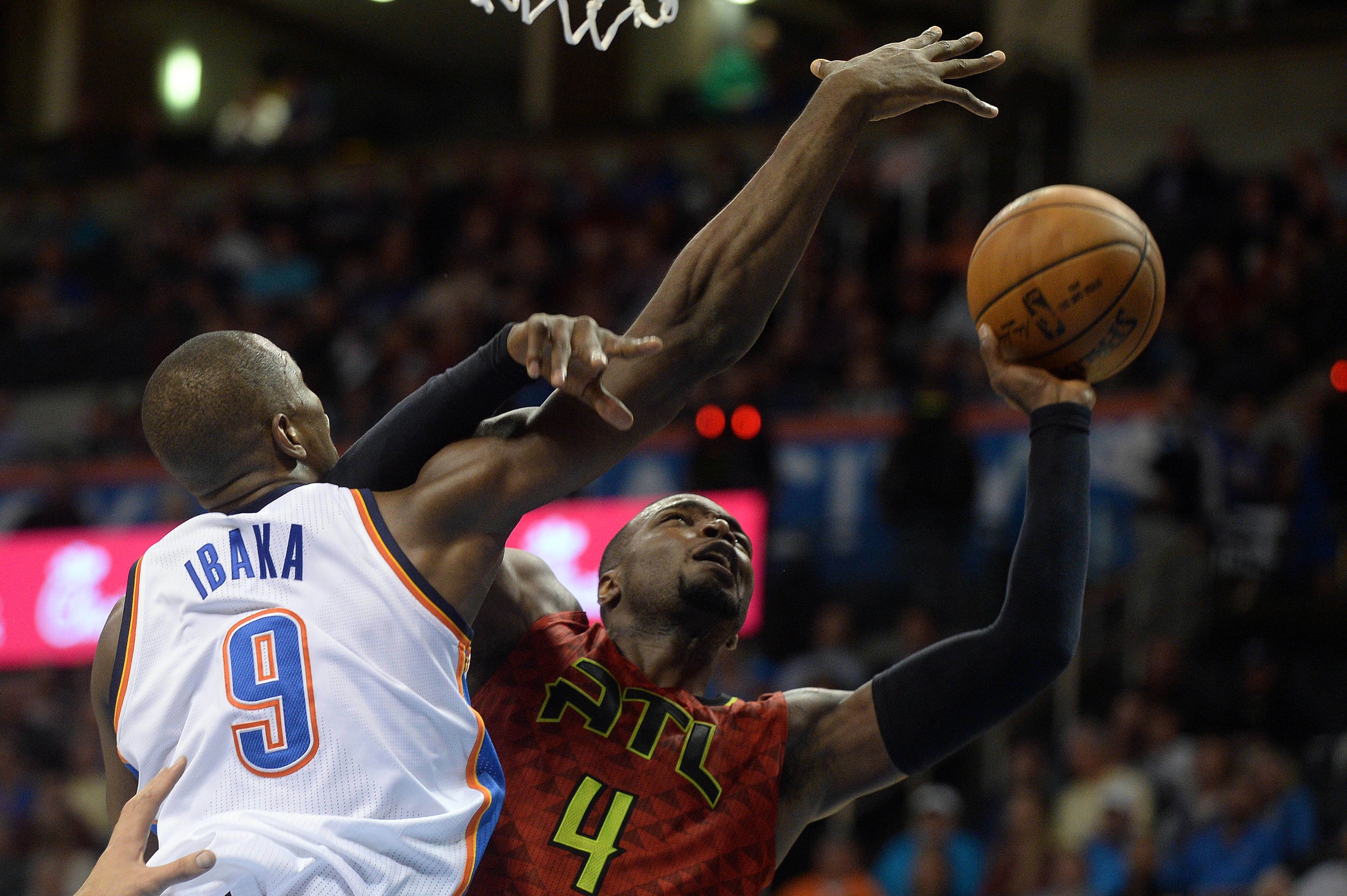 Studs
Paul Millsap vs. PHI ($8,000) – Remember when I was writing about Covington earlier, and I mentioned how the 76ers are not a good basketball team? Yeah, that counts for their defense, too. Millsap averages 18-9-3, with more than a block and a steal each every night. He should be able to improve on every single one of those numbers here, and if he does, you're looking at a 50-point fantasy night.
Kristaps Porzingis vs. MIN ($7,300) – Porzingis! Knicks fans must just love this guy, despite some of his recent struggles. His price has dropped slightly to reflect the downside he's shown over the past couple of weeks, but he has even come out and said that the issue has been nothing but getting used to the rigors of the NBA schedule. Coming off a couple of off days and playing at home should be exactly what he needs.
Values
Serge Ibaka vs. POR ($6,000) – The Trailblazers just don't really have anyone to match up with him physically. Rebounding should be no problem at all against this frontcourt, and, up until this recent home-and-home against Utah, he had scored in double-digits in seven of eight straight games. He is an easy candidate to return to that level and record a double-double tonight.
Marvin Williams @ ORL ($5,600) – Coming off a couple of brutal performances in a row, his ownership % should be down, but prior to this stretch he had double-digit points in six out of eight, including two double-doubles. His upside ends around 30 fantasy points, but he gives you a good shot at 25, which makes him a pretty decent cash game play at this price.
---
CENTERS
Studs
Andre Drummond vs. BOS ($9,100) – The matchup of Drummond and the Celtics is an odd one, because Boston doesn't have anyone to match up really well with him, but he also doesn't match up very well against any of their bigs. Guys like Suillinger and Olynyk set picks 30 feet from the basket, stretch the floor with jump shots and usually crash through the lane from the high post rather than trying to set up shop down there. In my mind, I see this mismatch translating into pretty good games for all of them, as they should all still see their usual complement of minutes (since neither team really has an option other than giving up a mismatch on one end and trying to exploit it on the other).
Jahlil Okafor @ ATL ($6,900) – The best player on the 76ers, he has had over 20 points in four straight, and double-digit boards in two of those. He is getting 15+ shot opportunities every single night, which makes him an obvious fantasy commodity (frankly, I am surprised he doesn't cost more already). If you're a Sixers fan, you just hope all this usage is helping his development, not stunting it.
Values
Jared Sullinger @ DET ($6,100) – This is what I was talking about with Drummond. In fact, the only question for me here was whether I should be recommending Sullinger or Olynyk in this values section, because I think they could both be useful (and Olynyk is, of course, cheaper). He might not end up with 20 rebounds with Drummond patrolling the paint, but he should see enough boards come his way that, combined with the fact that he should be able to face the basket and get his shot on offense, I would be surprised to see him fail to surpass his 28-fantasy-point scoring average.
Joakim Noah vs. MIL ($5,100) – As always, he just doesn't score. But he does everything else. And he looks healthy lately, flying all over the place on defense like you remember from years back. He might end up with closer to 10 rebounds than 15 against a solid frontcourt in Memphis, but he is almost a lock for double-digits (averaging 10.5 per night over the past couple of weeks). When you combine that with five assists, two blocks and a steal, you don't need him to score that many points to be a fantasy asset, especially in a cash game. If he randomly gets a few put-backs and makes it to ten points, you're only regret will be not starting him in every lineup, in all contest types.