A strong Monday night of NBA games gives us a focus on superstars and values at every position. Let's get started with the picks!
---
Looking for more NBA content? Check out these articles:
NBA Tournament Plays
NBA Game Breakdown
NBA Cheat Sheet
---
Point Guard
STUDS
Damian Lillard – ($8,800) – Normally, I would have listed John Wall first, but Dame Lillard Is playing just as well & going against New Orleans, the pace will be pushed to a much higher level than Wall will have against Memphis. His lowest game in the month of December has been 33 DK points & has been extremely consistent. Lillard is no question the #1 option for the Blazers & that won't change against Ish Smith & Jrue Holiday.
Brandon Knight – ($7,600) – I like Knight in this matchup against Dallas & Deron Williams. Dallas has been impressive early on & has surprised many in the league, including myself. Knight has been playing at a different level this season & has truly come into his own as a reliable elite point guard in the league. He leads the #1 offensive pace team in the league & Dallas is middle of the pack at 14th, so offensive opportunities for Knight should be plenty.
Other options – John Wall ($9,700), Kyle Lowry ($8,900), Chris Paul ($8,100)
VALUE
Derrick Rose ($6,400) – Derrick Rose is a great play against a hapless 76ers squad. Rose has been able to stay healthy for the most part this season & quite frankly, the Sixers have mailed in the season & have absolutely zero life or desire to do anything other than getting the #1 NBA pick. Another reason Rose will be able to operate well & get the Bulls involved – the Sixers are 23rd in total defense & have not shown they can defend point guards well.
George Hill ($5,300) – Hill has had a strong season for the Pacers in terms of good stability at the point guard position & being a great floor leader. At $5,300, he should hit value, probably not much over against one of the better defenders in Kyle Lowry, but Hill should see open shots as the defense will be paying attention to Paul George, who is back to his old superstar level after injury kept him out of most of last season.
Other options – Goran Dragic ($5,200), Tony Parker ($5,200), Ish Smith ($5,600)
SHOOTING GUARD
STUD
James Harden ($10,800) – On Monday night, Harden will be one of the guys you should build your franchise around & go cheaper in other areas. He is the #1 scorer clearly, even if Dwight is playing, & he has an average of 51 DK points this year, with a ceiling of 70 points, which he hit two games ago against Washington. Denver is 21st in the league in defense & even though they defend the position well, there isn't a player on Denver that is going to slow down Harden's consistent offensive attack.
Eric Bledsoe ($8,400) – Similar to Brandon Knight, Bledsoe should be able to benefit in a high offensive pace game. The defense is going to have to make a choice on who is going to be left open for a shot & even though Bledsoe isn't as elite as Harden, if you want to spend on a big man later in the lineup, Bledsoe is a good pickup who will likely get you around 35-40 points nightly.
Other options – Jimmy Butler ($7,700), DeMar DeRozan ($7,100), Dwyane Wade ($7,000)
VALUE
C.J. McCollum ($6,900) – At this price, McCollum is an absolute steal here. He averages 33 DK points per game, benefits from the attention that Damian Lillard gets on the court, & is going up against a high pace team in New Orleans. McCollum has boosted himself into one of the more consistent value picks on DraftKings this season & has had double digit regular points in every game since November 25.
Will Barton ($6,200) – Monday night should be a good night for Barton in tournament plays. He is going to have a good offensive pace matchup with Houston & Houston is not a great defensive squad as they rank 27th in total defense in the league. While the Nuggets have underachieved, Barton has been a nice standout this season & should have a great night matching up against Harden, who is completely all-offense, all the time.
Other options – Victor Oladipo ($6,400), Monta Ellis ($5,400), Wesley Matthews ($5,600)
SMALL FORWARD
STUDS
Paul George ($9,900) – I am not sold just yet on Paul George being worth over $10k with his performance over the last couple of games, but at single digits, he is worth the value. George is back to being himself & being one of the elite small forwards in the league who can play multiple positions. His last game against the Pistons, the Pistons played great defense on George, who had a rare off shooting night from the field. That trend will not continue against Toronto as I see him getting back to his normal 45-50 DK points.
Kawhi Leonard ($8,600) – Leonard could almost be seen as a value pick at under $9,000 with the way he has played this season. While Leonard doesn't always give the scoring that George gives, Leonard fills the stat sheets so well that even if he isn't putting up 20 points per game, he will have 7 rebounds, a few assists & much more across the board. Utah is one of the top 5 defensive teams in the league, as San Antonio is #1 in the league & Leonard is a big reason for that. Look for Leonard's value to be high against Utah in other stats outside of points. He is a good tournament play as he should have low ownership in many leagues tonight.
Other options – Robert Covington ($7,000)
VALUE
Marcus Morris ($5,800) – In tournament plays, Morris is a good option against the Los Angeles Clippers who will feature Josh Smith & Paul Pierce taking turns trying to guard him. Morris can score but also fills stats nicely & at $5,800, should hit value, but I feel that his ceiling could easily be in the 40-45 range, especially against aging players like Smith & Pierce.
Trevor Ariza ($5,500) – I'm going to take a complete flyer on Ariza that he won't have another 2 point DK game like he had against Brooklyn on December 8. Ariza will get open shots when Harden & Howard are on the floor & is always good for getting on a hot streak from 3-point range. Ariza is more of a stat-filler however, as he is a defensive force with his steals, assists & rebounding abilities. If you are in a bind & need a good value across the board, Ariza could be that guy in a high offensive pace game Monday night.
Other Options – Otto Porter ($6,200), C.J. Miles ($5,700)
POWER FORWARD
STUD
Anthony Davis ($10,600) – Normally, I would say play Davis in all formats, but in this particular matchup, for some reason, I am thinking cash games might be the safest. Portland has a group of defenders in Aminu, Plumlee & Leonard who will take turns defending Davis & all three of those guys are very solid defenders. Davis will get his points because he is the only viable offensive option New Orleans has, & even though they play an up-tempo style, Portland will slow it down & will not completely shut down the brow, but I wouldn't expect a 60-70 point night to win a tournament.
Chris Bosh ($7,200) – Bosh is having a great bounce back season for the Miami Heat, but he could be tested with the versatile defensive ability of Paul Millsap. Bosh is a good play in cash games, as he has averaged 35 DK points per game, but his ceiling has been 43 points. Bosh has been a consistent star this season & even though he has a game recently where he had 12 DK points, that is an aberration & Bosh should have a stronger night against Atlanta Monday night.
Other Options – Blake Griffin ($9,100), Paul Millsap ($7,900), Derrick Favors ($7,700)
VALUE
Kenneth Faried ($5,900) – Faried has been very consistent over the last 4 games, having a floor of 29 DK points. Faried will not be a major scorer, but should get a good amount of rebounds & put-back opportunities with the offensive firepower of Houston. At $5,900, Faried is not going to be a great tournament play, but ride the streak of him being around the 30 DK mark, which should continue against a very weak Houston defense.
Nikola Mirotic ($5,100) – Mirotic is one of the main reasons the Bulls are the 3rd seed in the NBA Eastern Conference. Mirotic is a solid double-double machine most nights & he has really developed his rebounding effort this season to go along with being a solid three-point threat anytime he is on the court. Coming off the bench & bringing 25-30 points per game makes him a solid contributor for a tournament team, & I will take anyone against the Philadelphia 76ers & that awful defense.
Other options – Ersan Ilyasova ($5,200), Luis Scola ($4,900), Ed Davis ($5,000)
CENTER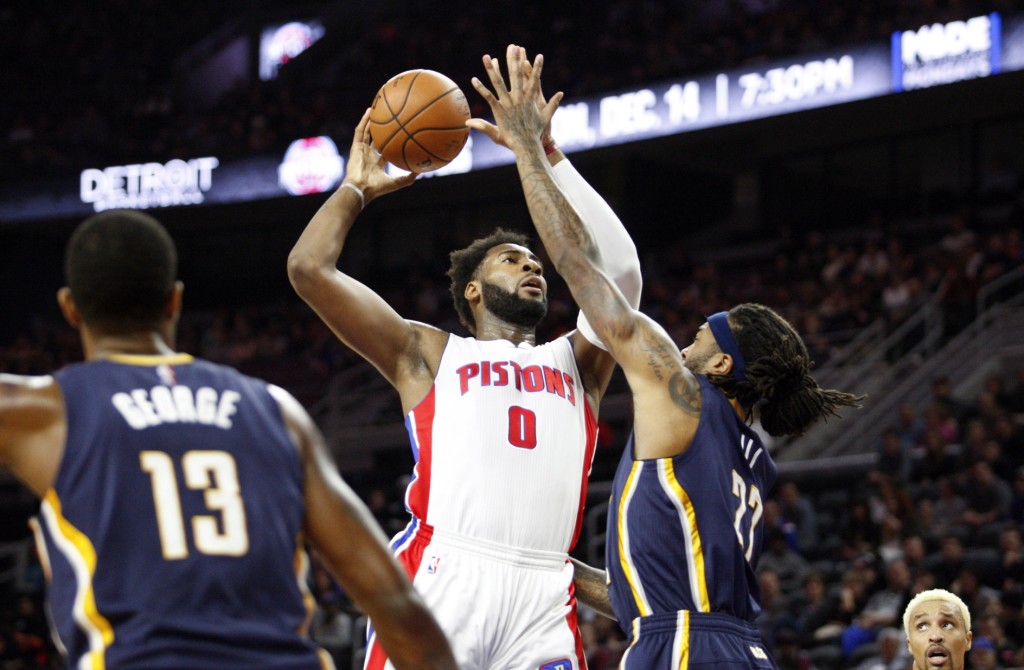 STUD
Andre Drummond ($9,300) – Recently, Drummond has been going up & down with his fantasy value. One night he will have 50 DK points, next night its 25-28. I still believe he is the most dominant center in the entire NBA. Drummond has been one of the most improved players In the league this season, but he has to keep his fouls under control. If his foul situation is strong, he will be dominant, especially against DeAndre Jordan, who I don't believe will be able to keep Dre off the boards for a whole night.
Pau Gasol ($7,900) – Gasol has truly gotten his season together after a slow start & is now solidified as the #2 scoring option in Chicago next to Jimmy Butler. Again – the rule of thumb for Monday night is take anyone against the Philadelphia 76ers as a fantasy option. This is no different. Gasol will have an emerging Jahlil Okafor to go against, but Okafor has much to learn still. Look for Gasol to go for at least 35 & possibly upwards of 55 to 60, for good play in a tournament or cash game.
Other Options – Brook Lopez ($7,400), Marc Gasol ($7,300), Dwight Howard ($7,200)
VALUE
Hassan Whiteside ($6,800) – The numbers will say that Whiteside is averaging 34 DK points per game, but he has slowed down considerably since the tear he was on earlier in the season. He has not gone over 30 DK points since December 5, but at the same time, at the value under $7,000, Whiteside is a great fantasy option in tournament games Monday night. He will have a tough time dealing with Horford & Millsap, but Whiteside has shown that he can play with the elite big men in the league, so a monster night on Monday at under $7k is worth a shot.
Tyson Chandler ($4,300) – Chandler, though he is older now, is still one of the best rebounders in the league & with the high offensive pace projected, particularly from the Suns, he will have many offensive rebound & put-back opportunities. At $4,300, many would consider this a punt play, but Chandler is good enough, even at this advanced point in his career, to go for 30 DK points, which will be far greater than value.
Other Options – Meyers Leonard ($4,000), Zaza Pachulia ($6,000), Tim Duncan ($5,700)