There could be a lot of overlap on the slate tonight with only four games going on and eight teams to choose players from. The good news is all four games have totals of at least 197. That means we should see a lot of points scored here and some big fantasy stat lines. This is a list of some standout options at every position broken down by Studs and Values. Let's take a look at what we have for Thursday.
---
Looking for more NBA content? Check out these articles:
---
Point Guard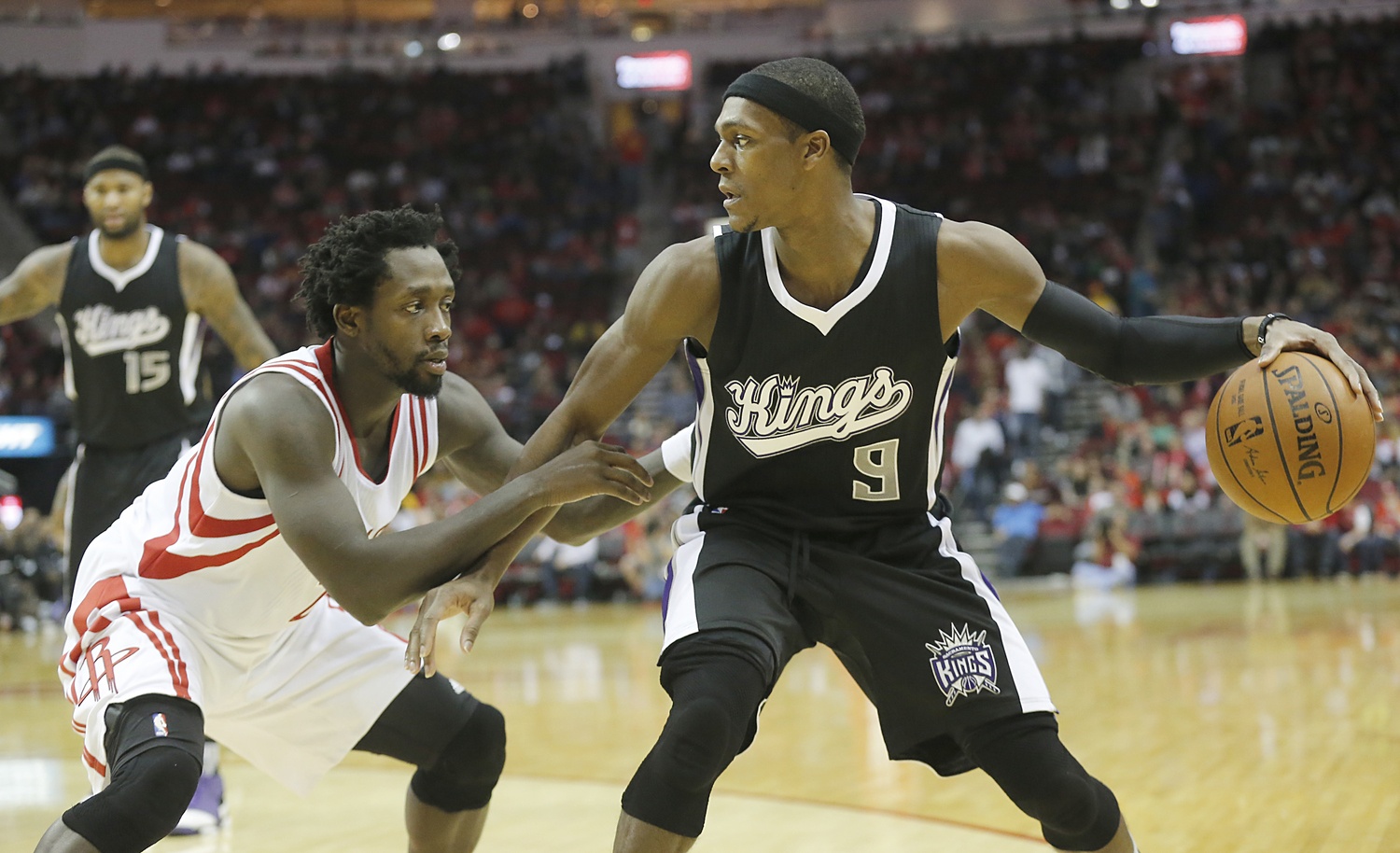 Stud
Russell Westbrook ($10400) – You really need to make sure you have the top scorers on a short slate and Westbrook is very likely to be the top overall point scorer on the night. His numbers have ticked down a little with Durant back, but so has his price. He is still putting up 45+ fantasy points and very often reaching into the 50s and 60s. That still makes him a guy who is giving you about 5 points per thousand of cost, so the value is still there. On a short slate like this, it is tough not to have a guy who scores 50+ and still find a way to a top scoring roster. It can be done, but it's a lot easier to get to 250+ when you can lock up a 50 point effort from one guy.
Rajon Rondo ($8500) – The only player more likely to get a triple double than Westbrook might be Rondo. He is averaging double digit points, double digit assists and six rebounds per game in the last three weeks. In his last sixteen games, he has four triple doubles, 7 other double doubles, and was within 2 rebounds of a triple double on four of those occasions. He is playing in a high total game against a Knicks team that will be throwing Jose Calderon on a back to back at him. He looks to be in a great spot to put up some more numbers. Rondo is not playing 45 minutes a game anymore, but he is still in the upper 30s. He needs about 45 points here to make value and he has done that in 8 of the last 12. I do not think he is too expensive and I would have no problem dropping down to him from Westbrook or just taking Rondo flat out as the top PG prospect on the day.
Value
Jose Calderon ($4300) – There is nothing sexy about this pick, but he can help you fit in some of the studs without killing your lineup. Calderon is still seeing a lot of minutes as the Knicks starting point guard. He has played He has played 30 minutes a game in his last five while averaging 25 points. That might not sound great, but it is 6 times value on his price of $4300. They play in a paced up game with a high total against a Sacramento team that everyone seems to reach their ceilings against. If I need to save at the position, Jose Calderon is the guy I will look at.
---
Shooting Guard
Stud
Jimmy Butler ($7500) – We only have one stud at the shooting guard spot here. You either pay up for Jimmy Butler or you go down to the value guys. Butler has a solid matchup as wing players are the way we like to attack the Clippers. Guys like Redick, Crawford, Mbah-a-Moute, and Lance Stephenson will all be guarding Jimmy minutes at various points in the game. The Bulls are healthy, so Jimmy does not have the huge upside he once did, but he can easily put up a 40 point game and be the top scorer at the position by a wide margin.
Value
Kyle Korver ($4500) – Korver is back to playing over 30 minutes and putting up over 20 fantasy points. His upside is limited as he has not had a 30 point game in awhile, but he can easily return 5-6 times value at a pretty cheap price. If you pay up for Butler, you limit yourself to saving at the loaded forward spot on the day. Korver can give you solid value and not restrict your ability to do that. In a high total game, the scorer has a big chance to make value.
Aaron Afflalo ($4400) – Korver is a much better play than Afflalo, but Afflalo is paced up and seeing decent minutes. He can also give you about 20 points, but does not really play a huge role in that Knicks offense. It's not an upside play as long as Melo does not sit out, but he can get you the 20-25 you need to make him a viable salary saver in this paced up matchup.
---
Small Forward
Stud
Kevin Durant ($10100 ) – We have a few options near the top end of the price range at small forward, but the only one I would pay up for is Kevin Durant. His team is favored in the highest total game against the Atlanta Hawks. Durant dropped 60 fantasy points last out and his floor is in the 40s with the likely outcome being somewhere in the 50s. That gives him a floor of 4.5 times his salary, a probable return of over 5 times, and a potential ceiling of 6 times of more. All of that would be a welcome addition to any roster.
Value
Bojan Bogdanovic ($4200) – I really like this spot for Bojan. He is starting in Brooklyn now with Rondae Hollis-Jefferson banged up. He did not play well vs. the Warriors in his first start, but he returned almost 9 times value in his second. His price has bumped up here, but the return on a solid game would be in the 25-30 range. That would be 6 times value or more for Bojan. Brooklyn has a really good matchup with the Sixers who everyone has performed well against this year. For a cheap guy with upside, you will be hard pressed to find a better one.
OTHER OPTIONS: Joe Johnson ($5500), Omri Casspi ($5300)
---
Power Forward
Stud
Blake Griffin ($9200 ) – I know most guys are off of Blake with Chris Paul back, but he is still putting up numbers. Paul is still not 100%, so Blake is taking on a much bigger scoring role. He is also rebounding this year and putting up double digit boards again. Those rebounds along with the potential double double bonus have been the difference between his good and great performances. He needs to get you about 50-55 points and he should be able to do that if he continues to go hard on the boards. He will get a variety of guys covering him here, but the prospect of even a few minutes of Mirotic defense makes me want some shares of him.
Paul Millsap ($8300) – Millsap has been one of my favorite cash game plays all season long. He is very consistent and tends to put up between 4.5 and 5.5 times his salary in each start. This is not a day to pay down at power forward. We have too many good options and not all of them will have bad games. Blake is the best player, Thad Young is the hot name, but Millsap is the guy who has consistently been on a lot of winning rosters. If you want the guy with the ability to win you money and that will likely fly under the radar, Millsap is your guy.
Thaddeus Young ($7400) – I liked Thad a lot more when his price was under $7K in his last few starts, but after back to back mid 40 fantasy scores, I understand the jump in price. He had returned at least 5 times value in 5 of his last 7, including two straight games where he was 6 times. He is averaging just shy of 20 points and just over 10 rebounds in his last few games, so those numbers are something you have to respect. He has a soft matchup against the Philadelphia 76ers here too, so all the arrows are pointing in his direction. He should be one of the better plays on the day and comes in at a discount to the other two mentioned.
---
Center
Stud
Pau Gasol ($7700) – The four headed frontcourt monster of the Bulls has morphed into Pau taking the starring role and the other three splitting the leftover minutes. Pau has really picked up his rebounding, which has lead to five straight games where he went 7, 9, 6, 7, and 6 times value. He is scoring just under 20, but has upped the rebounding numbers to the mid to high teens. He has 8 straight games with double digit rebounds and 7 of those 8 have been double doubles for him. His minutes have bumped up closer to 30 a game, and I am not as scared of DeAndre Jordan defense as some others are. Pau can also add a few blocks and assists, so overall he is a very solid option even with the price increase.
Brook Lopez ($7700) – Brook Lopez is another one of those guys I find myself using often in cash games. If you think I am nuts, just check out the game logs. He has only failed to reach 4.5 times value in 2 of his last 17 games. He was only under 5 times value in 5 of those, and has reached 6 times or more in 5 as well. That means he not only has safety, but upside as well. That upside is magnified by the fact he faces Philadelphia who has been one of the worst teams all center against opposing centers. Lopez is big and offensive minded, which is exactly the type of center an undersized and defensively green Okafor has struggled against. Lopez is the key man the Nets run the offense through, so he is going to see as many touches as he can handle. This is a great spot for him and probably my top center option on this slate.