On a busy night in the NBA, we look at the NBA Targets for December 7, 2015. Here we go.
---
Looking for more NBA content? Check out these articles:
NBA Tournament Plays
NBA Game Breakdown
NBA Cheat Sheet
---
Point Guard
Stud
Kyle Lowry ($8,900) – On a night where there aren't the usual elite point guards (such as Curry & Westbrook) on the slate, Kyle Lowry might be the guy who will be able to put up massive numbers against a hapless Los Angeles Lakers team. The team, who has basically become the flying Kobe show, does not have any great point guard play on offense or defense that can hang with a player the caliber of Lowry, who will be looking at having another big game against the Lakers, as he did on November 20, when he had 47 DK points.
Isaiah Thomas ($7,700) – This game should be one of the higher paced games of the night, with both Boston & New Orleans ranked in the top 10 in the league in pace. Thomas, who has been having a great season helping the Celtics work on building on their playoff appearance from last year, should have a field day in the matchup against a floundering Pelicans team that has only 5 wins on the season & their point guard play has been inconsistent at best with Ish Smith getting minutes while Jrue Holiday is working his way back from injury. Look for Thomas to continue improving on his scoring & assist numbers playing with a strong Celtics offense on Monday night.
Other Options – Damian Lillard ($8,800), Eric Bledsoe ($8,200), Reggie Jackson ($7,600)
Value
Derrick Rose ($6,400) – At $6,400, Derrick Rose is a great value pick against the Suns, who is 2nd in the NBA in pace factor while the Bulls are playing at a high level themselves at 10th. Rose has been much more aggressive & seems to be getting more relaxed not having the entire load on him because of his injury history. He has hit value the last 4 games & even though Brandon Knight & Eric Bledsoe have played well on both sides of the ball this season, Rose should be a safe play in this potential high offense matchup.
Jrue Holiday ($4,400) – Holiday is working his way back into starting lineup minutes as he is coming off of injury that he has been working on all season to this point. Holiday is in a high-pace projected matchup against the Celtics, which should need to many great offensive opportunities. In his last two games, Holiday has had 21 & 32 DK points respectively & that should continue to be the trend on Monday night.
Other Options – Tony Parker ($5,300), T.J. McConnell ($4,700)
Shooting Guard
Stud
Jimmy Butler ($7,700) – Butler is always a great play & at $7,700, tonight is no different. Butler is going to get strong numbers no matter the defense he is going against & with a high pace teams like the Suns facing the Bulls, Butler will get many opportunities for points, rebounds & assists all night long. Look for Butler for have a possible 50-60 point attack, which would be great for cash games & tournament plays.
Nicolas Batum ($7,500) – Batum is another guy very similar to Butler in terms of being able to get his fantasy points in a variety of different ways. He is an above average scorer but solid rebounder & assists guy, which means he will be a nice stats filler. While both the Pistons & Hornets are trending towards the lower tier of offensive pace, Batum is a guy who knows how to get his number no matter if it is a slow or fast pace & it shouldn't be a problem here. Look to play him in a tournament play.
Other Options – Brandon Knight ($7,700), DeMar DeRozan ($7,200), Bradley Beal ($7,200)
Value
Kobe Bryant ($6,300) – This pick is contingent on if Bryant gets over his illness that kept him out of the end of the Pistons game on Sunday. If he can play, he is a great play the rest of the season. Kobe is at the point of his career, now that he has announced that this will be his last season, he will be shooting at an insanely crazy place, anywhere on the court, no matter the situation. The best part about it – the Lakers truly don't have another option & the players know that fans are going to come to the home games to see Kobe try & put on a show – even though he will miss many shots most nights. He will make enough shots & get to the free throw line to make it worth your time & any time he does have a big night, you will benefit nicely in a tournament.
Avery Bradley ($6,400) – Bradley has been shooting lights out lately & has been a consistent force for the Celtics, who have started out strong in the Eastern Conference. The last 3 games he has been shooting 50% from 3-pt range & has done well working off of Isaiah Thomas. In the matchup against New Orleans, a high offensive pace team, Bradley should be considered a lock to hit value & continue his hot shooting against a Pelicans team who is among the worst in the league in defense.
Other Options – Manu Ginobili ($4,300), Khris Middleton ($5,300), Evan Turner ($4,900)
Small Forward
Stud
Kawhi Leonard ($8,600) – Kawhi Leonard is having a monster season for the Spurs, who are sitting strong in the 2nd position in the West at 17-4. He has been the model of consistency all season so far, even though he had a rough shooting night against Boston. In that game, he still came through for DK players as he had 34 DK fantasy points due to his ability to contribute in rebounding, assists, steals & more. Monday will be no different.
Carmelo Anthony ($7,900) – Carmelo Anthony has had a solid season so far for the Knicks, who are looking to turn the corner from some dark times recently. Anthony is always good for a solid 30-40 DK points each night. However, make sure you look at the injury report before you begin your NBA night as he banged knees with Milwaukee's Greek freak Giannis Antetokounmpo on Saturday night. The Knicks expect him to be okay, so it shouldn't be a great concern.
Other Options – DeMarre Carroll ($5,500), Otto Porter ($5,500)
Value
Jae Crowder ($5,500) – Crowder has been having a strong season so far & over the last 5 games, his floor is only 21 DK points. At $5,500, if you can't afford Kawhi, Crowder is a great option in a high paced game against a bad Pelicans defense. I would like to see his shot attempts go up a bit, but when he does get opportunities, he cashes in. Crowder is a classic role player, but one of the most efficient player in the league with his opportunities, so feel comfortable using him in a tournament play.
Al-Farouq Aminu ($5,300) – Aminu, after a bad game to start the month against the Mavericks, Aminu has come back to normal, bringing in 30 & 26 DK points respectively over the last two games. There isn't much in the value pool for Monday in the small forward position, but at $5,300, Aminu is a decent play because of his 15 points & multiple stats across the board in rebounds, assists & the occasional steals.
Other Options – Marcus Morris ($6,300), Jerami Grant ($5,300)
Power Forward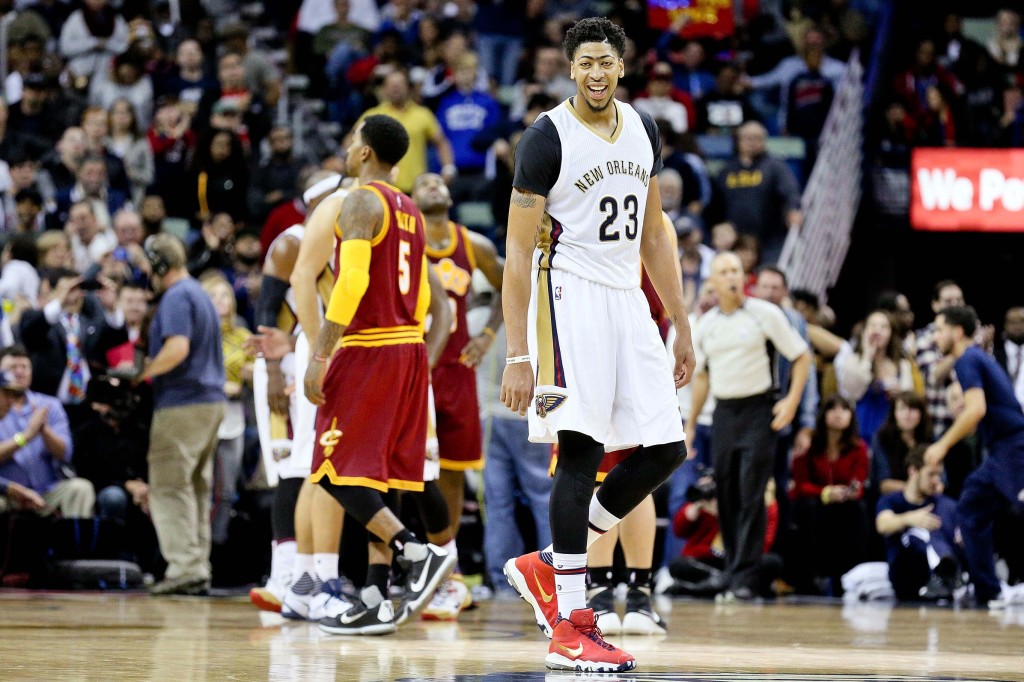 Stud
Anthony Davis ($10,700) – Remember when earlier in the season everyone was counting out Anthony Davis because he got off to such a rough start? Well, he has gotten his game together for sure, has he is now consistently going over 55-60 points each start. Doesn't really help the Pelicans much as he has only been able to help lead them to 5 wins this year. He is truly the only main offensive option in New Orleans this season so seeing him living up to the $10k salary is a given, especially in a matchup against a high tempo Celtics squad.
Blake Griffin ($9,400) – Griffin has been one of the most improved players in the league this year, simply due to him being able to expand his game to the outside a bit more. While Minnesota has a great young squad, right now, Griffin has been unstoppable & Chris Paul needs someone to dish the ball to on a regular basis. If you want to save money & not be handcuffed on just Davis, Griffin is a solid #2 option on this night.
Other Options – Chris Bosh ($7,300), Dirk Nowitzki ($7,000), LaMarcus Aldridge ($6,700)
Value
Kristaps Porzingis ($7,900) – Porzingis has taken over the NBA with his style of play & his overall presence & demeanor on the court. He got in foul trouble against Milwaukee on Saturday night & played 22 minutes. However, in those 22 minutes, he still managed 12 points & 7 rebounds, so he was still mildly productive. That game was an aberration as Porzingkis has positioned himself as one of the best power forwards in the NBA this season, as he has had 3 straight double-doubles before Saturday night & should continue that streak against Dallas. Porzingis has developed great confidence in his game & for fantasy owners, that's a great sign, especially since it means he will take more offensive liberties & become a true help to Carmelo Anthony.
Marvin Williams ($5,600) – Williams has been a consistent scorer & rebounder this year for the Hornets, with 4 double-doubles this year with the Hornets. He has become a solid role player & has truly become a threat from the 3-pt line, which is a great feature in daily fantasy basketball. Williams is going to be seen as an offensive option, but can also be strong in that he can get putbacks off of offensive rebounds, which doesn't really need a great defensive matchup. Williams could be a great sleeper play in a tournament against the Pistons.
Other Options – Ersan Ilyasova ($4,600), Jabari Parker ($4,700), Nikola Mirotic ($5,000)
Center
Stud
Andre Drummond ($9,300) – After coming down to Earth a bit after a white-hot start, Drummond slowed down a bit & has now come back to being himself with having double-doubles getting nearly 20 points & 20 rebounds each night yet again. In the center position, no one has been as dominant as Drummond this season & Charlotte won't hold him down on Monday night either. Because of most likely high ownership, Drummond might be best suited for cash games, however.
Karl-Anthony Towns ($6,900) – Towns is making a strong candidate for NBA Rookie of the Year so far along with Porzingis. He has truly been a throwback to the old-school center in the league & has put up consistent strong numbers in the early part of the season. If you are looking to save some money & not go with Whiteside, Drummond & others, Towns is a good pick, even going up against DeAndre Jordan, particularly because of the better scoring expectation that Towns brings over Jordan.
Other Options – Hassan Whiteside ($7,300), Pau Gasol ($7,500), Greg Monroe ($6,900)
Value
Tim Duncan ($5,800) – It seems as Duncan is getting better & more efficient with age. He has been incredibly consistent this year & with LaMarcus Aldridge & Kawhi Leonard in on the squad, Duncan can gain more man-to-man defense & do more on the rebounding end. Duncan is not a player that you can always expect big numbers from at this point in his career, but in a tournament format, Duncan should hit value & be a low ownership player.
Mason Plumlee ($5,400) – Plumlee is one of the more consistent value options in the league this year. He is always good for his 10 points & 8 rebounds per night & he gives massive effort each night. His floor has been 14 & he has only been less than 20 DK points once in his last 10 games. Plumlee is an excellent utility option in tournament play & at $5,400, definitely has room to get to possibly 35 DK points, so a solid ceiling.
Other Options – Jared Sullinger ($6,200), Zaza Pachulia ($6,300), Meyers Leonard ($4,600)