We only have three games tonight but a lot of options as far as roster construction goes. The Warriors/Rockets series is the only one at 2-0 with the other two being tied at 1-1. With Stephen Curry likely out again tonight, all 3 games could remain close and leave players from all six teams in play. Here are some of the top options to consider at each position.
Point Guard
Stud
Russell Westbrook – Thunder v. Mavericks – $10,900 – Any discussion of the highest scoring point guard on the day begins and ends with Russ. He has double-doubled in both games already, once with points and rebounds and the other game with points and assists. He is a threat for a triple-double every time he steps on the floor, and there isn't anyone on Dallas who can guard him. With J.J. Barea and Deron Williams both questionable at best, he will likely be seeing a heavy dose of Raymond Felton defense. Westbrook was just shy of 50 DKFP in each of the first two matchups, and with the series tied at 1-1, you know he is going to be motivated tonight to get a win.
Kyle Lowry – Raptors v. Pacers – $8,000 – If you don't want to spend up for Westy, which I think you should try to do anyway, the next best option is Kyle Lowry. The little man with the big heart is the engine that drives this Raptors team. Indiana was solid against Point Guards all season long, so the matchup is not ideal, but Lowry is going to need to play a big game in order to wrestle the lead back in this series on the road. His averages so far of 14.5 points, 4.5 rebounds, 8 assists, and 2 defensive stats are a tad below his season averages. Maybe it has to do with the matchup or the pace of the first two games, but Lowry is capable of exploding for a monster game at any time. We saw him do it in the regular season, so I have no doubt he can put up a big one in the post season.
Value
Shaun Livingston – Warriors v. Rockets – $4,100 – Livingston is one of my favorite value plays as long as Steph Curry is out of the lineup or being limited. He has averaged 27 minutes over the first 2 games and returned an average of 25 fantasy points. Livingston is just too cheap for a guy who should continue to see big minutes with the ball in his hand in a high scoring, high paced series. His floor is probably in the low 20s with upside into the low 30s. At only $4,100, you will be hard pressed to find a guy with more upside and safety at a cheaper price at any position.
Patrick Beverley – Rockets v. Warriors – $5,000 – Bev was a great value play all season long. After the Rockets scrapped the Ty Lawson experiment, he was playing 30+ minutes regularly and had a bunch of games with 25+ fantasy points. Beverley is very up and down, however. I would not look his way in cash games, but he does make for a solid start in tournaments with the potential for 5-6X upside.
---
Shooting Guard
Stud
James Harden – Rockets v. Warriors – $10,600 – I know he had a rough game 1, but he bounced back with 48 DraftKings points in game 2. If the Rockets are going to have a shot, they need production from Harden. Towards the end of the season he was putting up 60 fantasy points night after night, because he was playing 40+ minutes in must win games. Well, the Rockets are down 2-0 and heading home, so this is another one of those must win games. I think they come out guns blazing at home against the defending champs, and I would not be shocked to see Harden assert himself offensively right from the jump.
Klay Thompson – Warriors v. Rockets – $7,400 – Klay is my top shooting guard option on the day if Stephen Curry sits out. When Steph has missed time, Klay has been the one to pick up the scoring slack all season long. Klay had a respectable 30 DKFP in the first game, but exploded for just shy of 50 with Steph on the bench in game 2. His assists, minutes, and shots all go up with Steph out of the lineup, and $7,400 is a fair price for the top scoring option in a high paced, high scoring matchup. Oh, and he also draws non-existent James Harden defense, and Harden is not a guy who will bust his butt to chase Klay around all those screens.
Value
Monta Ellis – Pacers v. Raptors – $5,600 – Monta missed the shoot around yesterday with an illness, and that is a big deal for this Pacers team. He had been over 30+ DKFP in each of the first two games of the series, and they really need his scoring punch against this stingy Toronto defense. I assume he will be good to go today, and I like him a lot more than I like DeMar DeRozan, who has struggled this series and cost almost $2,000 more.
Raymond Felton – Mavericks v. Thunder – $4,700 – Felton is the other guard besides Livingston you can look at for salary savings today. J.J. Barea is doubtful, and Deron Williams is questionable. Felton went nuts in game 2 with D. Will playing banged up, and I think he can do so again in game 3. Wes Matthews has been horrid, and the injury situation opens up a ton of minutes for Felton to play. He rebounds the ball very well for a guard, as his 11 from last game proves. He can score and pass which makes him a guy who can fill up a stat sheet for a pretty cheap price. He has a floor in the low 20s with upside into the mid to high 30s. At only $4,700, that is a very solid value equation that he offers if he is going to continue to play this many minutes.
---
Small Forward
Stud
Paul George – Pacers v. Raptors – $9,000 – In two games so far PG-13 is averaging over 30 real life points against the Raptors. DeMarre Carrol is back, but that did little to slow him down in game 2. Indy did their job and stole one of the first two in Toronto, but that will mean little if they drop the first one on their home floor. George is going to play big minutes, take a lot of shots, and contribute across the board as he always does. So far, that has added up to an average of over 43 DKFP in the first 2 games of this series. I would expect that to continue here.
Kevin Durant – Thunder v. Mavericks – $10,200 – It has not been a series to remember so far for Durant, but great players tend to shake off bad games and show why they are great. Durant had a few looks last game to win it for OKC and came up short. I expect him to assert himself more on the offensive end tonight. He and Westbrook account for over 55% of the usage rate for OKC, and that number may even climb higher here in the playoffs. The Thunder do not want to be down 2-1 and playing a game 4 on the road, so I expect them to bounce back with authority in game 3 on the backs of both Westy and KD.
Value
Andre Iguodala – Warriors v. Rockets – $3,900 – With Curry out, everyone on this team is asked to do more. One of the guys who can easily step up his minutes and production is Iguodala. At the price, he offers a ton of upside today. Iggy has and does contribute across the board with whatever minutes he gets. With no Curry, his minutes and shot attempts take a tick up. He poured in 33 DKFP in game 2 without Steph, and that would be a monster 8X return on his salary if he could repeat it. I'm not sure if he repeats the 18 real points he scored in that game, but the 3 rebounds, 3 assists, 2 steals and a block seem a tad low for him if he sees 33 minutes again. If the scoring drops as expected, but those other numbers tick up, he will still be giving you 25-30 fantasy points and a great return for the price tag.
---
Power Forward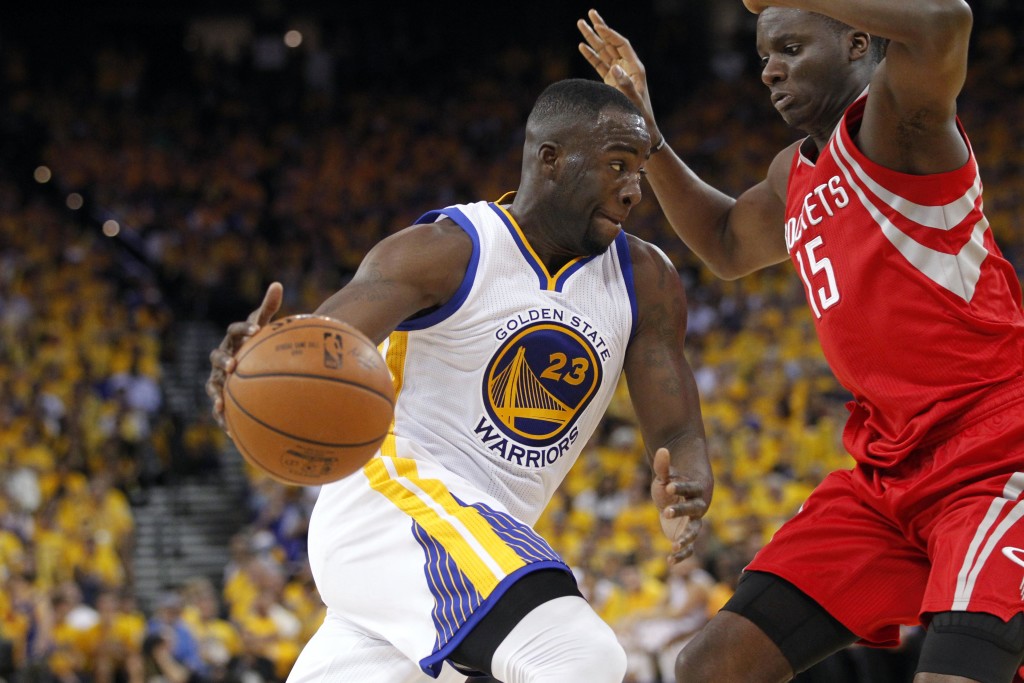 Stud
Draymond Green – Warriors v. Rockets – $9,400 – Draymond Green is the staple I start building my cash games around. With or without Curry, this guy just fills up a stat sheet every game. In the first two contests, he has averaged 12 points, 12 rebounds, 6 assists, 2.5 blocks and 2 steals for 46 DKFP. With Steph out during the season, we saw him have some of his bigger games, especially in the assist department. Throw in the fact the Rockets have been unable to stop power forwards all season and you are left with the safest 40+ point fantasy scorer on the night.
Dirk Nowitzki – Mavericks v. Thunder – $6,100 – I am going to begrudgingly write up Dirk here, but I do have my concerns. Dirk was the reason the Mavericks held off the late charges of other teams and snuck into the playoffs. The problem is, he is not nearly 100%, and it has shown with two sub par performances. Still, the big man said he is going to give it a go today, and with David Lee already banged up and the guard situation a mess, he will have to not only play, but play well for them to have a chance. Dirk can score, that is his main attribute. Serge Ibaka is a tough defender, but a healthy Dirk has been able to get his shot off against any smaller defender in the past. I'm not loving Dirk here for an all-time performance, but at $6,100 you have to like the man who is the main option for the Mavericks.
Serge Ibaka – Thunder v. Mavericks – $5,900 – I have never felt comfortable playing Ibaka in cash games, but he does occasionally give you elite upside for the price in a tournament. With Lee and Dirk both banged up, he could draw some really soft matchups against the likes of Dwight Powell and Charlie Villanueva. Ibaka has 29 and 37 DraftKings points in the first two games of the series. He is rebounding well and scoring a tad better. At a price under $6K, that is a return of 5X and just over 7X in the first two. I still want Draymond exposure, but Ibaka may be a better upside option for tournaments due to the discount in price.
Value
Dwight Powell/Charlie Villanueva – Mavericks v. Thunder $2,000 – Both of these guys are $2,000 today which is absurdly low. If Lee is out and Dirk is banged up, the two of them will be vying for a few extra minutes. I do not see either of them going off for 30-40 fantasy points, but 20 in 20-24 minutes would be a 10X return and save enough salary to go and get a few studs to bolster your lineup.
---
Center
Stud
Jonas Valaciunas – Raptors v. Pacers – $6,000 – The big difference for me with this Raptors team in 2016 is the emergence of Valaciunas as a viable post threat. Lowry and DeRozan already make up one of the best backcourts in the league, but this team took a leap forward this year with the play of the big man. Valaciunas had game of 40 and 47 DKFP to start this series, and the Pacers have struggled to contain big men all year long. The Raptors have a big advantage inside from watching the first two games and would be smart to go back to the well if they want to win game 3.
Dwight Howard – Rockets v. Warriors- $6,400 – I think Howard is a solid threat for a double-double which makes him a decent cash game play. He should be better, and the Rockets need him to be if they are going to win. This guy has the physical gifts to dominate games, yet he disappears for long stretches on both ends of the floor. He has had two double-doubles in games 1 and 2, but they are the cheap kind with approximately 12-14 points and just over 10 rebounds. Those numbers are nice in cash, but that is not enough to give him upside in a tournament.
Value
Salah Mejri – Mavericks v. Thunder – $2,700 – If Ian Mahinmi was out, I would like guys like Lavoy Allen or Jordan Hill a lot more. If Enes Kanter was more consistent, he would be here too, but I can't pay $5,100 for a guy who can get me 15 as easily as he gets me 30. The safest guy at the lowest price for a punt play today is Salah Mejri. Zaza can not play his full allotment of minutes, so that helps him see more floor time. Dirk and Lee are banged up, so that means more minutes for him, too. Plus he will be in regardless of the score, because Zaza will sit and he will play the fourth if the game gets ugly. Mejri had some solid games when he saw the minutes during the year. He played 28 in game 2 and walked away with a 24 DKFP, and his team left OKC with the win. I expect to see about 25 minutes from him again tonight and 20-25 DKFP. At only $2,700, that is a 7X to 9X return that could make him an excellent price saver with upside for tournament play.