Get your playoff groove going on the short but sweet two-game slate! Find your core values and some studs tonight on a slate that offers intense playoff action without the resting and rotational shenanigans the regular season beats us down with. If you have any questions for tonight games, fire away on Twitter @JasonWalker_72.
Point Guard
Stud
Isaiah Thomas – BOS @ ATL – $7,600 – He's the top usage play on the Celtics, especially with Avery Bradley out. Thomas already gave the Hawks fits, getting to the free throw line and creating, and will be asked to do this more in Game 2.
Other Options – Jeff Teague (vs. BOS, $6,600)
Value
Tony Parker – SAS vs. MEM – $4,700- He lit it up in only 20 minutes the last time (23.75) and while this should be another blowout, you can't count on that, so at $4.7K, should Parker play closer to 30 minutes, he'll crush value here.
Marcus Smart – BOS @ ATL – $4,500 – Don't count on another three-point shooting festival, but you can count on 30 minutes from Smart, filling in for Avery Bradley, which means another 30 DK point game is in scope.
Other Options – Patty Mills (vs. MEM, $3,400)
---
Shooting Guard
Stud
Evan Turner – BOS @ ATL – $5,800 – He's a certified Hawk Hater, meaning he excels against the Hawks consistently, and scored 31 DK points in Game 1. Now Avery Bradley is out, so Turner's minutes are even more solid.
Value
Danny Green – SAS @ MEM – $3,100 – Almost min price for a starting SG against Memphis, who has really struggled against wings since their whole team went on the injured list in early March. Green plays 24-26 minutes, he gets to 7x value, and that's worth the cap space you get rostering him here.
Kyle Korver – ATL vs. BOS – $3,200 – He scored 14 DK points without making a single three and making one shot overall. With the Celtics focused on stopping Kent Bazemore and Jeff Teague, the two guys who punished them in their game one win, Korver will have some more wiggle room (again, without Bradley) and can get solid value while playing his typical 31-34 minutes.
Other Options – Manu Ginobili (vs. MEM, $3,300)
---
Small Forward
Stud
Jae Crowder – BOS @ ATL – $6,100 – While you can't predict a blowout in San Antonio, you need more of a guarantee of a full game to roster Kawhi at $8.8K, so it's back to Atlanta and Crowder, who didn't play particularly well but still managed 34 DK points. As mentioned, Bradley's absence will mean Turner, Smart and Crowder are going to be asked to do more at the wings.
Value
Thabo Sefolosha – ATL vs. BOS – $3,000 – Min value play, and I think he's going to be asked to play more in Game 2 here with the Celtics focused on Bazemore. Sefolosha is the Hawks' defensive anchor off the bench and hasn't scored a field goal in four games, but he can pile up the peripherals quick and will be left alone by Boston to prove he can beat them on the offensive end, too.
Lance Stephenson – MEM @ SAS – $4,000 – Bad matchup for Lance, as the Spurs stifle all isolation, but if the game does get out of hand again, that plays into the ad-libbed basketball at which Lance excels.
---
Power Forward
Stud
Paul Millsap – ATL vs. BOS – $8,600 – You'll spend up here today and get Millsap, who can and will beat the Boston frontcourt, their usual Achilles heel, and put up the points. Millsap had 35.75 in Game One, but had 72 the game before that against Boston, showing his high ceiling.
Value
Mike Scott – ATL vs. BOS – $2,700- Scott's been getting solid second unit minutes and he, along with Dennis Schröder, have been the usage kings on that shift. Scott's volume shooter tendencies are what have logged 20.75 DK points in Game One.
Jonas Jerebko – BOS @ ATL – I can't explain it, but I saw Jerebko playing very, very late in the tightly contested Game One against these Hawks. He's an unreal $2.3K, so a 20 minute shift, if Kelly Olynyk can't go with his sore shoulder (he's questionable) put a 10x game firmly in range for Jonas.
Other Options – Amir Johnson (@ATL, $4,600)
---
Center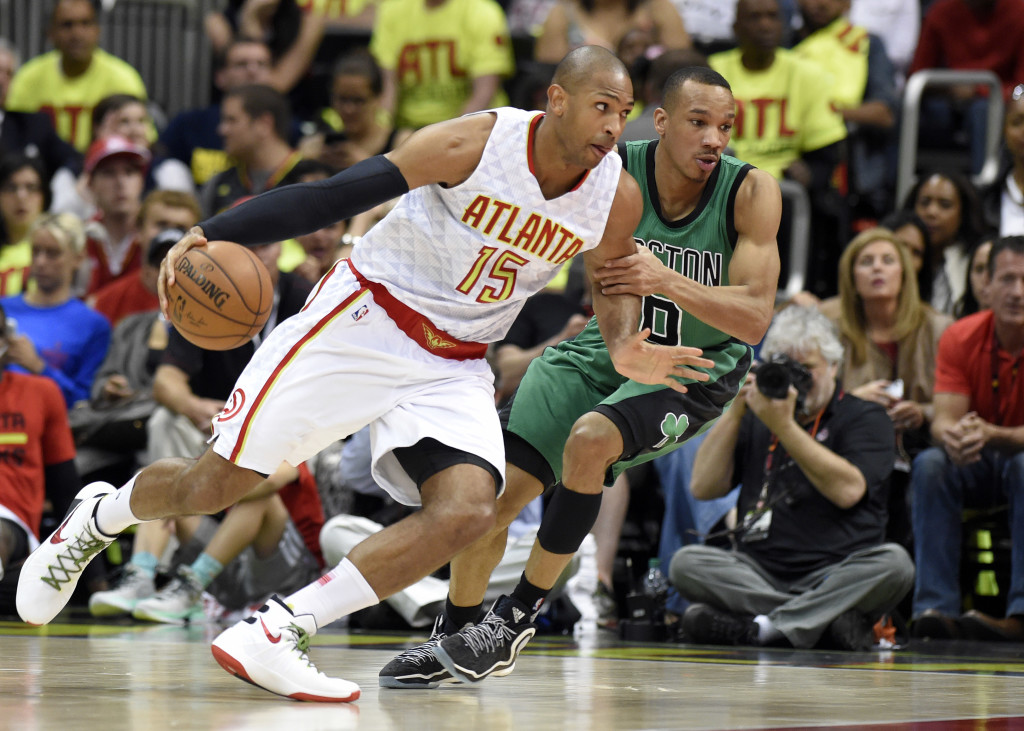 Stud
Al Horford – ATL vs. BOS – $7,300 – 47 DK points in Game One, including clutch baskets and rebounds late in the game and Tommy Heinsohn added fuel to the Horford fire when he exclaimed afterwards, very publicly, that Horford wasn't great. If he's not, then his Game One performance tells how bad that Celtics frontcourt defense really is.
Value
Jared Sullinger – BOS @ ATL – $4,600 – All season I've dreamed for Sully to be this inexpensive. He's a top 10 peripherals per 36 player, incredible DK point pile up when he gets minutes, which he's in line to do if Olynyk misses with that sore shoulder. 23.50 in Game One at $4.1K, and he can blow that out against a Hawks defense that gives up oodles (math term) of rebounds.
Other Options – Tim Duncan (vs. MEM, $4,900)