Welcome back to the third edition of Playbook's NBA Power Rankings. It may not look as nice as say, ESPN's or CBS Sports's, but yours truly works harder on this list than anyone at a big publication. Just kidding. However, if you're looking for an accurate, unbiased, and honest NBA landscape evaluation, look no further.
1. Golden State Warriors
Even with Luke Walton, the real life meme, as the coach, the Warriors are annihilating and embarrassing every foe that stands in their way. Is this the first 82-0 team in NBA history? No. Could they win 70 games? Yes.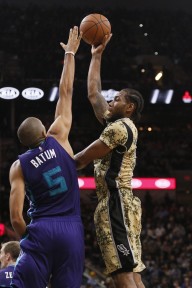 2. San Antonio Spurs
Greg Poppovich is like a dentist, operating on a patient next to a metal tray holding dozens of sharp, metal tools. But instead of deciding whether to use the scraping instrument (the worst thing ever) or the shiny mirror, Pop has the option of David West, LaMarcus Aldridge, Kawhi Leonard, and Tim Duncan in the front court. The Spurs have so many talented weapons it's uncanny.
3. Los Angeles Clippers
Blake Griffin is on a level only occupied by Stephen Curry and LeBron James. Averaging 29.3 points and 9.7 rebounds per game, Griffin is playing out of his mind. His numbers will likely regress, but his offensive creativity, athleticism, and poster finishes are here to stay. Along with Griffin, the Clips have one of the deepest rosters in the league and some of the ugliest jerseys in league history.
4. Cleveland Cavaliers
The LeBrons have had a cupcake schedule so far, but with Kevin Love showing flashes of 2013, the possibilities are endless for Cleveland, especially when Kyrie Irving returns.
5. Houston Rockets
The Rockets responded to the apocalyptic start with four straight wins against worthy opponents. During the streak, James Harden has scored nearly 40 points per game, including 46 in a win against the Clippers. Marcus Thornton has stepped up big time with his recent spike in minutes. Dwight Howard is great when he plays (17 points, 12 rebounds per game), but he has already missed three contests. Getting him healthy should be a priority.
6. Oklahoma City Thunder
Last week, I said I wouldn't overreact to the first week, but I did with OKC. I ranked the Thunder second overall, but they have since lost three straight games. The 3-3 Thunder still have incredible offensive threats in Kevin Durant and Russell Westbrook, but I'm not sure about their crunch time offense down the stretch. The hero ball (copyright TNT) can work sometimes, but it's painful to watch. Even more concerning than their isolation offense is their matador defense. They are allowing 109 points per game, which is fourth worst in the NBA.
7. Atlanta Hawks
They're doing it again. ATL is feasting on the bad teams in the Eastern conference en route to another 55+ win season. Led by Al Horford, one of the most underrated players in the league, the Hawks have won seven straight games to improve to 7-1.
8. Washington Wizards
The Zards have the best young backcourt in the league (sorry Curry/Klay, Lillard/McCollum) and a fascinating supporting cast. They have been up and down defensively, but that is expected of a young, poorly coached team. Much of their success is predicated on embracing small ball, but they are also capable of bullying teams with Gortat and Nene.
9. Chicago Bulls
If D-Rose can ride his hot streak without any "interruptions," (knock on wood) the Bulls are a scary squad. They have elite front court depth and an efficient offense. Fred Hoiberg's 4-3 team has, on the other hand, struggled mightily on defense. They gave up 130 points to the Hornets the other game. 130 POINTS!!!! TO THE HORNETS!!!!
10. Raptors
I personally don't believe in the Raptors, but they are doing their best to prove themselves. Led by thin Kyle Lowry, gunner DeMar DeRozan, and big man Jonas, the Raps can win any type of game; they can shut teams down or win shootouts. Demarre Carroll gives The Drakes an edge and their statement win over the Thunder speaks for itself.
11. Miami Heat
The Heat are a cute team. They won't punish anyone defensively, but they can score into the 100's consistently. Goran Dragic hasn't played great yet, but they have the optimal pick and roll big guys: a lengthy shooter (Bosh) and a hard cutter (Whiteside). Miami is 3-3, but has lost three close ones.
12. Utah Jazz
The young Jazz are 4-2, but haven't played anyone special. Their game against the Cavaliers on Tuesday will be a big test for Utah, a team that has five players averaging double digit points.
13. Detroit Pistons
Andre Drummond is a monster. Reggie Jackson is lightning quick off the pick and roll. Marcus Morris is a reliable isolation scorer. Kentavious Caldwell-Pope has the best name in the NBA. (Jalen Rose voice) DEEEETROIT BASKETBALLLLLLL!!!!!!!
14. Memphis Grizzlies
Now is the time to start worrying about Memphis. Mike Conley looks lazy on defense and slow on offense. Zach Randolph is out of shape, but still somehow producing. Marc Gasol is shooting just 39% and only scoring 12.6 per game. Tony Allen can only do so much to energize and inspire the 3-4 Grizzlies.
15. Minnesota Timberwolves
I have been on the T-Wolves bandwagon since Day 1 when I predicted them to reach the playoffs. They have not let me down so far, despite their losses at the hands of the Bulls and Trail Blazers. Karl-Anthony Towns and Andrew Wiggins are young superstars and Ricky Rubio is primed for a career season.
16. Phoenix Suns
The 3-3 Suns have beaten the Blazers twice and played the Clippers, Mavericks, and Pistons close in losses. Brandon Knight and Eric Bledose make a talented 1-2 punch in the backcourt, but Phoenix lacks talent across the roster. Tyson Chandler is still producing in his 13th season, but can he continue his solid play over the course of a season?
17. Boston Celtics
17th on my list. 17 championships. Coincidence?
18. Orlando Magic
Tobias Harris is being underutilized, but Victor Oladipo, Aaron Gordon, Evan "Don't Google" Fournier, and Nikola Vucevic have stepped up. The young team is exciting to watch could squeeze into the Eastern Conference playoff picture.
19. New York Knicks
This is where the league drops. All the above teams are either playoff contenders or hopefuls. Don't get me wrong, the Knicks are decent. But their nucleus is Carmelo Anthony, Kristaps Porzingis, and Derrick Williams. Jerian Grant and Langston Galloway are both better than Jose Calderon, but neither suit Phil Jackson's triangle offense perfectly.
20. Milwaukee Bucks
Giannis Antetokounmpo is a monster. Jabari Parker is starting to look explosive. MCW is playing well and Greg Monroe is putting up 18 and 9. They are on a four game winning streak, but all four of their wins have been against awful teams. On a related note, John Henson has a 32.4 PER. Wow.
21. New Orleans Pelicans
Hit the panic button. The team that everyone was ready to crown as a playoff contender is 0-6. Anthony Davis, whom most writers predicted as the MVP, is struggling to find his footing under Alvin Gentry's system. He's still putting up numbers and he will likely find his rhythm, but can 6 early losses be salvaged in the über competitive western conference?
22. Indiana Pacers
Paul George and Monta Ellis is a fun tandom and the Pacers' revamped uptempo style will take some time to get used to. George Hill has been somewhat of a revelation as his offensive aggression has been pleasantly uncharacteristic.
23. Portland Trail Blazers
The Blazers have been a pleasant surprise so far, led by the explosive backcourt of Damian Lillard and CJ McCollum. McCollum, the Lehigh product, is averaging 22 points per game while also assuming more of a playmaking role at times. The two are combining for nearly 50 points per game.
24. Dallas Mavericks
Dwight Powell is providing hope for a dying Dallas Mavericks squad. He's come on with 11 points and 8 rebounds in six games. He was regarded as trade filler in the Rondo trade, but his hustle and tenacious rebounding are paying dividends.
25. Denver Nuggets
Emmanuel Mudiay is doing his best to stay in the MVP conversation and Danilo Gallinari is contending for the comeback player of the year award that nobody cares about. The 2-4 Nuggts have no realistic hope for this season, but could build a solid core around Mudiay.
26. Sacramento Kings
Rondo recorded a triple double last night, but the Kings are 1-6. Boogie Cousins has been sidelined for the previous four games, so hopefully he can return soon. His team needs him.
27. Charlotte Hornets
They wrecked the Bulls with an outlandish 130 point performance last week. Although they hold a 2-4 record, the Hornets have played the Hawks close twice, losing both games by a total of five points. Charlotte has six players averaging over 10 points per game and seven with an above average PER.
28. Los Angeles Lakers
Kobe needs to hand this team over to the young guys. Until D'Angelo Russell, Jordan Clarkson, and Julius Randle take the reins of LA, the Lakers have no hope.
29. Philadelphia 76ers
The 0-6 Sixers are still playing for the future. In their third straight rebuilding year, it's looking like another top 5 pick for the 76ers this year.
30. Brooklyn Nets
"We want Ben Simmons" – Every Celtics fan