Minutes are a key stat in our decision making process when it comes to daily fantasy basketball. With the NBA Playoffs here, we need to be aware of how the playoffs affect minutes. Just about every coach will shrink their rotation, but by how much? And where will that coach distribute the extra minutes?
I've compared my playoff minute projections to regular season averages. I expect the guys below to get the biggest bumps, allowing us to exploit their salaries — which are based on regular season minutes.
Note This is Part 1 and only discusses Saturday's four-game slate. Upcoming Part 2 will focus on the eight teams tipping off Sunday.
1. Norman Powell,

SG,

Raptors
14.8 regular season, 24 projected playoffs = 9.2 minute gain.
Powell's season-long average of 14.8 minutes is skewed because the second-round rookie barely played before the All-Star break. But he proved to be one of the steals of the draft, earning 22.8 minutes after the break. Most importantly, even in the five April games both Kyle Lowry and DeMar DeRozan were active for, Powell averaged 28.8 minutes.
The status of DeMarre Carroll's minutes cap coming off knee surgery will have a big impact on Powell's projection. If Carroll is healthy enough to be the Raptors' defensive stopper on Paul George, Powell will take a backseat. But if Carroll remains on a 15-20 minute limit or if the Pacers play George at power forward a lot, Powell will still push for 24-29 minutes.
---
2. Dirk Nowitzki,

PF,

Mavericks
31.5 regular season, 36 projected playoffs = 5.5 minute gain
When we're talking about playoff minute boosts, the most obvious place to look is at aging veterans. It's a no-brainer move for coaches to coddle them in the regular season and then unleash them when it counts. The problem for Rick Carlisle this season was the Mavs' struggles, which forced Dirk to log 32.5 minutes a night after the All-Star break just to make the playoffs. He appeared out of gas down the stretch, but Dirk averaged 36.2 minutes in the 2015 playoffs and 37.6 in the 2014 edition. He'll be out there.
---
3. Ian Mahinmi, C, Pacers
25.6 regular season, 31 projected playoffs = 5.4 minute gain
As the season wore on, Mahinmi separated from Myles Turner, Jordan Hill and Lavoy Allen on the depth chart. He enters the playoffs as the unquestioned primary big man, as evidenced by his "rest" day along with the rest of the Indy's top players in the regular season finale. Mahinmi, who gets .932 DraftKings points per minute on the season, is certainly underpriced at $4,300.
---
4. Patrick Beverley,

PG,

Rockets
28.7 regular season, 34 projected playoffs = 5.3 minute gain
Ty Lawson getting traded away had a big impact on the minutes of both James Harden and Beverley as the Rockets essentially have no backup point guard. Beverley played 26.7 minutes before the All-Star break and got a bump to 32.1 after. He also projects to play more against an elite point guard like Steph Curry because Bev's standout defense is necessary against him.
---
5. Wesley Matthews,

SG,

Mavericks
33.9 regular season, 39 projected playoffs = 5.1 minute gain
A lot of this bump has to do with Chandler Parsons' season-ending injury. Matthews averaged 32.9 minutes per game with Parsons this season vs. 37.3 without. Wes had the extreme green light from 3-point land during April, making 3.6 triples per game on a whopping 9.4 attempts.
---
6. Russell Westbrook,

PG,

Thunder
34.4 regular season, 39 playoffs = 4.6 minute gain
As one of the most durable and tireless players in the NBA, there's little concern of overworking Westbrook. We saw him log 38.7 minutes a game in the 2014 playoffs and 36.1 a night during February of this season. So stretching Westy to 39 for the playoffs shouldn't be a problem, giving him a massive projection at his league-leading 1.561 DK points per minute average.
---
7. Andrew Bogut, C, Warriors
20.7 regular season, 25 playoffs = 4.3 minute gain
Bogut is clearly one of the veterans that is purposefully coddled during the regular season. The Warriors know they need him — his real plus/minus us +3.40, top-23 in the league. In the first round, Bogut can comfortably match up with fellow big-bodied banger Dwight Howard (who I have projected for 33 minutes).
---
8. Paul George,

SF,

Pacers
34.8 regular season, 39 projected playoffs = 4.2 minute gain
Coming off a severe leg injury, George impressively carried the Pacers by logging 34.8 minutes a night during the regular season. He repeatedly admitted to being tired, but only missed one game (the finale) and sustained a reasonably high level of play. With five days off before Game 1 against the Raptors and everything to play for, it's time for George to extend himself once again.
---
9. DeMar DeRozan, SG & 10. Kyle Lowry,

PG,

Raptors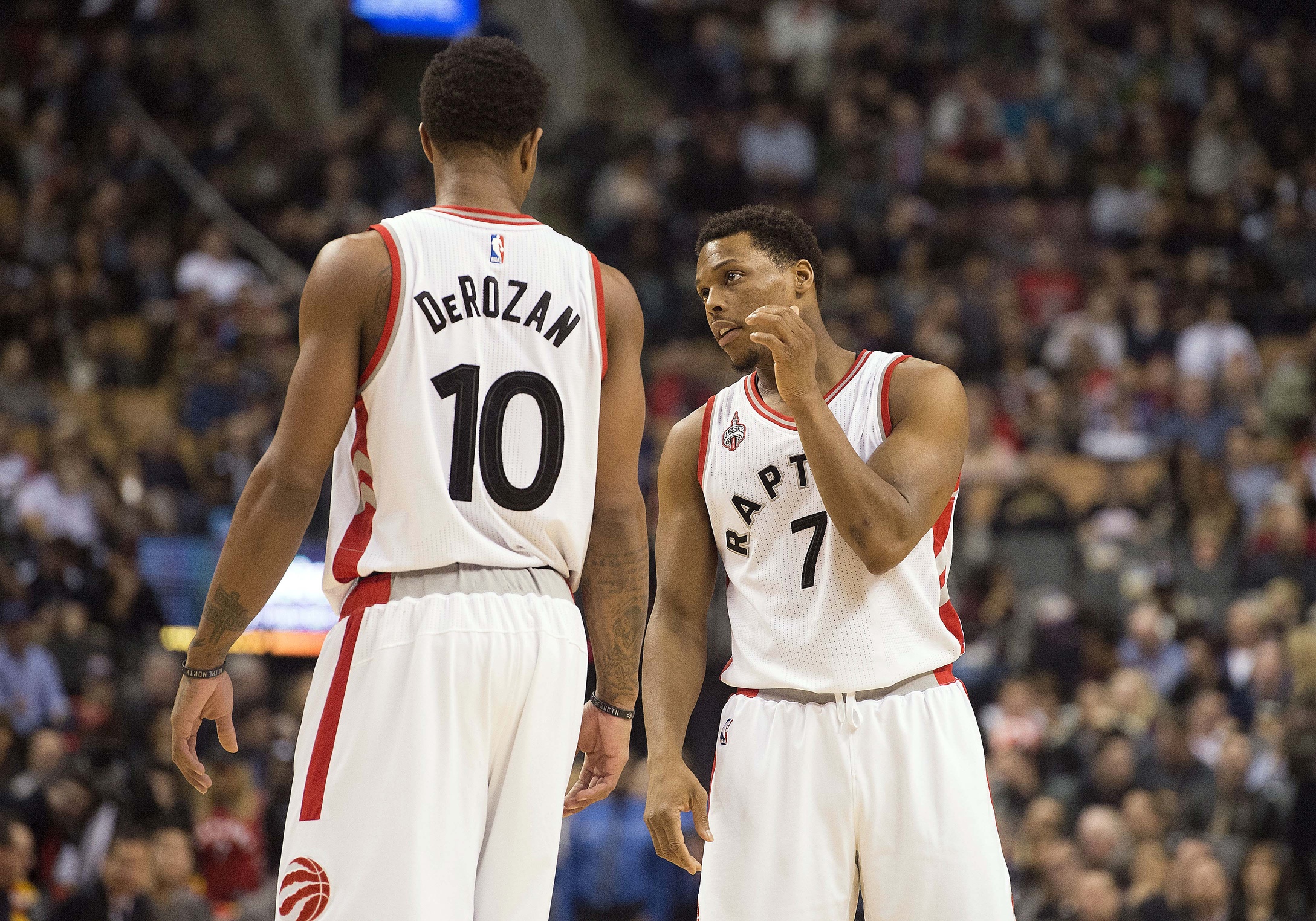 DeRozan – 35.9 regular season, 40 playoffs = 4.1 minute gain
Lowry – 7.0 regular season, 41 playoffs = 4.0 minute gain
The Raptors know where their bread is buttered, sitting Lowry and DeRozan out together three times in April. They're prepping their two workhorses for a massive workload in what they expect to be a deep playoff run. We know they're both capable, as Lowry logged 37.5 minutes a night after the All-Star break and DeRozan was at 39.8 in the first-round playoff loss to the Wizards last year.
---
OTHER NOTABLES
Serge Ibaka, 3.9 minute gain — An afterthought on offense, but likely to play 36 minutes and averages 2.1 blocks per 36 minutes on the season.
James Harden, 3.9 minute gain — Recent salary on DraftKings already reflects the absurd 39.7 minutes Harden played after the All-Star break.
Jae Crowder, 3.4 minute gain – Quietly a huge piece of the Celtics who consistently logged minutes into the mid-30s when healthy.
Paul Millsap, 3.3 minute gain — Nice matchup for Millsap against a Celtics defense that funnels fantasy stats toward bigs.
Kevin Durant, 3.2 minute gain — Should push for 40 minutes in games that stay close.