The NBA playoffs are finally here, and this year figures to be an exciting one. But now that we know all the teams that are in the playoffs, that also means we know all the teams that are in the lottery (and where they figure to pick).
Sign up for DraftKings today and earn free entry into an MLB tournament! REGISTER HERE
I'll continue to update my NBA Mock Draft until the draft arrives in June, but for now here's the first half of part one. Stay tuned for the second half of part one, which will obviously be the back end of the first-round, where the playoff teams will be picking.
*Until the lottery has been conducted, the draft order will be ordered as if the worst three teams win the top-three picks (Minnesota, New York, Philadelphia), even though we all know this is never going to happen. It took me about 100 tries on the ESPN lottery machine just to get a draft board where the picks went in order to the Timberwolves, Knicks and 76ers.
The interesting part of the lottery falling in order is that each of the top-three teams would get the player that best suits them. Here we go.
1. Timberwolves — Karl-Anthony Towns (Kentucky, freshman): Towns doesn't have the offensive potential to operate in the post like Okafor does, but he has everything else. He can shoot the ball much better than Okafor, but what really makes him the sexier NBA prospect is that he's the type of rim protector that everyone wants on their team, and isn't afraid to rebound. Add this guy to the Andrew Wiggins/Zach LaVine young core of the Wolves and they are a couple of years away from being a problem in the west.
2. Knicks — Jahlil Okafor (Duke, freshman): Everyone in New York wants Okafor. Hopefully the "savior" label isn't too heavy on his shoulders, because he's going to be expected to do more than he's capable of right away. He's not an elite defensive center like Towns, or even Willie Cauley-Stein. But his low post game is well polished, and that's where he'll succeed in the NBA. Think Al Jefferson without the range on his jump shot. The potential is there, but Okafor has a long way to go. Some think he may have hurt himself enough in the tournament that he slides to fourth in this draft.
3. 76ers — D'Angelo Russell (Ohio State, freshman): After trading Michael Carter-Williams, Philly surprisingly needs a point guard again, and are already stocked with young bigs. Russell is the perfect fit. I see him as a much better pro than MCW, and, honestly, a kid with the potential to be the best player in this draft. Russell has a fantastic feel for the game and is also a tremendous scorer. Combine that with his athleticism, and he has all the tools to be an elite point guard if he commits to defense.
4. Lakers — Justice Winslow (Duke, freshman): Yea, the Lakers will probably end up winning one of the top-two picks and snagging one of the big men at the top of the draft. It's easy to get that feeling. LAL also figures to be major players in the free agent market this summer, and we all know Rajon Rondo and Kevin Love will be the first numbers called. But no matter which direction the Lakers go, Winslow is a fit. His athleticism is going to launch him up draft boards once teams start working him out, and assuming NBA coaching can calm him down on the offensive side of the ball (where he tends to get out of control), he's going to be a great player.
5. Magic — Emmanuel Mudiay (Congo/China): Winslow would be a perfect fit here, and would wind up the pick, but in this scenario he's off the board. That means Orlando settles for one of the biggest mysteries of the draft. Mudiay was once thought to be a realistic option for the top-pick in this draft, and there's still time for him to climb there if his game is for real. He's this year's Dante Exum. He's going to get a lot of hype, but in the end he slides because he's so raw. But at 6-foot-5 with Derrick Rose-esque athleticism, he's going to be a high pick. This would provide Orlando with a great young trio in the backcourt to go with Payton and Oladipo.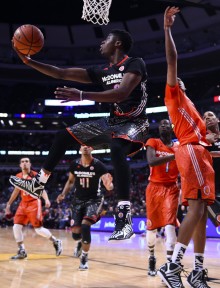 6. Kings — Trey Lyles (Kentucky, freshman): Lyes is flying under the radar because of all the prospects that the Wildcats had on their team. He was a hidden piece at Kentucky that projects much better as an NBA player than he was as a college player. I think he climbs in this draft much like Winslow. Lyles does everything on the floor well, and has the size and shot to be a very good stretch-four if he reaches his ceiling.
7. Nuggets — Willie Cauley-Stein (Kentucky, junior): We have the first non-freshman off the board! (Mudiay would have been a freshman this past year, but played overseas due to academics). WCS could go as high as sixth in this draft, but could also fall because his numbers at Kentucky were not eye-popping. But like all the Wildcats, you have to look past their stats. Cauley-Stein has Tyson Chandler type potential. He's an elite shot blocker that has the quickness to defend all the perimeter positions — that sentence alone will have scouts drooling. He can finish around the rim like Chandler, but if he ever develops anymore of an offensive game, WCS will be a real steal.
8. Pistons — Kristaps Porzingis (Latvia): There's always hype over a foreign big man that nobody knows about. This year Porzingis is that guy. I'll admit, I don't know much about him, and really, I don't care to. These guys never seem to pan out. But according to scouts he has some nice versatility for a big guy, so if he slips this far he could be a decent Greg Monroe replacement.
9. Hornets – Stanley Johnson (Arizona, freshman): After his tournament run, Winslow has surely surpassed Johnson as the top wing off the board, but Johnson will still probably be a top-10 pick. Both are similar in the sense that they're very raw lefties with great size and athleticism, but Johnson is more of an outside threat. Let's face it, Lance Stephenson didn't work out. Time to look to fill that role elsewhere.
10. Heat – Kevon Looney (UCLA, freshman): Much like Winslow and Johnson have their similarities, Lyles and Looney are the same way. Both are versatile stretch-fours that can produce very balanced stat lines. Looney needs improvement in certain areas, but like everyone at the top of this draft class, his raw ability won't scare scouts off. I've seen NBA Mock Draft comparisons range from Al-Farouq Aminu to Lamar Odom.
11. Pacers – Kelly Oubre (Kansas, freshman): Oubre doesn't do much for me, but he just won't fall out of the lottery no matter where you look. Like the rest of the top wings, strangely enough, he's another lefty. But the comparisons stop there. Oubre shoots with deep range by NBA standards and is a lockdown defender. If a team feels his skill set fits their needs more than Winslow/Johnson, then Oubre could go much higher in this draft.
12. Jazz – Sam Dekker (Wisconsin, junior): Aside from Winslow, nobody helped himself as much as Dekker in the tournament. He had career games, hit clutch shots and put his athleticism on display alongside his obvious size. Had Wisconsin been knocked off early, Dekker probably would have been viewed as a late-first/early-second rounder and returned for his senior season. Crazy how this draft process works sometimes.
13. Suns – Myles Turner (Texas, freshman): Turner was somewhat of a disappointment in his year at Texas, but it's easy to see why he's a lottery pick. He's likely to be the last elite shot blocker off the board, and we've learned how valuable rim protectors are viewed in the NBA. He has a decent jump shot, but at his size he needs to find a way to be effective in the paint offensively. Turner is probably viewed similar to if Cauley-Stein had left school after his freshman season.
14. Thunder – Frank Kaminsky (Wisconsin, senior): Frank the Tank makes it into the lottery! Look, you have to take Kaminsky for what he is, and that's not a star at the NBA level. Kaminsky would, however, make a great role player off the bench, and thanks to four years of Big-10 basketball, could probably step into that role easily. A team like the Thunder are going to be looking to contend next season, not develop. This is a great fit.
The Hawks are on the clock with the 15th pick. Yes, Brooklyn doesn't only owe picks to Boston, but to Atlanta too from the Joe Johnson deal.
Follow me on Twitter @julianedlow