Recap: Never talk bad about old man Rondo! Who knew that a secondary player (Not the Beard) Houston stack would take down a GPP. Tonight's short slate has some great games and some good value, let's jump right in.
---
Looking for more NBA content? Check out these articles:
NBA Targets
NBA Game Breakdown
---
The Vegas Lines
Highest Scoring Games
Warriors vs. Timberwolves – With only a 3 game slate, this one should provide the most scoring. With an o/u of 210, Curry and company will look to splash buckets early/often. The Timberwolves present value, but are also plagued by injuries. Make sure you check injury reports before you set your lines.
Lowest Scoring Games
Jazz vs. Heat – Why must you do it to us NBA? On my favorite NBA night of the week you present us with the Jazz. The slowest team in basketball has the lowest point total tonight. With a 182 o/u the only positive thing to take away from this game is that it should be close. Also, if Gobert plays there will be an interesting matchup with Whiteside.
---
Pace of Play
Fastest Projected Games
Clippers vs. Suns – Two top 10 teams in the Hollinger pace ratings and the 2nd highest point scoring total of the night. I will definitely have some of this one. Look for CP3, Griff, Bledsoe, and Knight to all be highly owned tonight.
Slowest Projected Games
Jazz vs. Heat – Just going to leave this right here…Jazz = 30th in pace.
---
Defense vs. Position
Best PG Matchups
Stephen Curry vs. Ricky Rubio – Rubio is a decent defender, but Steph Curry is Steph Curry. Just for your information, last night was a mediocre 28-5-5- and 5 steal game for Curry. Examine closely the word mediocre.
Worst PG Matchups
Goran Dragic vs. Raul Neto/Trey Burke – Dragic hasn't hit value in the last 4 games he's played. The Jazz are ranked number 1 against opposing guards. I am staying away.
---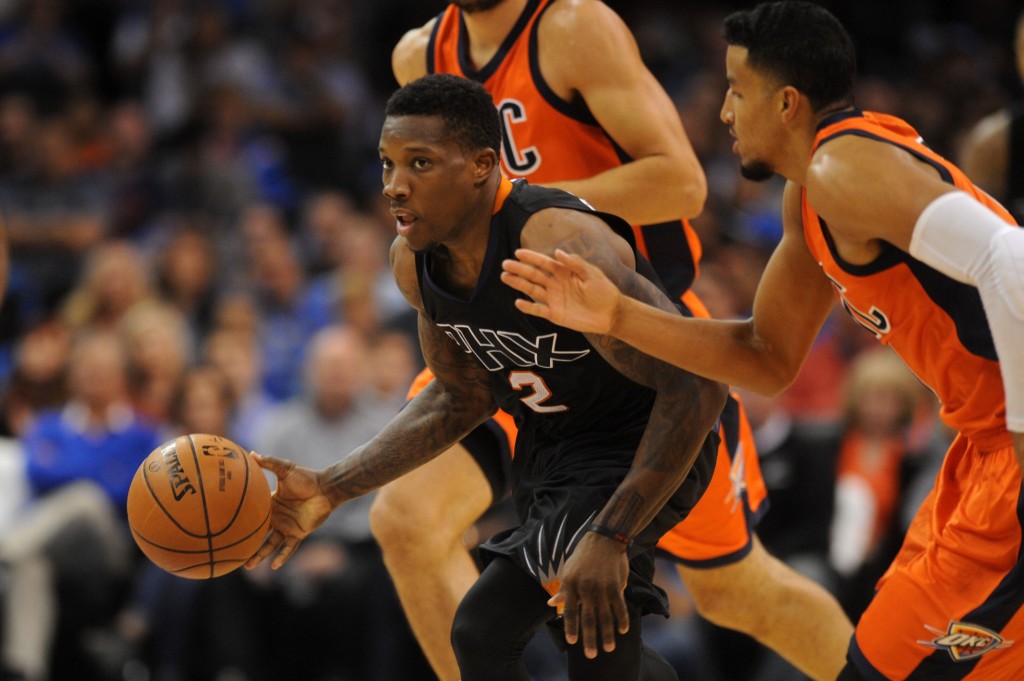 Best SG Matchups
Eric Bledsoe vs. Whoever Doc Starts – J.J. is doubtful for tonight with back spasms. Bledsoe is a high minute, high scoring one man wrecking crew. I am all in on EB against his old squad tonight.
Worst SG Matchups
Rodney Hood vs. Dwyane Wade – The Heat are ranked in the top 5 against opposing SG's. However, I worry that the numbers may be a little skewed due to the great 2nd team play of Justise Winslow. Either way there are better options on the night.
Editor's Note: Dwyane Wade has been announced as "Out" tonight.
---
Best SF Matchups
Gordon Hayward vs. Luol Deng – Hayward has finally broken out of his funk. He hasn't posted a monster game yet, but he is hitting value. Deng is usually a great defender, but is ranked 22nd this year. Hayward makes for a great option on a short slate.
Worst SF Matchups
Andrew Wiggins vs. Harrison Barnes – Barnes has been playing for big money all year. Wiggins comes into tonight's matchup a little banged up. There is another SF for the Timberwolves that makes more sense tonight hint hint.
---
Best PF Matchups
Markieff Morris vs. Blake Griffin – I know, you think you are reading that wrong. You aren't, Blake is a great scorer, but only a mediocre defender. He is ranked in the bottom 20 against opposing PF's and will get a seasoned veteran tonight. Markieff has struggled to hit value, but has a good spot tonight in a fast paced game.
Worst PF Matchups
Chris Bosh vs. Derrick Favors – Bosh has hit value in his last 5 outings. However, tonight he gets arguably the best PF defender in the league. I'd rather take a flyer on the defender than the defendee in this one.
---
Best C Matchups
Tyson Chandler vs. DeAndre Jordan – Tyson has struggled in his last 3 outings, but he is still getting the minutes. The Clips are terrible against the C position and should give up a nice line tonight.
Worst C Matchups
Hassan Whiteside vs. Rudy Gobert – Let me preface this by saying "on paper." On paper this is the worst matchup of the night. Do I believe that completely, no, but I do think it affects Whiteside's fantasy scoring output. If Gobert suits up his is ranked number 1 against opposing C's.
---
Lineup Quick Hits
Superstar Worth Paying For
Stephen Curry (10,700) – I honestly don't have a lot to say about this pick, fire up the MVP (and fellow Carolina Panthers fan).
Save Big Bucks By Drafting
Jamal Crawford (4,400 – With J.J. doubtful tonight, Jamal good get the start. Crawford has the ability to explode on any given night and is a great pure shooter. This game will suit his fast paced style and give him the opportunity to hit value tonight.
Dud of the Night
Rudy Gobert/Draymond Green – This is solely based on injury report. Make sure you check injuries prior to lock, because I would hate for one of these guys sitting to ruin your line.