As we reach the final two weeks of the season, it's vital to be aware of team's motives. A fistful of teams are fighting for a playoff berth and have tightened their rotations. Other teams are getting long looks at young players. A few are so banged up they're only dressing eight or nine guys.
INJURY BOX
| Status | Players |
| --- | --- |
| Probable | Paul Millsap (ATL), Pau Gasol (CHI), Taj Gibson (CHI), LaMarcus Aldridge (SAS), Damian Lillard (POR), Jrue Holiday (NO) |
| Questionable | Jon Leuer (PHO), Tyson Chandler (PHO), Kenneth Faried (DEN), Nick Young (LAL) |
| Doubtful | Manu Ginobili (SAS), Tim Duncan (SAS), Tony Parker (SAS), Deron Williams (DAL), Zach Randolph (MEM), Larry Nance, Jr. (LAL), Zach Randolph (MEM) |
| Out | Anthony Davis (NO), Ryan Anderson (NO), Chandler Parsons (DAL), P.J. Hairston (MEM), Mike Conley (MEM), Meyers Leonard (POR), Jae Crowder (BOS), Blake Griffin (LAC), Kawhi Leonard (SAS), Marco Belinelli (SAC), DeMarcus Cousins (SAC), Rajon Rondo (SAC), Rudy Gay (SAC), Goran Dragic (MIA), Terrence Ross (TOR) |
Editor's Note (6:04 PM ET): Goran Dragic is OUT of tonight's game against Brooklyn. Dwyane Wade ($6,500) will likely receive a boost in both minutes and usage rate tonight. Also, Josh Richardson ($4,200) is a likely beneficiary of Dragic's absence. He's played 34 and 33 minutes in his last two games, averaging 27.75 DKFP. Look for Richardson to see an increase in usage when he's on the floor tonight.
Editor's Note (3 PM ET): DeMarcus Cousins (35.4pct USG), Rudy Gay (22.2pct USG), Rajon Rondo (18.8pct USG) and Marco Belinelli (19.7pct USG) are all OUT tonight for the Kings. Overall, the four players ruled out account for four of the five highest usage rates on Sacramento this season. This team isn't very good to start and sitting their three best players tonight won't help much. The upside is that guys like Seth Curry, Darren Collison, Kosta Koufos, Willie Cauley-Stein and Omri Casspi should all benefit. As a tournament flier, Seth Curry is especially interesting. He's averaged over 21 DK FPPG over the last two games in 24.5 minutes per game.
---
INJURY IMPLICATIONS
1. Sacramento Kings
DeMarcus Cousins (knee, ankle, foot) is tentatively expected to be rested tonight in Portland. This has meant an easy plug-n-play with Kosta Koufos ($3,500) all season, as Koufos averages 13.6 DraftKings points in 16.4 minutes with Boogie vs. 27.0 DraftKings points in 28.3 minutes without. However, it's worth noting that coach George Karl has relented on his inane anti-rookie stance lately, giving Willie Cauley-Stein ($3,700) at least 28 minutes in two straight games. The defensive-minded WCS has responded by showing actual offensive ability with 26 and 21 real-life points. With their DK points per minute numbers so close (Koufos .865, Cauley-Stein .830), I'd lean toward whoever starts if forced to choose one. Playing both is certainly an option as they cost a combined $7,200. As for the rest of the Kings, I talked last week about how Rudy Gay does not receive a production bump when Boogie sits. In 11 games without Cousins, Gay averages 30.4 DraftKings points vs. 31.3 DK ppg when Cousins does play.
2. Dallas Mavericks
The Mavericks, currently a half-game out of the West's final playoff spot, are on a three-game losing streak. They'll be extremely motivated to snap that tonight at Denver, but won't have starting point guard Deron Williams (abdomen). That likely means another start for J.J. Barea, who averages 30.4 minutes per game without Deron this season. Barea gets .864 DK points per minute on the season, meaning his baseline projection of 26.2 DK points is roughly 5.7x his $4600 salary. Raymond Felton, averaging 25.8 DK points per game in 11 without Deron this season, is also a fine play as he has shooting guard eligibility at $4,300.
3. San Antonio Spurs
Kawhi Leonard (thigh) is questionable while the elderly trio of Tim Duncan, Manu Ginobili and Tony Parker will rest. I'm not going to overreact as the Spurs still have plenty of bodies for Gregg Popovich to choose from. For example, Patty Mills has played three games without both Parker and Ginobili this year — but has gotten just 26.5 minutes per game in them. Kyle Anderson's .770 DraftKings points per minute leaves a lot of downside. The Spur I'm most likely to target if Leonard sits is LaMarcus Aldridge, who gets 38.2 DK ppg in six without Kawhi vs. 32.9 with.
---
---
MATCHUPS

TO

EXPLOIT
1. Ricky Rubio against the Suns
The most successful flow-chart play of the season has been guards against the Suns. They're now giving up an absurd 6.56 more DK points than salary-based expectation to point guards. So we knew Ricky Rubio was a strong play even before we go further. Rubio also averages 0.9 more DK points at home, is at 1.13 DK points per minute in March (vs. 1.07 overall) and has played at least 31 minutes in six of his last eight games. Karl-Anthony Towns, still grossly underpriced at $8,100 considering he's averaging 42.5 DK points over his last 10, is also firmly in play despite a tougher matchup than Rubio.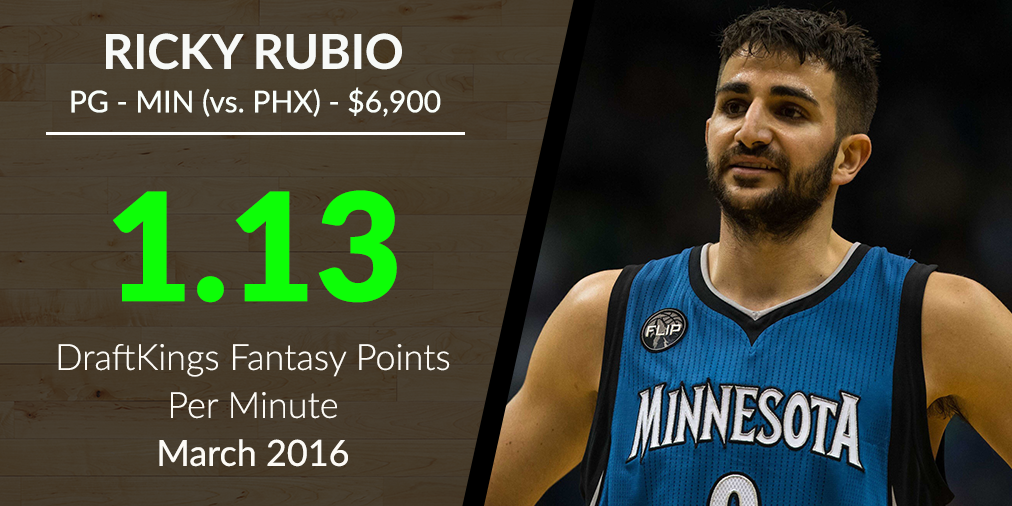 ---
CAPITALIZE ON…
1. Jazz in playoff mode
The Jazz are currently seventh in the West but are just one game clear of the ninth-seeded Mavericks. At this time of year, being aware of the standings is critical when making DFS decisions. We see teams in these playoff chases tighten their rotations, which means more minutes for core players. Gordon Hayward has played at least 36 minutes in four of the last five games, Derrick Favors at least 32 minutes during that span and Shelvin Mack at least 33 minutes. Tonight, we get to take advantage of these big minutes against a Lakers "defense" that ranks dead last in defensive efficiency.
2. Moe Harkless seizing a starting role
We've quietly seen a changing of the guard in Portland as Maurice Harkless has taken over the starting forward job from Noah Vonleh. Harkless has started each of the last three games, averaging 28.6 minutes and 26.8 DK points during that span. Given that the Blazers won two of those games and Vonleh has averaged just 7.3 minutes in them, I'd expect a similar role for Harkless tonight. Given his $3,500 salary and matchup with a Kings team that leads the NBA in pace yet ranks 24th in defensive efficiency, Harkless is one of the best sub-$4K punts on the board.
---
UNDERPRICED ASSET
1. Jeff Teague against the Bulls
In tournaments, I like using players who can earn more minutes/opportunity with strong play. Jeff Teague certainly fits that bill, as we can't play him in 50/50 games because Dennis Schroder is capable of stealing minutes. But we can take shots with Teague in tournaments because his $5,500 tag doesn't reflect his ceiling when he's on. Tonight's tasty matchup against a defensively inept Derrick Rose is a spot Teague has an excellent chance to earn the lion's share of the minutes over Schroder, as he has in three of the last four games.
---
CASH GAME CONSIDERATIONS
Below are the players I'm considering most in head-to-head and 50/50 style NBA games tonight (in no particular order).
| Pos | Players |
| --- | --- |
| PG | Ricky Rubio, Damian Lillard, Russell Westbrook, J.J. Barea, Shelvin Mack, Goran Dragic, Kyle Lowry |
| SG | Raymond Felton, C.J. McCollum, Zach LaVine, Evan Turner, Andrew Wiggins, Devin Booker |
| SF | Gordon Hayward, Maurice Harkless (if he starts), Luol Deng, Carmelo Anthony, Kevin Durant |
| PF | Dirk Nowitzki, LaMarcus Aldridge (if Kawhi Leonard is out), Derrick Favors, Kristaps Porzingis, Ed Davis, David West |
| C | Kosta Koufos or Willy Cauley-Stein (depending who starts), DeAndre Jordan, Karl-Anthony Towns, Robin Lopez |