$300K Bird Tonight. $33 to Enter.
DRAFT YOUR NBA TEAM
Forcing a "Stars and Scrubs" lineup on DraftKings has been a trap for much of the year. Due to tight pricing and some nights without much value, that construction simply hasn't been there. Tonight is a different story, as we have a ton of intriguing scrubs to work with. The injury situations in Memphis, New Orleans, Orlando and New York have created openings for relative unknowns to play big minutes. Figuring out how many of these scrubs to roster will be a key to tonight's 10-game slate.
CURRY VS. LILLARD
This is the marquee matchup of the night and Lillard has already been quoted today as saying it's "disrespectful" to compare him to Curry and that he's his own man. Lillard clearly gets up for these big games against the league's best point guards and his 73.9 DK points per game vs. Golden State this season supports that. But, Steph Curry is the MVP. Steph Curry is the best player in the world right now. Having both players in your lineup tonight makes sense from a game theory perspective but if I had to lean towards one, I prefer Curry.
Curry or Lillard tonight?

VOTE HERE
---
INJURY BOX
| Status | Player |
| --- | --- |
| Out | Mario Chalmers, DeMarcus Cousins (SAC), Elfrid Payton (ORL), Lance Thomas (NYK), Arron Afflalo (NYK), Jimmy Butler (CHI), Dion Waiters (OKC), Jahlil Okafor (PHI) |
| Doubtful | Mike Conley (MEM), Chris Andersen (MEM), Nikola Vucevic (ORL), Ben McLemore (SAC), Norris Cole (NO) |
| Questionable | Kelly Olynyk (BOS), Nemanja Bjelica (MIN), Dioin Waiters (OKC), Norris Cole (NO), Zach Randolph (MEM), Rodney Hood (UTA), Arron Afflalo (NYK), Luc Mbah a Moute (LAC), Derrick Rose (CHI) |
| Probable | Brook Lopez (BKN), Zach LaVine (MIN), Bradley Beal (WAS), Marco Belinelli (SAC), J.J. Redick (LAC) |
INJURY IMPLICATIONS
1. Mike Conley and Mario Chalmers,
PG,

Grizzlies

The injury situation in Memphis has become borderline comical. Conley, Chalmers, Marc Gasol, Branden Wright and Chris Andersen are all out. Zach Randolph (knee) is on the bad side of a questionable tag. It's created a situation where they are so desperate for point guard help that they signed defensive-minded PG Briante Weber out of the D-League Friday morning and may start him tonight against the Pelicans. Either way, Lance Stephenson — who has averaged 23.2 minutes in 10 games as a Grizzly — is going to see minutes at both the wing and point guard spots. As for the bigs, we know what to do at this point. If Randolph is out, JaMychal Green is going to see 35-38 minutes in an elite matchup against the Pelicans.
2. Nikola Vucevic and Elfrid Payton, Magic
Vooch remains sidelined by his groin issue and Payton is out with a sprained shooting elbow. Note that coach Scott Skiles is also talking about changing up his starting lineup and rotation, as noted in this Orlando Sentinel article. Still, we can expect around 20-25 minutes for Jason Smith again at the center spot as he splits time with Dewayne Dedmon. As for the point guard position, it's hairy. Elfrid has been in the doghouse even before his injury and C.J. Watson has been falling into Skiles' good graces. Watson will start in this dream matchup, but only averages .626 DK points per minute and Brandon Jennings will be at the ready. For more on the Magic tonight, see below.
3. Jahlil Okafor, C, 76ers
It looks like Okafor's shin/knee issue is more serious than originally expected as he could miss the rest of the year. I talked a ton on Wednesday about Nerlens Noel's raised projections when Okafor sits. Unfortunately, Brett Brown mentioned a 25-minute cap before the game and I got off Noel. Then he went out and scored 40.75 DK points in 32 minutes. Tonight, the minutes shouldn't be a concern and the matchup is almost as good against the Nets. Ish Smith and Nerlens are both underpriced now relative to their role when Okafor is in street clothes.
---
More
NBA

Content for Friday
---
MATCHUPS

TO

EXPLOIT
1. Victor Oladipo and Evan Fournier against the Kings
Rostering wing players against the Kings has been extremely profitable all season long. Sacramento leads the entire league in pace, is 24th in defensive efficiency and lacks a stopper of any kind. So we have Oladipo and Fournier in the best possible matchup. We also have them with an increased usage and field-goal attempt projection as Nikola Vucevic (groin) is out again and Elf Payton (elbow) will join him. Note that Oladipo averages 30.6 DK ppg when Vooch plays vs. 36.2 when he doesn't. Fournier's usage goes from 19.0 when Vucevic on is on the floor to 21.1 when he's off.
SITUATIONS

TO

CAPITALIZE

ON
1. DeMarcus Cousins' suspension
Cousins takes 20.9 shots per game and leads the entire NBA in usage rate at 33.7. In other words, his absence Friday night will have a massive impact on the entire roster. The easy plug-n-play (assuming he starts) is Kosta Koufos at minimum salary. In the nine games Cousins has missed this year, Koufos has averaged 25.5 DK points while playing 27.7 minutes. Willie Cauley-Stein has a much lower floor, for reasons noted here by the Sac Bee.
"Gay's DK points per minute go from 0.92 to 1.07 when Cousins is inactive."
Another obvious beneficiary of Cousins' absence is Rudy Gay, who was in a very good spot even before the Cousins news. Note that Gay's DK points per minute go from 0.92 to 1.07 when Cousins is inactive. We also have a bump for Darren Collison, as he's been starting at the two-guard spot and is a very safe bet for 30-33 minutes with Ben McLemore doubtful and Seth Curry questionable.
UNDERPRICED ASSET
1. Gordon Hayward against the Wizards
The Wizards give up 2.91 more points than salary-based expectation to small forwards, second-worst on the slate behind only the Rockets. They also are now tied for fourth in pace as they continue to ramp up their speed since the acquisition of Markieff Morris. Gordon Hayward also averages 2.2 more DK points per game at home vs. the road. So we have a perfect storm as Hayward's price has dipped below $7000. He'll also be extremely low-owned with all the other popular SF plays out there like Rudy Gay, Robert Covington and Kevin Durant.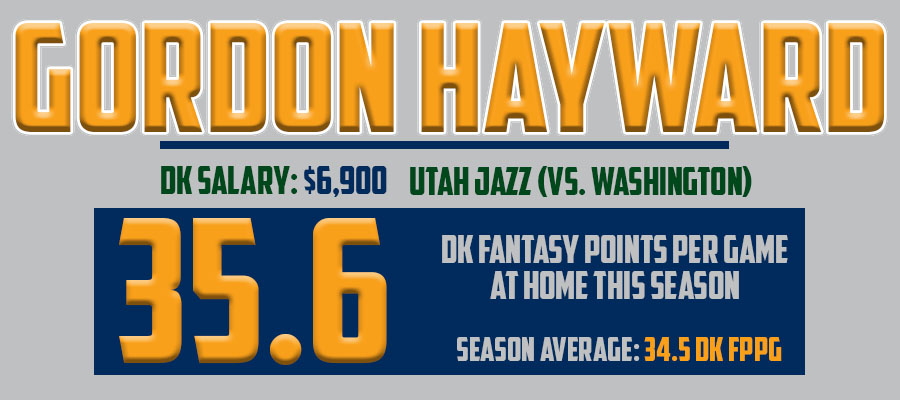 ---
Cash Game Considerations
Below are the players I'm considering most for cash games tonight.
| Pos | Position |
| --- | --- |
| PG | Steph Curry, Damian Lillard, Russell Westbrook, Ish Smith, C.J. Watson, Jrue Holiday, Toney Douglas |
| SG | Andrew Wiggins, Evan Fournier, Victor Oladipo, Nicolas Batum, Klay Thompson, James Harden, Sasha Vujacic |
| SF | Gordon Hayward, Rudy Gay, Lance Stephenson, Tobias Harris, Kevin Durant, Robert Covington |
| PF | Jason Smith, JaMychal Green (if Zach Randolph is out), Anthony Davis, Nerlens Noel |
| C | Kosta Koufos (if he starts), Hassan Whiteside, Dwight Howard, Brook Lopez |