Late swap is going to be a major factor in tonight's slate. With half of the 16 teams in action on a back-to-back and only a few of them having a lot to play for, we should be expecting a lot of late news. See below for more on some stars that could be resting tonight.
INJURY IMPLICATIONS
1. Brooklyn Nets
Brook Lopez, Thaddeus Young and Willie Reed are all done for the season, leaving the Nets very thin in the frontcourt. They'll have no choice but to keep taking a long look at former No. 5 overall pick Thomas Robinson, who is predictably flourishing with extended minutes. On the season, T-Rob is averaging 1.025 DK points per minute, and he's gotten 27.2 minutes across his last four games for a baseline projection of 27.88 DK points, or 5.9x his $4,600 salary. The other big-man option on the Nets is likely starting center Henry Sims, who is at 0.847 DK points per minute this season and was at 0.893 while playing extending time for the Sixers last season. Sims has an excellent shot at 27-31 minutes tonight.
2. Charlotte Hornets
I'd be surprised if Nicolas Batum (knee) suits up tonight as the Hornets have said they'll be cautious with him. So we can expect more Linsanity. Jeremy Lin averages 24.5 minutes per game when Batum is active this year vs. a whopping 36.5 when Batum is out. Given a usage rate of 22.2 with Batum off the floor this season, Lin's minute plus usage projection in a very good matchup at $4,100 is impossible to ignore. A lower-owned play on the Hornets side will be Kemba Walker, who was harassed into 4-of-16 shooting last night by defensive stopper Kyle Lowry last night. Walker, whose usage rate goes from 25.6 with Batum off the floor to around 30 with Batum on it, has the matchup to bounce back tonight.
---
MATCHUPS

TO

EXPLOIT
1. Andre Drummond against the Magic
Orlando has yielded the most fantasy points to centers in the entire league over the last three weeks. That includes a March 23 meeting with the Pistons in which Andre Drummond predictably went for 30 points, 14 rebounds and two blocks on 14-of-20 shooting. Expect the Pistons to lean on Drummond heavily again this time as they are trying to hold onto one of the final playoff spots in the Eastern Conference. Most importantly, the big man's price on DraftKings continues to stay grossly depressed at just $7,500. Considering he gets 1.279 DK points per minute and gets 33.0 minutes per night, his baseline projection is 5.6x salary. That's before we adjust for this cupcake matchup.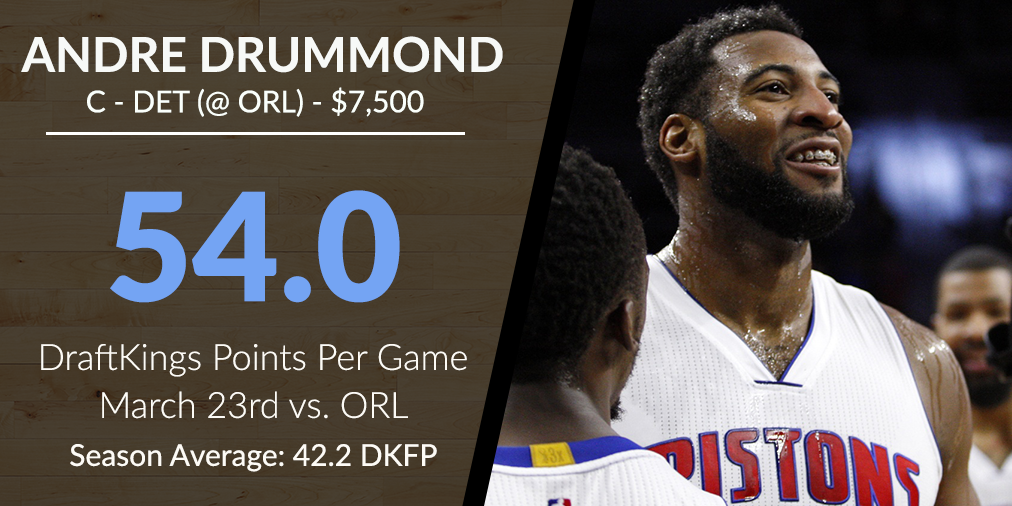 ---
Subscribe to The Rundown
Exclusive daily fantasy analysis from our experts to your inbox
SUBSCRIBE HERE
---
SITUATIONS

TO

CAPITALIZE

ON
Lots of playoff-bound stars potentially resting
As of Wednesday morning, we did not have official word on anyone resting. But before the night is done, I suspect we could hear that some or all of LeBron James, Kevin Love, Kyrie Irving, Russell Westbrook, Kevin Durant, Serge Ibaka, Chris Paul, DeAndre Jordan and J.J. Redick will sit out. They are all virtually locked into their respective playoff seeds. This creates a situation where we really can't finalize rosters until the last possible minute and need to leave room for late swap. Cole Aldrich, Austin Rivers, Jamal Crawford, Dion Waiters, Enes Kanter, Matthew Dellavedova, Tristan Thompson and Iman Shumpert are among players that could end up with massive minute and usage boosts. I would not roster any of the aforementioned stars even if they do dress tonight as the risk of limited minutes is too high.
---
UNDERPRICED ASSETS
Dirk Nowitzki against the Rockets
It pains me to write positively about a 37-year-old player who has looked out of gas for the last two weeks. But tonight's game against Houston represents a perfect storm for Dirk Nowitzki. Most importantly, he's been off since Sunday which should have allowed him to get his legs right. Next, the Rockets give up an outrageous 4.41 more DK points than salary-based expectation to power forwards. Futhermore, Dirk has spot an unbelievable 29.6 percent (29-of-71) over his last five games — thus causing his salary to sink to $6,400 after peaking as high as $7,400 just one week ago. Dirk is a career 47.4 percent shooter, meaning we can expect some positive regression soon. On top of all that, the Mavs are in a must-win spot as they try to hold off the Rockets for the final playoff spot in the West. Expect Dirk's minutes to be extended.
---
Cash Game Thoughts
Who I'm considering in DraftKings Head-to-Heads, 50/50s, and Double-Ups
(No particular order)
| Position | Players |
| --- | --- |
| PG | Jeremy Lin, Tim Frazier, J.J. Barea, John Wall, Jerian Grant |
| SG | James Harden, C.J. McCollum, Bradley Beal, Wes Matthews, Austin Rivers (if he starts) |
| SF | Paul George, Tobias Harris, Jae Crowder, Maurice Harkless, Justin Hamilton (if he starts), |
| PF | Thomas Robinson (if he starts), Markieff Morris, Dirk Nowitzki, Julius Randle |
| C | Andre Drummond, Marcin Gortat, Alexis Ajinca (if he starts) |