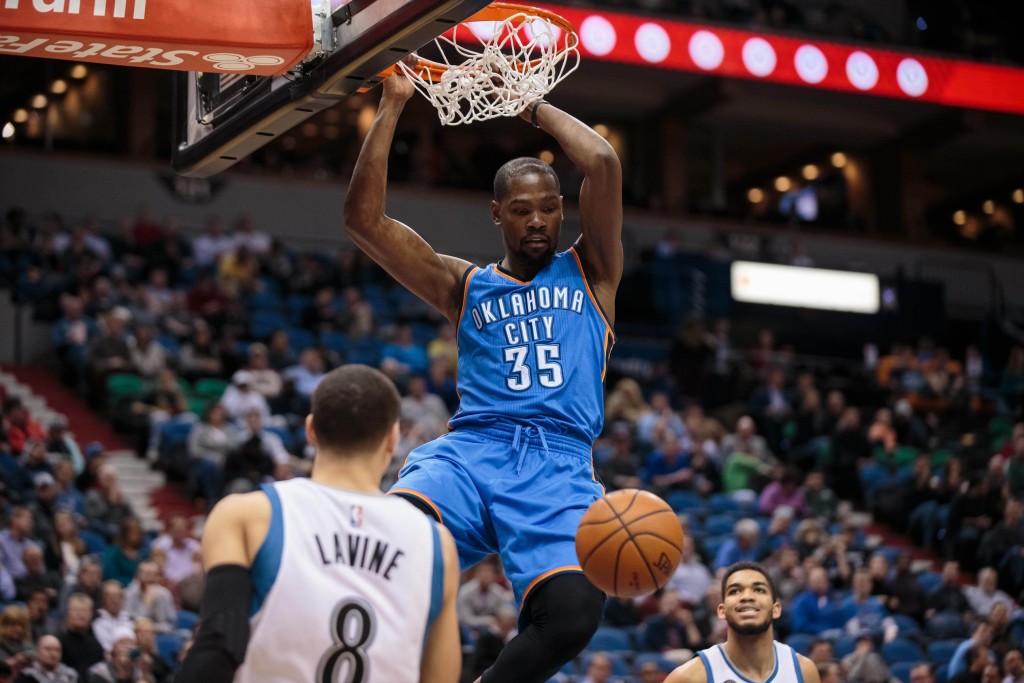 This is probably living in a dream world if you're a Knicks fan. But in theory New York has a (long) shot at building potentially the greatest frontcourt of all-time.
And it's all because Kristaps Porzingis is a "unicorn."
After the Blake Griffin news broke last week, I put together a couple of quick trade ideas. But Zach Lowe of ESPN.com brought another idea to life over the weekend that hadn't crossed my mind. What about swapping Blake for Carmelo Anthony?
'Melo's having a great season scoring the ball for the Knicks while really playing within the team. He's been close to a triple-double on a few instances this season — something he hasn't been known for over his 13-year career.
That said, at 31-years old, Anthony may not have a realistic window of opportunity to win in New York. Porzingis is still a few years away from complete world domination, and the Knicks still need a supporting cast around the duo. Griffin, on the other hand, is five years younger than Anthony and could be up for grabs. With the Clippers in win-now mode, and the Knicks building for the future, who says no?
Both players are under contract long-term after this season concludes. LAC gets to contend this season without the distraction of Blake or having to wait 4-6 weeks for him to play again. Carmelo steps in as the stretch-four to replace Griffin and can play SF when Doc Rivers wants to go big. As Lowe hints at, Chris Paul and Anthony have always wanted to play together ever since teaming up in the Olympics. Do they get past the Warriors/Spurs/Thunder? Probably not. But as long as CP3 is at the helm, it's worth playing for the now.
Griffin and Porzingis is a nice start in New York, but clearly they don't form the greatest frontcourt we've ever seen. With Griffin out until March, the Knicks likely wouldn't even make the playoffs this season.
But don't forget … Porzingis is a "unicorn." Those are Kevin Durant's words, not mine.
If I'm KD and I'm considering leaving Oklahoma City this summer, where do I want to go? Sure, Washington is home and boasts John Wall. But why is that more attractive than continuing to play with Russell Westbrook? Boston and the Lakers have strong young cores. Great, but who's going to be the Robin to my Batman?
The NBA is all about individual star power. The Knicks have a kid with the potential to be a top-10 player in the league who's still only 20-years old. Why not join forces with Porzingis and see if he becomes … well, a better you?
Durant has shown interest in Porzingis (and therefor the Knicks' future), and it's a safe bet the interest is mutual if you were to ask Phil Jackson. You don't necessarily even need the Melo/Griffin swap — although it seems like a better fit given the ages of the players and helping lure KD.
Porzingis might be the most attractive individual talent to play alongside for the next 10 years. If Durant truly sees him as some kind of mythical creature, he'll consider the opportunity of teaming up.
Will it happen? Doubt it. But man would it be fun to watch that Durant/Porzingis/Griffin front line ball. Get me a point guard that can pass and shooting guard that can shoot and let's go.
Find me on Twitter @julianedlow