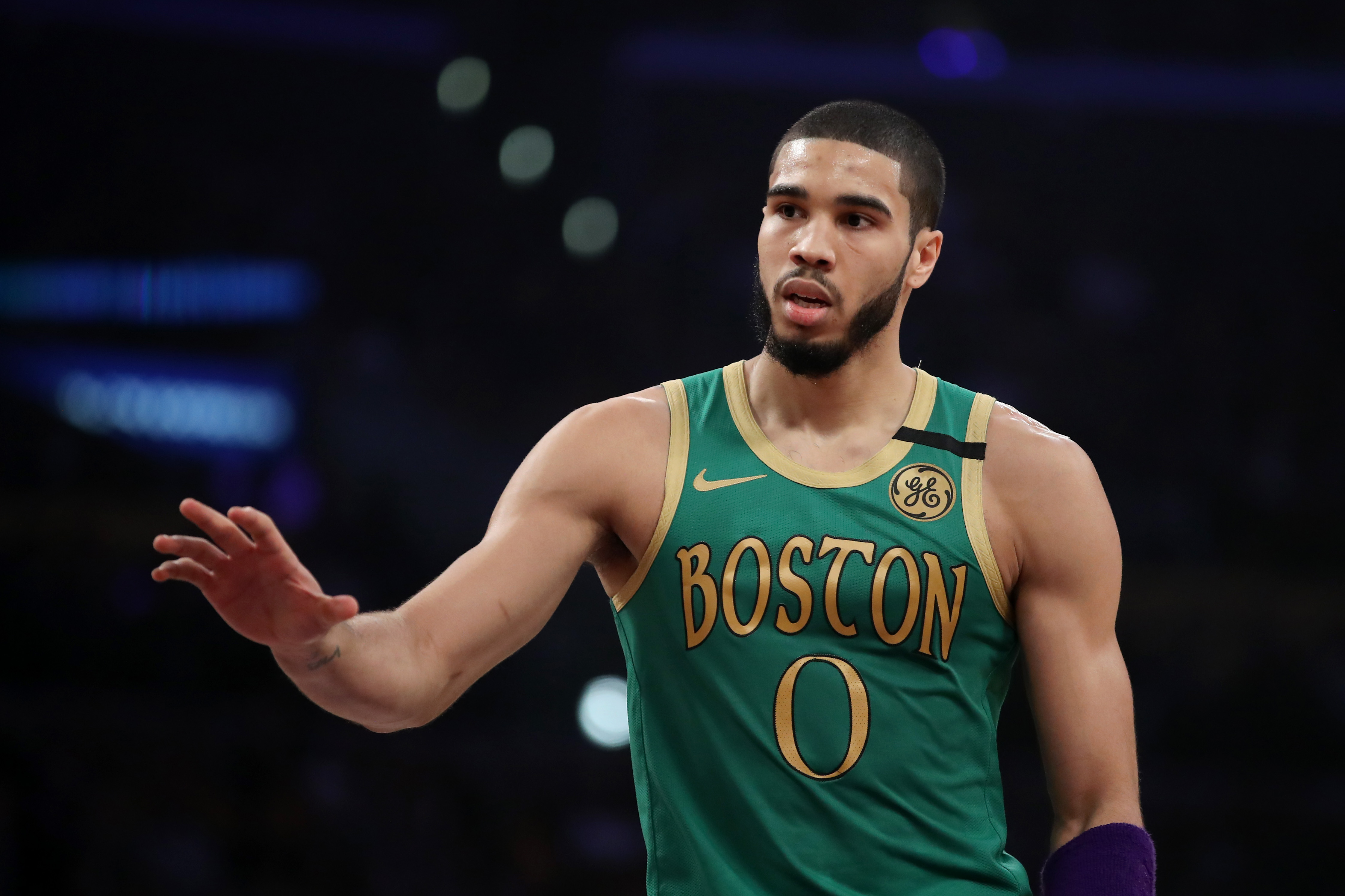 There will be no shortage of action in the NBA on Wednesday with nine games on the schedule. One of them is an appealing matchup between the Celtics and Jazz, two teams hoping to make deep playoff runs. This game will also be the featured Showdown contest, so let's discuss how things might play out for both sides.
Note: All salaries will be Flex prices unless noted as Captain's Pick prices.
---
CAPTAIN OPTIONS

TO

CONSIDER



---
Set your lineups here: NBA Showdown $150K Fadeaway [$50K to 1st]
---
FIVE BETTING TRENDS
— The Jazz have won each of their last 19 home games against Eastern Conference opponents.
— The underdogs have covered the spread in 11 of the Jazz's last 12 games.
— Seven of the last nine games between the Celtics and Jazz at Vivint Smart Home Arena have gone OVER the total points line.
— Mike Conley has scored the first basket in each of his last three appearances against Atlantic Division opponents.
— Rudy Gobert has recorded 15+ rebounds in each of the Jazz's last seven home games against Atlantic Division opponents.
Stats provided by DraftKings Sportsbook
---
SHOWDOWN STRATEGY
Celtics
The big news for this game is that Kemba Walker (knee) is expected to miss his fourth straight contest. With him on the sidelines, the Celtics will have to rely even more on
Jayson Tatum ($10,200)
for production. He hasn't let them down during the first three games that Walker missed, scoring at least 50.8
DKFP
in each contest. Although the Jazz are a good defensive team, this is still a great spot to deploy Tatum.
A player who will likely be asked to help facilitate the offense more because of Walker's absence is Gordon Hayward ($9,000), who is coming off of a rough showing against the Blazers on Tuesday in which he produced only 19.3 DKFP. He only attempted seven shots in that contest and had five turnovers. He had scored at least 32 DKFP in each of his seven previous games, so look for him to bounce back here.
Two more enticing options on the Celtics are Jaylen Brown ($8,600) and Marcus Smart ($7,600). Smart has started the last three games with Walker out, scoring at least 31.5 DKFP each time. An argument can easily be made to deploy either player, but given the more budget-friendly price that Smart has, he could be the better choice if you are debating between the two.
The last player on the Celtics with secure playing time is Daniel Theis ($6,400), who is locked into the starting center job after the team decided not to trade for a big man at the deadline. The problem here is that he has to face Rudy Gobert ($9,800), who is one of the best defensive centers in the league. This might be a good night to keep him out of your lineup. It's difficult to get excited about any of the other players on the Celtics, as well, given the heavy workload that their starters take on. Brad Wanamaker ($4,400) and Enes Kanter ($3,000) are probably the only two to even consider, but they are really nothing more than dart throws in tournament play.
---
Jazz
It's been a quiet couple of games for Gobert, who didn't log a double-double in either of his last two contests. That's extremely rare considering he had recorded one in 18 of his previous 19 games. One of those poor performances did come against the Rockets, who have deployed extremely small lineups. With the Celtics going with a more traditional approach, look for him to bounce back in a big way.
While Gobert has been struggling, Donovan Mitchell ($9,400) has scored at least 42.8 DKFP in back-to-back contests. However, he could be in for a long night considering the Celtics have the third-best defensive rating in the league and the majority of Mitchell's contributions come from the scoring column. If picking between the Jazz's two top options, rolling with Gobert might be the safer route to take.
Two extremely risky options on the Jazz are Bojan Bogdanovic ($8,000) and Jordan Clarkson ($7,200). Bogdanovic has scored 25.5 DKFP or fewer in four of his last six games and is heavily reliant on his contributions in the scoring column to provide value, so he's an easy pass for me, especially since Smart can be had for $400 less. Clarkson is another player who is heavily reliant on points, averaging just 2.6 rebounds and 2.1 assists for the season. Buyer beware.
If you do want to take a chance on a mid-tier option, rolling with Mike Conley Jr. ($6,200) might be a more cost-effective player to consider. He laid an egg against the Suns on Monday, but he had averaged 18.8 points, 5.4 rebounds, 5.2 assists and 2.8 three-pointers across his previous five contests. On the flip side, his improved play has coincided with the downfall of Joe Ingles ($5,600). Ingles has actually been bad for an even longer stretch, averaging only 6.8 points, three rebounds and 5.8 assists across his last 13 games.
Viable cheap options are few and far between for the Jazz. Royce O'Neale ($5,000) has the largest role of those still remaining on the board, but his usage rate is a microscopic 8.9 percent. Outside of him, everyone else struggles to find regular playing time. If you want to go with a punt play, maybe take a shot on Tony Bradley ($1,000). He has at least scored double-digit DKFP in two of the last five games. He did have a DNP thrown in there, but that came against the Rockets, which is understandable given their small roster.
---
THE OUTCOME
The Jazz have lost three straight at home. Even though the Celtics just played Tuesday, I wouldn't be surprised if they pull off the win here. As far as the Captain's Pick goes, it's difficult to fade Tatum ($15,300 CP) with how well he's playing right now. If you do want to save money at the position to try and create a more well-balanced lineup, rolling with Smart ($11,400 CP) night not be all that crazy of an idea since he is starting.
Final Score: Celtics 108, Jazz 106
Set your lineups here: NBA Showdown $150K Fadeaway [$50K to 1st]
---
Favorite Prop Bet
Jayson Tatum, 2.5 Made Three-Pointers: Over (-110)
This feels like it might be trap, but I'll still take my chances with the over. Tatum has been dialed in from behind the arc, making at least three three-pointers in nine of his last 10 games. While he won't be able to keep up the insane 49.5 percent three-point shooting that he posted during that stretch, he is shooting a career-high 39.5 percent on three-pointers this season.
Put your knowledge to the test. Sign up for DraftKings and experience the game inside the game.
---
I am a promoter at DraftKings and am also an avid fan and user (my username is mbarner51) and may sometimes play on my personal account in the games that I offer advice on. Although I have expressed my personal view on the games and strategies above, they do not necessarily reflect the view(s) of DraftKings and I may also deploy different players and strategies than what I recommend above. I am not an employee of DraftKings and do not have access to any non-public information.
---