This season's NBA MVP is likely going to be Stephen Curry – he's the best player on the best team. Not to mention his popularity has shot through the roof to the point where he received more All-Star votes from the fans than LeBron.
However, it's still fun to make the case for other players, so here's James Harden's case.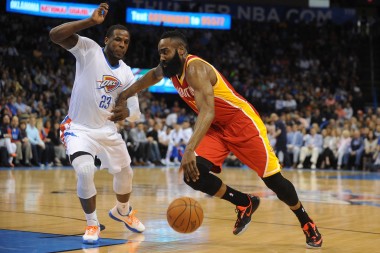 The Beard has been on Curry's heels all season in the MVP race, and even though Golden State has clinched the top spot in the west, the Rockets have now pushed their way in second place in the west with an impressive 53-24 record. If Houston can finish just one spot behind the Warriors – who currently sit at an absurd 63-14 following Sunday's loss to the Spurs – isn't that an accomplishment in itself when you look at the supporting casts Curry and Harden roll out?
Dwight Howard may be the name that catches your eye first, but Superman has been a shell of himself this season – and that's on the rare occasion he finds himself on the court. Howard's averaging 15.6 PPG and 10.5 RPG this season, while playing in only 36 of Houston's 77 games. Both are the lowest he's averaged since Howard was a rookie, fresh out of high school.
Klay Thompson, on the other hand, was not as well known as Harden's counterpart before the season, but now we know him as one of the premiere young two-guards in the league. Thompson has averaged a career-high 21.7 PPG this season while playing the fewest MPG since his rookie campaign, speaking both to Klay's development and the Warriors' depth. Thompson was named an All-Star starter alongside his teammate at MSG in February, so his success has not gone unnoticed. The bigger point being, despite how fantastic Curry has been, his fellow splash brother has relieved a lot of pressure. Then factor in the impact Draymond Green, Harrison Barnes, Andre Iguodala, Andrew Bogut and David Lee have had on the Warriors' magical season and it's easy to see why they've been so great.
Then there's the Rockets roster, which, outside of our bearded MVP, looks like they would have a tough time handling the 76ers in a seven game series. On Wednesday, it took a career-high 51 points (on 16-for-25 shooting including 8-of-9 from deep) from Harden to get the victory in Sacramento, surrounded by Jason Terry, Trevor Ariza, Terrance Jones and Joey Dorsey in the starting lineup. But, as he has all season, Harden found a way to will his team to victory despite being short handed, adding eight boards, six dimes and three steals to his career night.
The guards both have relatively comparable numbers: Curry – 23.6 PPG, 7.7 APG, 4.3 RPG and a PER of 27.67. Harden – 27.5 PPG, 7.0 APG, 5.7 RPG and a PER of 26.81. Sure, Steph can probably produce a better highlight reel this season, but Harden has had more mind-boggling performances. The Rocket's star has posted ten 40-point games since December 11th (stepping up in Dwight's absence) including a pair of 50-point games in the last few weeks.
Curry's been great in his own right, but somewhat shockingly, has only two 40-point games this season – although he did match Harden in one of them, dropping 51 on the Mavs back in February.
Another factor that has separated Harden, really from the rest of the entire NBA, has been his ability to get to the free throw line. Curry has had only two games this season where he's shot double-digit FTs – he shot 11 in that Dallas game and 10 the day before vs. the Kings.
Harden? Well, he's attempted double-digit FTs in 39 games. 39! I counted twice to make sure I wasn't seeing things. Those games include four in which Harden attempted over 20 FTs (two where he made over 20) and several games in the high-teens. The Beard might not be quite as efficient at the stripe – Curry has shot 91.6% to Harden's 86.5% — however, his 777 attempts blow Steph's 324 out of the water.
The bottom line is that there are a lot of very good teams in the NBA this season, which has been good for the league, and made the MVP debate a real debate for the first time in a while. In the ultra-competitive Western Conference, you can't go wrong with either of these guys as your MVP. But when you dive into just how much of the load James Harden has had to shoulder for the Rockets, it's tough not to crown him with the award.
Follow me on Twitter @julianedlow