What a win for the Clippers. Talk about having EVERYTHING working against you. A Game 1 on the road while the Rockets have had a week off and you're coming off a seven game war with the Spurs is not a game you're suppose to win by any means. But when your best player, Chris Paul, sits out with a hamstring injury, then you shouldn't even have a shot.
But somehow, LAC's offense was able to produce without the engine that runs their entire operation, scoring 71 second half points en route to a huge 117-101 victory. So how did the Clips pull off the unexpected? Blake Griffin was a beast, practically filling in for Paul while still playing his own role.
BG finished with 26 points, 14 rebounds and a career-high/CP3-esque 13 assists. After the game Doc Rivers said Griffin was guilty at times of playing like Paul, in the sense that he wasn't even looking for his own shot enough by trying to set up teammates too much. But it was hard for Griffin not to look to move the ball with the 3-point shooters seemingly knocking down every shot.
Here's a look at some milestones the Clippers achieved in Game 1, including just how special Griffin has been in their postseason run:
Blake Griffin: 1st player with back-to-back triple-doubles in postseason since Jason Kidd in 2002

—

ESPN

Stats & Info (@ESPNStatsInfo) May 5, 2015
Blake Griffin is 3rd non-guard with back-to-back playoff triple-doubles (John Havlicek in 1968, Wilt Chamberlain 2x in 1967) (via ELIAS)

—

ESPN

Stats & Info (@ESPNStatsInfo) May 5, 2015
Blake Griffin now has 3 triple-doubles this postseason. The rest of the NBA? 0 He's had a double-double in all 8 GP @LAClippers

—

NBA.

com/Stats (@nbastats) May 5, 2015
Clippers tied

NBA

Playoff record for three-pointers in a half, hitting 11 of 16 in the 2nd half (last with 11- 2011 Mavericks) —

ESPN

Stats & Info (@ESPNStatsInfo) May 5, 2015

Just how important was stealing Game 1 to the Clippers' odds of taking the whole series?
According to

ESPN

Basketball Power Index, Clippers have 81 percent chance of winning series —

ESPN

Stats & Info (@ESPNStatsInfo) May 5, 2015
It will be interesting to see how Game 1 influences Paul's decision on when to return from his hamstring injury. With the 1-0 series lead, he could rest up again for Game 3, knowing his team is capable of winning Game 2, and that going back to
L.A.
1-1 is still a good worst case scenario. But I think the competitor in
CP3
is going to push himself back on the floor and try to get out of Houston up 2-0.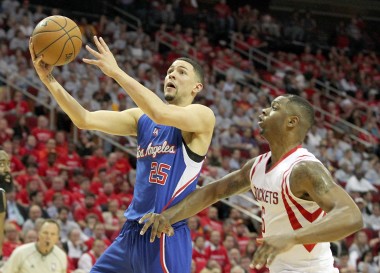 Not to mention, without Paul, Doc essentially uses a six-man rotation with his son, Austin, starting at the point, and Jamal Crawford getting big minutes in his custom sixth-man role. Those six guys might be out of gas if they have to play as many minutes as they did in Game 1 again in the next game. If Paul does happen to miss anymore time, though, don't forget to keep tossing Austin Rivers into those DFS lineups. Whether he plays well or not, he's sure to see the biggest bump in minutes when any of the Clippers guards are forced to miss time.
I doubted the Clippers in Game 6. I doubted the Clippers in Game 7. So I learned from my mistakes and jumped on the Clips bandwagon for the Rockets series. Until, of course, CP3 was ruled out of Game 1, and then I doubted them again like everyone else. Don't pick against the Clippers.
It all started when they adopted the Spurs machine-like mentality and focus for Game 6 in San Antonio, and LAC has been running with it ever since. For as long as they keep this focus, they're going to continue winning games … until they run into the Warriors for a rematch of last year's first-round seven game series.
Follow me on Twitter @julianedlow