Who will come out on top in the deadliest second round of basketball the world has ever seen? Tweet your answer to @DraftKings and check the Playbook tomorrow morning for scores and second round recap.
My dear friends of the realm, our tournament is nearly complete! With the Tyrells and Greyjoys dispatched we have only four teams remaining. The White Walkers have been absolutely dominant all season, and despite being dragon-less the Targaryens still have some serious firepower. Will we see any upsets in the second round? Let's dive in and find out!
---
---
Game 1
Played at Beyond The Wall Fieldhouse
What can be said about the Night's King ($11,200) that hasn't been said already? He is simply a FORCE in the paint and one of the hardest players in the league to guard in transition. A lot of this stems from his legendary shiftiness and also his ability to not be touched by any living creature without horrible consequence. It will be a tall task to keep him off the boards and any extra attention spent on him will surely leave open looks for Wight #8 ($3,000), Wight #568 ($3,000) and Wight #44 ($3,000) who have shown they can step up if the time (or horn) calls for it.
On the flip side for the Direwolves, things could not look more bleak. After sending out a raven declaring he was "coming home" to Winterfell, Jon Snow ($10,400) didn't look like he showed up at all. If he can't give them a lift in Round 2 it may just be curtains for the Starks at BTW Fieldhouse tonight. However, despite their injuries AND Lady Sansa ($6,200) jumping off another castle into oblivion (thanks a lot Lord Bolton), the Direwolves do have something the White Walkers do not… HEART. The North remembers, and they will certainly remember the regular season road loss against the White Walkers, in which their crowd chanted "NO HEAD NED" for the entire duration.
Key Matchup
---
Chase or Fade: White Walkers
---
Game 2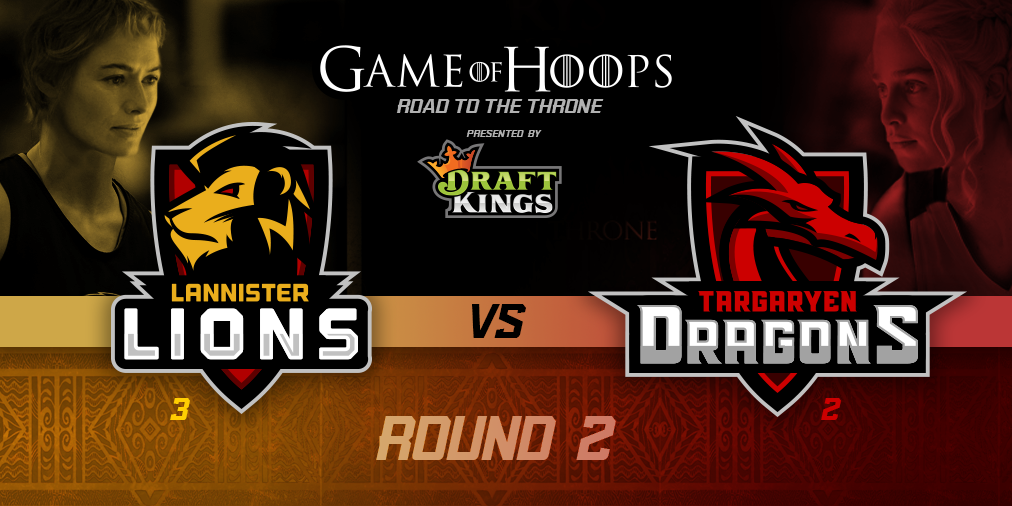 Played at Great Pit of Daznak
It was a thriller against the Golden Roses in Round 1 for the Lannister Lions, but now they face a test even larger than their egos. Cersei Lannister ($9,800) held her own against the Tyrells, but she will need to really score in bunches to keep up with Daenerys Targaryen ($10,600) and her long list of recent free agent signings. There's no doubt the Dragons have serious depth, but, unfortunately, have no actual dragons at the moment. After receiving a flock of sheep and children not quite to his liking, Drogon ($13,200) stormed off into the sky with no return in sight.
Without their Team MVP, the Dragons will look to lean on Grey Worm ($7,100) and Daario Naharis ($7,600) to pick up the scoring slack. However, the outcome of this match will likely be decided by those we see the least. I have my eye on the matchup between the two outcasts. If Jorah Mormont ($3,500) can somehow bundle up Tyrion Lannister ($6,900) and take him out of the game, the Dragons might not need Drogon to ever come back.
Key Matchup
---
Extended Westeros Forecast from 4/20/2016
Head over to Facebook and Twitter and join the conversation! Retweet and tell us who will win in the Round 2 matchups and why.

Twitter Terms and Conditions

Facebook Terms and Conditions