Listen if you clicked on this you probably already know my obsession for the newest, biggest badass on Earth: Gargantuan Monster/Spurs Center Boban Marjanovic, who has not only become a cult hero in the city of San Antonio — BUT HE'S GOING GLOBAL.
If this is your first Boban experience, let me introduce him to you:
He is 7'4″ and can dunk without jumping
He is incredibly intimidating to look at
His wife is very attractive (he is not)
Did I mention how tall this dude is?
Ok, so anyways: Boban is new to the NBA and Gregg Popovich's system, thus, he rarely sees important minutes. The good news is: the Spurs are so damn good that he plays almost every game when San Antonio goes up by 30 in the fourth quarter like every night.
On Sunday vs. the Dallas Mavericks, BOBAN WAS UNLEASHED AND WENT NUCLEAR ON JEREMY EVANS WITH A POST-FLUSH STAREDOWN!!!!! THIS IS NOT A DRILL.
BOBAN STAREDOWN!!!!!!

😭😭😭😭😭😭 pic.twitter.com/hgOGltaEI7

— Rob Perez (@WorldWideWob) January 18, 2016
#UNLEASHBOBAN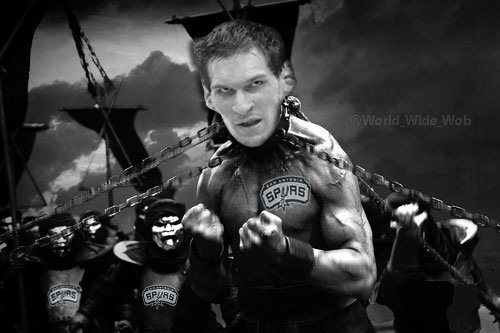 Boban got T'd up for taunting — was he sorry about it? HELL NO BECAUSE #BOBAN
Boban explains why he got a technical after his dunk: "This is my two seconds. I must enjoy."

— Jeff McDonald (@JMcDonald_SAEN) January 18, 2016