It was one of those nights, people…
One of those glorious nights where we are treated to witnessing the proverbial 'White Rhino' of Sports. An experience so rare, you will always remember where you were and what you were doing when it happened. For me: I was in the living room, with the lights off, screaming like a schoolgirl, and eventually found myself running around my apartment waving a white towel around my head in a helicopter motion until I blacked out.
What is this event I speak so highly of?
Ladies & Gentlemen: without further adieu, I present to you… THE J.R. SMITH EXPERIENCE.
J.R. Smith.
J.R. SMITH.
J…..
R….
SMITH!!!!!!
J.R. SWISHHHH
SHOOTAH!
https://vine.co/v/eA9×3qt1DOD
Playoff Career High Points … Franchise Playoff 3-point make record … NBA Record for most games with at least eight 3s made in one game …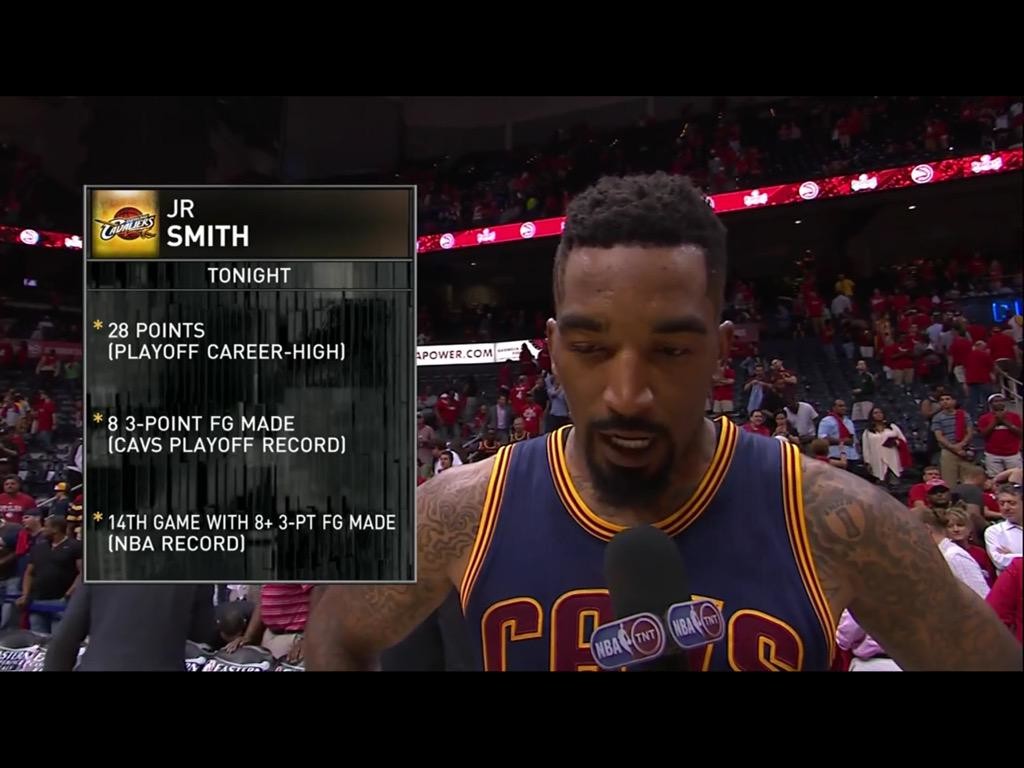 WELCOME TO THE WONDERFUL WORLD OF J.R. SMITH.
We even got 'PIPE' trending on Twitter in the city of Cleveland.
'pipe' is now trending in #Cleveland http://t.co/N2zjhhRXrq

— Trendsmap Cleveland (@TrendsCleveland) May 21, 2015
#NEVERFORGET
Just when he does something stupid like elbowing Jason Terry in the playoffs, or, getting suspended for untying other player's shoes during free throws, or, partying into the wee hours of the night before an elimination playoff game, or, knocking out Jae Crowder cold with a spinning backhand of death … he goes and does something like this … AND TOTALLY REDEEMS HIMSELF.
J.R. Smith: "I'd rather take a contested shot than an open shot any day … It's kind of boring when you take open shots"

— Dave McMenamin (@mcten) May 21, 2015
This is what makes J.R. Smith … well, J.R. Smith. He truly is the NBA equivalent of a Monopoly 'Chance' card, you don't know if you're going straight to jail, or, are allowed to pass go and collect $200.
It's only a matter of time until "Bad" J.R. comes back, so, let's savior this for all it's worth. Lord knows if he's going to be cured of his hangover in time for Game 2 on Friday.
Anyways: here is a full compilation of J.R. Smith's epic night vs. the Atlanta Hawks in Game 1 of the Eastern Conference Finals. I hope you enjoy it as much as I did.