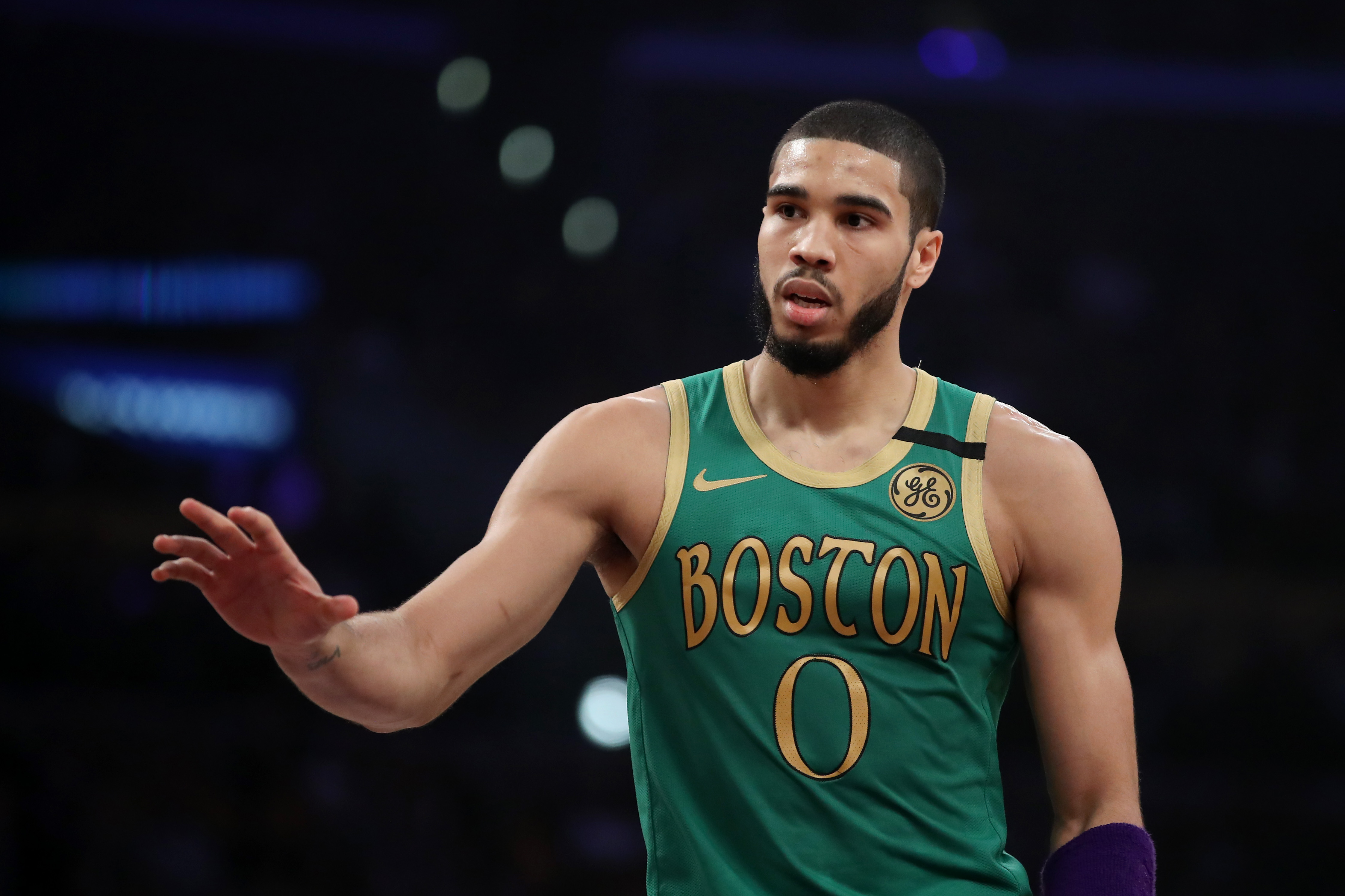 We are officially entering the final NBA slate of February. It's seven games and it features some real star power in the form of LeBron James ($11,100), James Harden ($10,900) and even Jayson Tatum ($9,400). However, more important than all that is the number six. Somehow, we are only six weeks away from the beginning of the playoffs. I'm legitimately astonished at how quickly the season flew past.
Anyway, while you're mind can drift to warm summer nights and a dream NBA Finals matchup, I'll be here focusing on Saturday. Let's break down everything you need to know position-by-position.
For up-to-the-minute news, analysis and lineups, download the DK Live app and follow DK Live on Twitter @dklive.
---
POINT GUARD
Stud
Trae Young,

ATL

vs.

POR,

$10,300 –
Young managed to have an underwhelming
DFS
performance on Friday despite dishing out 14 assists in the Hawks' 141-118 victory over the Nets. I don't think that's going to happen again. Well, to be clear, I don't think Young will fail to exceed 5x value in a script where points should be abundant. Portland is giving up 116.3 points per 100 possessions so far this month and, within that same stretch, Young leads the
NBA
in potential assists per game (17.5). All the elements are here for a huge fantasy showing.
Other Option: Russell Westbrook ($10,100)
Value
Goran Dragic,

MIA

vs.

BKN,

$5,500 –
Dragic might not possess the highest ceiling in the world, but he's certainly a cash game consideration on Saturday against the Nets. The veteran is simply so incredibly consistent. Consider that despite having only started a single game so far in 2019-20, Dragic has mustered double-digit points in 19-straight contests; a span of time where the Slovenian has dipped below a 25.0
DKFP
output on just four occasions. More recently, he's exceeded 30.0
DKFP
in three of Miami's past four matchups and I'd wager he does it again this evening.
Other Option: Rajon Rondo ($4,200)
---
SHOOTING GUARD
Stud
Andrew Wiggins, GS at

PHO,

$6,800 –
Using Wiggins can often be a headache, yet this is the lowest his salary has been since all the way back on Jan. 22 and that seems like something to take advantage of. Plus, the Warriors' injury report leads me to believe we have an opportunity to see the Canadian take on some serious usage against the Suns. Both Jordan Poole ($5,000) and Ky Bowman are dealing with ankle issues and just the former has a chance to suit up this evening. So, with Golden State possibly down two point guards, Wiggins should be asked to step into some extra play-making duties alongside Draymond Green ($6,000). A relatively feeble Phoenix defense also helps matters.
EDITOR'S NOTE: Andrew Wiggins (back) will be available to play tonight vs. the Suns.
Other Option: DeMar DeRozan ($7,600)
Value
Cam Reddish,

ATL

vs.

POR,

$4,300 –
I'd expect Reddish to be a popular name on tonight's slate with this Atlanta-Portland game owning easily the evening's highest implied total. That's fine. He deserves the attention. The first-round pick has quietly been a decent
DFS
asset since coming out of the All-Star Break, ranking fourth on the Hawks in minutes played (164) and averaging an efficient 1.30 points per possession used. From a more surface perspective, he's putting up 17.2 points per contest and he's eclipsed the 30.0
DKFP
mark three times in Atlanta's past five matchups. Pretty good resume for someone priced slightly above $4K.
Other Option: Avery Bradley ($3,300)
---
SMALL FORWARD
Stud
Jayson Tatum,

BOS

vs.

HOU,

$9,400 –
It would be ignorant at this point to overlook what's happening with Tatum in Boston. The former lottery pick is blossoming into a star player and absolutely breaking slates along the way. Since coming back from the All-Star Break – a stretch the Celtics have had to endure without the services of Kemba Walker (knee) – Tatum's been a beast. The 21-year-old is averaging an eye-popping 1.47
DKFP
per minute on the court, a figure completely backed up by a massive 31.4% usage rate. Houston has the size on the wing to possibly slow down Tatum, yet, at the same time, the Rockets have surrendered the most
DKFP
to opposing small forwards in 2019-20 as a whole. That's pretty tempting.
Other Option: Jimmy Butler ($7,800)
Value
Kevin Porter,

CLE

vs.

IND,

$5,100 –
When
J.B.
Bickerstaff took over Cleveland's head coaching duties last week, he made it clear that Porter Jr. was one of the players he was hoping to bestow with a larger role. Well, through a few games, Bickerstaff wasn't lying. The rookie possesses a notable 23.8% usage rate going back to the All-Star Break and, within that same span, he's averaging over 1.00
DKFP
per minute logged. Porter isn't going to blow anyone away with his secondary statistics, but the fact he attempted 19 field goals on Friday speaks for itself.
---
POWER FORWARD
Stud
Aaron Gordon,

ORL

at

SA,

$8,500 –
It's unclear what took the Magic so long, yet the team has finally decided to run it's offense through Gordon the past few weeks. The result? Orlando has won five of its last six games and Gordon has averaged an impressive 51.5
DKFP.
In fact, the former lottery pick is currently on a run of four-straight double-double performances, capped by his first-career triple-double in Friday's victory over Minnesota. With Gordon seemingly locked into 40-plus minutes and San Antonio conceding over 115 points per 100 possessions in February, this is a pretty easy buying window.
Other Option: Deandre Ayton ($8,400)
Value
De'Andre Hunter,

ATL

vs.

POR,

$4,700 –
You can pretty much copy and paste everything I said about his teammate Reddish. Basically, all you have to know about the Hawks right now is that Lloyd Pierce is willing to run his starters into the ground. Atlanta has three different players who rank inside the Top-5 in the
NBA
in minutes per game in February and Hunter isn't too far back of the pack with his average of 35.3. That much volume in a contest that promises to be high-scoring is a gift. It doesn't hurt that Hunter's exceeded 30.0
DKFP
in four of his past five starts, either.
---
CENTER
Stud
Hassan Whiteside,

POR

at

ATL,

$9,300 –
Let's do a fun statistical breakdown of why the Hawks have allowed the most
DKFP
to opposing centers in 2019-20. They are one of two teams surrendering more than 119.0 points per game, they are one of three teams surrendering more than 47.0 rebounds per game, and, of course, they are also one of three teams surrendering over 6.0 blocks per game. Whiteside, who is a walking double-double, should have little issue owning the glass against Atlanta, especially with Dewayne Dedmon (elbow) out due to injury.
Other Option: Jonas Valanciunas ($6,400)
Value
Jakob Poeltl, SA vs.

ORL,

$3,200 –
It was Lonnie Walker ($3,400) who drew the start in place of the injured LaMarcus Aldridge (shoulder) on Wednesday against Dallas, but I'd expect the size of Orlando to force Poeltl into a more prominent role this evening. He's produced nearly 1.00
DKFP
per 60 seconds on the floor in 2019-20, while also possessing an elite 7.7% block rate. If he sees over 15 minutes tonight, he should have little issue bringing back 5x value.
Other Option: Bruno Fernando ($3,500)
---
Put your knowledge to the test. Sign up for DraftKings and experience the game inside the game.
---
I am a promoter at DraftKings and am also an avid fan and user (my username is theglt13) and may sometimes play on my personal account in the games that I offer advice on. Although I have expressed my personal view on the games and strategies above, they do not necessarily reflect the view(s) of DraftKings and I may also deploy different players and strategies than what I recommend above. I am not an employee of DraftKings and do not have access to any non-public information.