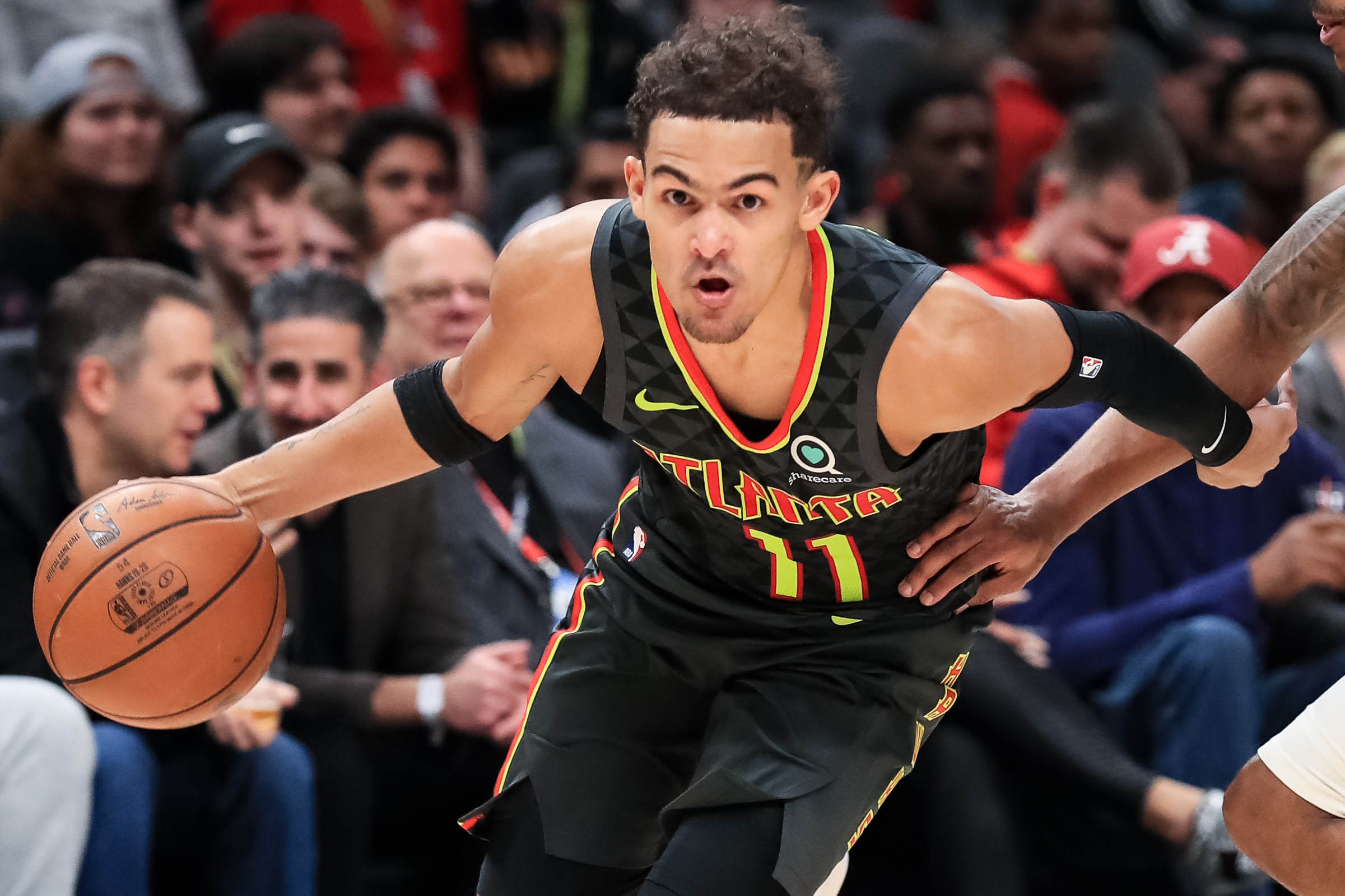 Monday's fantasy basketball slate has six NBA games. Draymond Green (rest) will not play on Monday, and Kevon Looney (hamstring) is a candidate to return to the Warriors' lineup after playing in just one game this season due to injury. Jonas Valanciunas (illness) and Marcus Morris (neck) also have statuses that are uncertain.
For up-to-the-minute news, analysis and lineups, download the DK Live app, as NBA news, injury reports and betting lines on DraftKings Sportsbook can change throughout the day. Value also unexpectedly can open up due to late lineup changes and late injury news, making it important to stay up-to-the-minute with the DK Live app until lineups lock. You also can follow DK Live on Twitter @dklive.
Here are some plays that fantasy owners can consider using on DraftKings:
POINT GUARD
Stud
Trae Young, Atlanta Hawks vs. Golden State Warriors ($10,500)
Young has been one of the league's most heavily used players, posting a usage rate of 34%, fifth-highest among starters. Young will take his heavy usage into an elite matchup against the Warriors, who have been very poor defensively. The Warriors have the league's fourth-worst defense on a possession adjusted basis and have allowed the fifth-most points and fourth most assists to opponents. Golden State has also been among the worst in the league at defending the 3-point line, allowing the second-most made 3s per game and allowing opponents to shoot 40% from 3, the worst mark in the league.
Golden State has also been prone to allowing extra space from 3, allowing the fifth most wide-open 3s per game based on the league's player tracking system, which measures the closest defender to the shooter. Young is shooting 44% on wide-open 3s this season, a boost from 39% on all 3s.
Value
Ky Bowman, Golden State Warriors at Atlanta Hawks ($5,100)
With Draymond Green (rest) ruled out Monday, Bowman is a candidate to start at point guard for the Warriors. Bowman has played a substantially larger role as a starter this season, averaging a strong 36 minutes per game in starts, a huge boost from just 17 minutes per game off the bench. Bowman draws a good matchup against a Hawks team that has been terrible defensively. The Hawks have allowed the second-most points per possession, the second-most points per game and have allowed more assists to opponents than average.
---
SHOOTING GUARD
Stud
Devin Booker, Phoenix Suns at Charlotte Hornets ($8,200)
The Hornets rank in the bottom third of the league in points allowed, assists allowed and team rebounding, creating a favorable environment for fantasy scoring. The Hornets especially rank poorly at assist prevention and rebounding, allowing the most assists per game to opponents while ranking as the worst rebounding team in the league by the percentage of missed shots they rebound.
Value
Alec Burks, Golden State Warriors at Atlanta Hawks ($6,000)
Since D'Angelo Russell (thumb) was injured, Burks has been a regular starter and ranks second on the Warriors in both usage rate and total minutes during that time frame. Burks draws a strong matchup against the aforementioned Hawks, who have allowed the second-most points per game to opponents and have allowed more assists than average.
---
SMALL FORWARD
Stud
Giannis Antetokounmpo, Milwaukee Bucks vs. New York Knicks ($12,000)
Antetokounmpo has boosted his production this season due to a combination of factors, including grabbing more rebounds, getting to the free throw line more often and taking and making more 3-pointers. Antetokounmpo's player efficiency rating of 33.3 leads the league and is the best of his career. Antetokounmpo is easily the top player on Monday's slate, averaging 63 DKFP per game, 14 more than the next closest player. He draws a good matchup against the Knicks, who have a bottom third possession adjusted team defense.
Value
Bogdan Bogdanovic, Sacramento Kings vs. Chicago Bulls ($6,200)
Since De'Aaron Fox (ankle) was injured, Bogdanovic has roughly doubled his facilitating, creating 10 potential assists per game over that stretch, a boost from five potential assists created per game before Fox's injury. Bogdanovic's usage rate has also ticked up to 27% in that time frame, a boost from 22% prior to Fox's injury. Bogdanovic is listed as probable due to hamstring tightness, and provided he plays as expected, he draws a good matchup against a Bulls team that has allowed more points and more assists to opponents than average.
---
POWER FORWARD
Stud
Domantas Sabonis, Indiana Pacers at Memphis Grizzlies ($8,000)
Sabonis has spiked his fantasy production this season due to a dramatically increased role. Sabonis has started all 17 games he has played in and is averaging 34 minutes per game, 10 minutes more than the 24 minutes per game he averaged last season as primarily a bench player. Sabonis has a strong matchup against a Grizzlies team that has been poor defensively and on the glass. The Grizzlies have allowed the fourth-most points to opponents and rank as a below-average rebounding team by the percentage of missed shots they rebound.
Value
Eric Paschall, Golden State Warriors at Atlanta Hawks ($5,600)
Like teammate Alec Burks, Paschall has benefited with an expanded role due to injuries, and since D'Angel Russell (thumb) was injured, Paschall ranks first on the Warriors in usage rate and third in total minutes played. In addition to the Hawks being poor at preventing points, the Hawks have also been poor on the glass, ranking as a below-average team by the percentage of missed shots they rebound.
---
CENTER
Stud
Joel Embiid, Philadelphia 76ers vs. Utah Jazz ($10,300)
A matchup against the Jazz is generally unappealing due to their plus defense, which is anchored by stud interior defensive center Rudy Gobert. However, Embiid was able to make the Jazz pay at the line in their first matchup this season, drawing a heavy 18 free throws and sinking 16 of them. Embiid added 16 rebounds and finished with 56 DKFP in the matchup. Embiid has drawn 14 or more free throws in three consecutive games and ranks fifth in free throws drawn per game among all players.
Value
Aron Baynes, Phoenix Suns at Charlotte Hornets ($5,400)
Baynes is listed as probable to play with a calf injury, so he is expected to be in the lineup despite appearing on the injury report. Baynes' price has dropped by $600 for a matchup against one of the worst interior defensive teams in the league. The Hornets have allowed the most field goals per game within five feet of the basket and have allowed opponents to shoot 65% in that zone, second highest in the league. The Hornets also rank as the league's worst rebounding team by the percentage of missed shots they rebound. Baynes played 25 minutes in his first game back from a hip injury on Friday, which is in line with his normal minute load.
Put your knowledge to the test. Sign up for DraftKings and experience the game inside the game.
---
I am a promoter at DraftKings and am also an avid fan and user (my username is timfinn521) and may sometimes play on my personal account in the games that I offer advice on. Although I have expressed my personal view on the games and strategies above, they do not necessarily reflect the view(s) of DraftKings and I may also deploy different players and strategies than what I recommend above. I am not an employee of DraftKings and do not have access to any non-public information.
---
Gambling problem? Call 1-800-GAMBLER (NJ/PA) or 1-800-9-WITH-IT (IN).
Odds and lines subject to change.
21+. NJ/PA/IN only. Eligibility restrictions apply. See website for details.