Top 3 Daytona 500 Moments We Love
2016 had one of the closest finishes in Daytona 500 history with Denny Hamlin finishing inches ahead of Martin Truex Jr. to take home a $1.5 M pay check for Joe Gibbs Racing.
Free $10,000 Fantasy Racing Contest This Sunday!
In the 58 years of Daytona there has been countless moments of victory and tragedy among the drivers that risk their lives in pursuit of winning "The Great American Race". We look at our top Daytona Moments as we prepare for Sunday.
Make Your Own Daytona 500 Moment: Free $10,000 Fantasy Racing Contest This Sunday!
The Intimidator and Junior have a storied and connected past at Daytona. Dale Sr. won his first professional race: The Goody's 300 at Daytona in 1982, Won the Daytona 500 in 1998 and tragically passed away in 2001 in the last turn of his last Daytona. The bumper of his black Chevy was typically all drivers ever saw at Daytona but there was nothing more intimidating than seeing number 3 in your rear view.
His son Dale Jr. won Daytona 6 years after his father did and 3 years after his father's last race. His is favored to perform well in 2017.
You can draft Dale Earnhardt Jr ($10,600) in this Sunday's Free $10,000 Racing Contest
---
2. Richard Petty Motorsports
The Number 43 Superbird is the most iconic car in racing (even featured as a character in the Disney movie Cars) but The King's seven Daytona 500 wins came behind the wheel of a Buick, Oldsmobile, Dodge (2) and Plymouth (3). Petty also survived one of the craziest crashes in Daytona 500 history.
Petty won 200 NASCAR races and 7 of the first 20 Daytona 500 events: Absolute Legend.
The Iconic #43 is driven this Sunday by Aric Almirola ($6,300). Richard Petty Motorsports has moved down to only one car in 2017 and Almirola will face incredible pressure as Richard Petty Mortorsports have all their chips placed on his success.
Almirola was featured in the $100,000 winning line up from the 2016 $400k Start Your Engines Contest.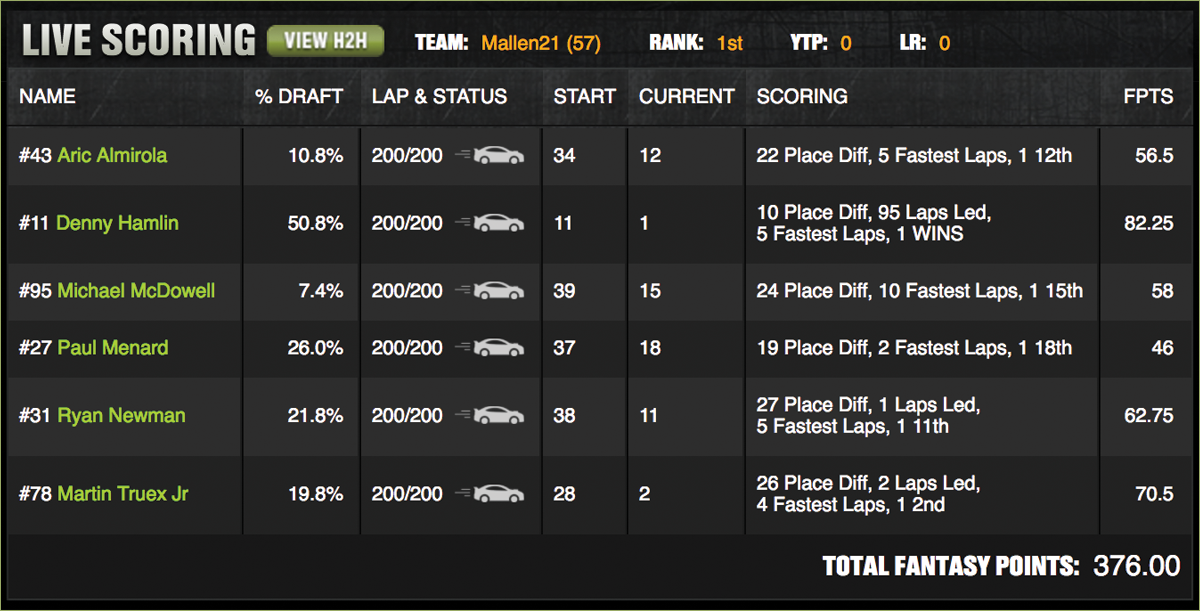 3. Your Moment
You can't be out there on the track but now you can add excitement to "The Great American Race" by drafting your favorite 6 drivers.
What it's like to win a DraftKings Fantasy NASCAR Contest:
Here are the top contest links:
Free $10,000 Contest

$20 Entry – $500,000 Guaranteed – $100,000 1st Place Prize

$3 Entry – $300,000 Guaranteed – $30,000 1st Place Prize

Over $1 Million in Guaranteed Prizes are available to be won this Sunday.