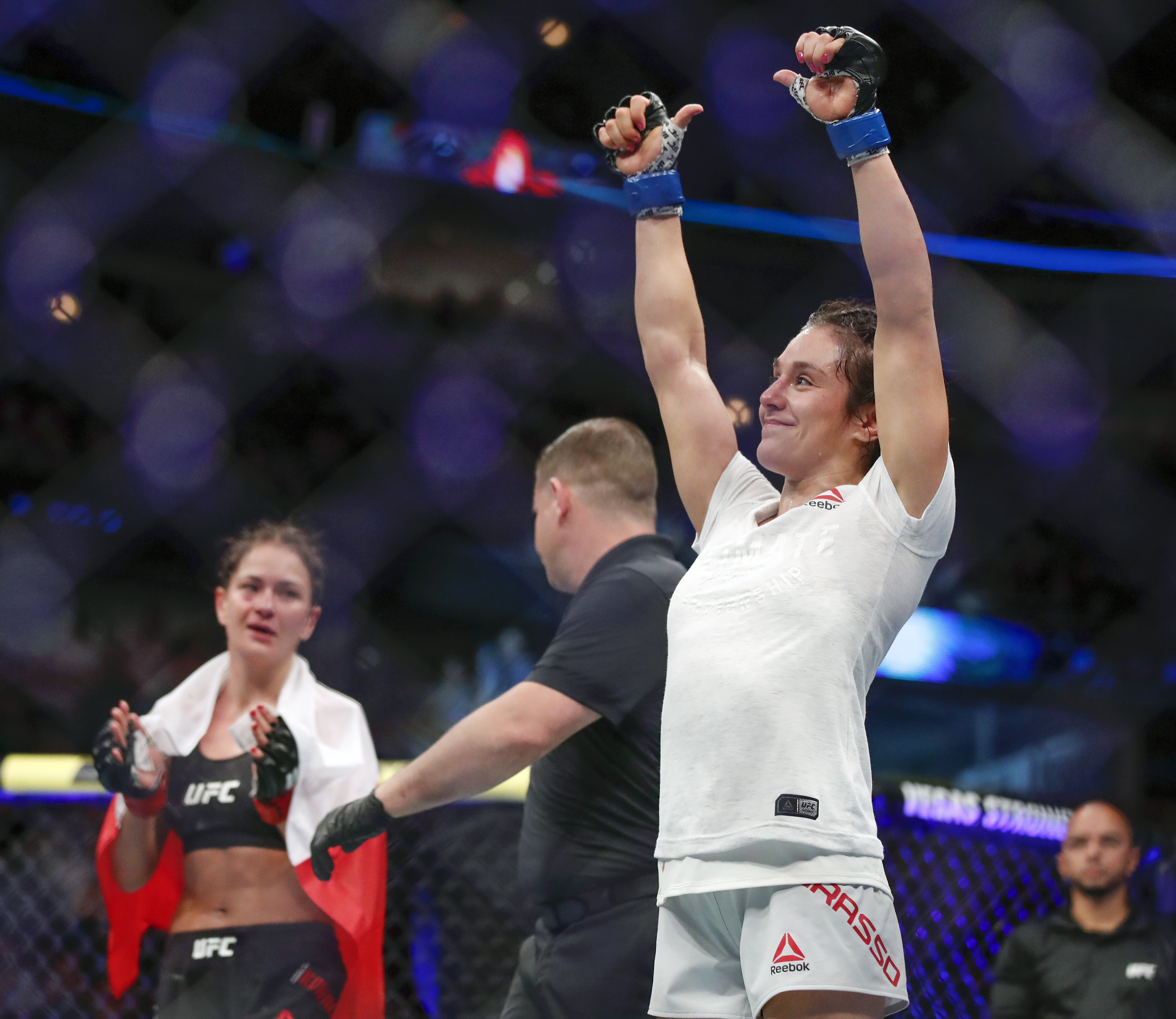 After nearly a month without a UFC event, the promotion finally returns with Number 246. The card has more of a glorified Fight Night vibe to it, with a big headliner tacked on to justify it being a PPV, but considering how thirsty fans are for a high-level card, it fits the bill. There are 12 fights scheduled, but we'll only be looking at four of them. These four fights are the ones that look to have the best potential to end in an upset. Let's take a look at the underdogs looking to play spoiler.
DFS BREAKDOWN
Set your lineups here:
MMA $324.6K 246 Special [$100K to 1st]
---
JJ Aldrich $8,200 vs. Sabina Mazo $8,000
Aldrich has looked very good inside the Octagon, notching wins over Polyana Viana, Danielle Taylor and Lauren Mueller. She's got efficient, technical striking, but she gets a little flustered under pressure. She pretty much abandoned her game plan in the Mueller fight and it almost cost her the win. She's also a bit stiff and robotic, so a crafty opponent could pressure her against the cage and get serious work in.
Mazo may have lost her first fight with the UFC, but she certainly made drastic improvements to her game by the time her second bout rolled around and was rewarded with a unanimous decision against Shana Dobson for her efforts. She's the perfect foil for Aldrich, doing nice work in the clinch. This is pretty much a coin toss, but I'm leaning toward Mazo.
Sabina Mazo via Decision
---
Nasrat Haqparast $9,300 vs. Drew Dober $6,900
Haqparast has a ton of hype behind him and rightfully so. He's got scary knockout power and an excellent gas tank. His fight IQ is solid, and he isn't prone to being reckless. His lone
UFC
loss is to Marcin Held, a Bellator veteran with an exceptional grappling resume. He doesn't have much downside, but I've chosen this fight for a reason: experience.
Dober is a veteran of 30 fights (to Haqparast's 13). He's crafty and well rounded and packs serious knockout power, as well. The unknown with Haqparast is how well he will do on the ground against someone with good submission chops, and Dober is definitely scrappy on the ground. He's also got a good gas tank and does well under pressure, too. It's a bold choice, but I think Dober actually has a decent chance at upsetting the applecart.
Drew Dober via Submission
---
Sodiq Yusuff $8,500 vs. Andre Fili $7,700
Yusuff is another up-and-coming prospect that has "contender" written all over him. He's a big power puncher with lightning in his hands and excellent technique. His footwork is solid and he covers distance very, very quickly. Again, we have a guy with very little downside, but I have my reasons here and they're very similar to the one noted with Dober.
Fili may have been a bit of a mixed bag with questionable fight IQ in the first half of his UFC career, but he's settled in quite nicely, winning four of his last five fights. He's now making good choices during tense moments, sitting down on his punches, and using his wrestling advantageously. His progress has been marked and the experience he has against much higher level opponents is what makes me think he'll end up with the W in this contest.
Andre Fili via Decision
---
Claudia Gadelha $8,300 vs. Alexa Grasso $7,900
Gadelha is a compact powerhouse with excellent grappling and a very nice takedown game. She's durable and well-rounded and possesses a good striking game that has seen her take a couple of victories via
TKO.
That said, a rangy striker with a good handle on dictating the pace and managing the distance gives her problems. She also has issues with her cardio, which presented in a big way against Nina Ansaroff.
Grasso has very polished boxing that's accompanied by speed and precision. Her dismantling of Karolina Kowalkiewicz was an outstanding display of her striking skills. And while she lost a majority decision to Carla Esparza, she acquitted herself well in that fight and had Carla in trouble on more than one occasion. If she can defend those inevitable takedown attempts and keep Gadelha in the center of the cage, she has an excellent chance to pick her apart. It's another bold call, but I think Grasso can notch the upset in this one.
Alexa Grasso via Decision
---
Put your knowledge to the test. Sign up for DraftKings and experience the game inside the game.
---
I am a promoter at DraftKings and am also an avid fan and user (my username is crooklyn949) and may sometimes play on my personal account in the games that I offer advice on. Although I have expressed my personal view on the games and strategies above, they do not necessarily reflect the view(s) of DraftKings and I may also deploy different players and strategies than what I recommend above. I am not an employee of DraftKings and do not have access to any non-public information.
Gambling problem? Call 1-800-GAMBLER (NJ/WV/PA) or 1-800-9-WITH-IT (IN) or 1-800-522-4700 (NH).
NH/NJ/WV/IN/PA only. 21+ (18+ NH). Eligibility Restrictions Apply. See website for details.