Saturday night, the UFC will take to the stage with its 214th numbered pay-per-view at the Honda Center in Anaheim, California. On paper, it is the biggest event the promotion has put on this year, featuring three title fights on the main card along with a host of other intriguing match-ups. This is the card that UFC 213 should have been, with all the bells and whistles of International Fight Week to accompany it, but due to a host of scheduling difficulties, UFC 214 became the Big Daddy event and 213 took a back seat.
As you all know, the purpose of this column is for me to choose the four fighters I believe have the most potential to upset the favorites; these are the underdogs that could see your DraftKings fantasy teams overflowing with pointage. Read my brief analysis of these bouts and start putting your winning teams together. Let's get started:
Draft Your

MMA

Team Here
Renato Moicano $8200 / Brian Ortega $8000
Renato Moicano and Brian Ortega are highly regarded ground tacticians with near-perfect records (neither has a loss, however, both have logged a NC), but this fight isn't as close as pricing would suggest. Moicano utilizes a heavy kicking game to soften up his opponents while striking at range from the outside. He's not particularly fond of standing in the pocket, choosing a point-fighting style to get the job done instead.
Ortega is the much more dynamic fighter here, with the ability to finish those facing him with submissions or (T)KOs. He thrives in close quarters, and on the ground, his triangle is nigh on inescapable, as evidenced by four of his five submission wins coming via that nasty triangle. He launches brutal knees in the clinch and overall, is a very aggressive fighter, which should serve him well against the much more timid Moicano. Remember, fortune favors the brave.
Brian Ortega via
SUB
---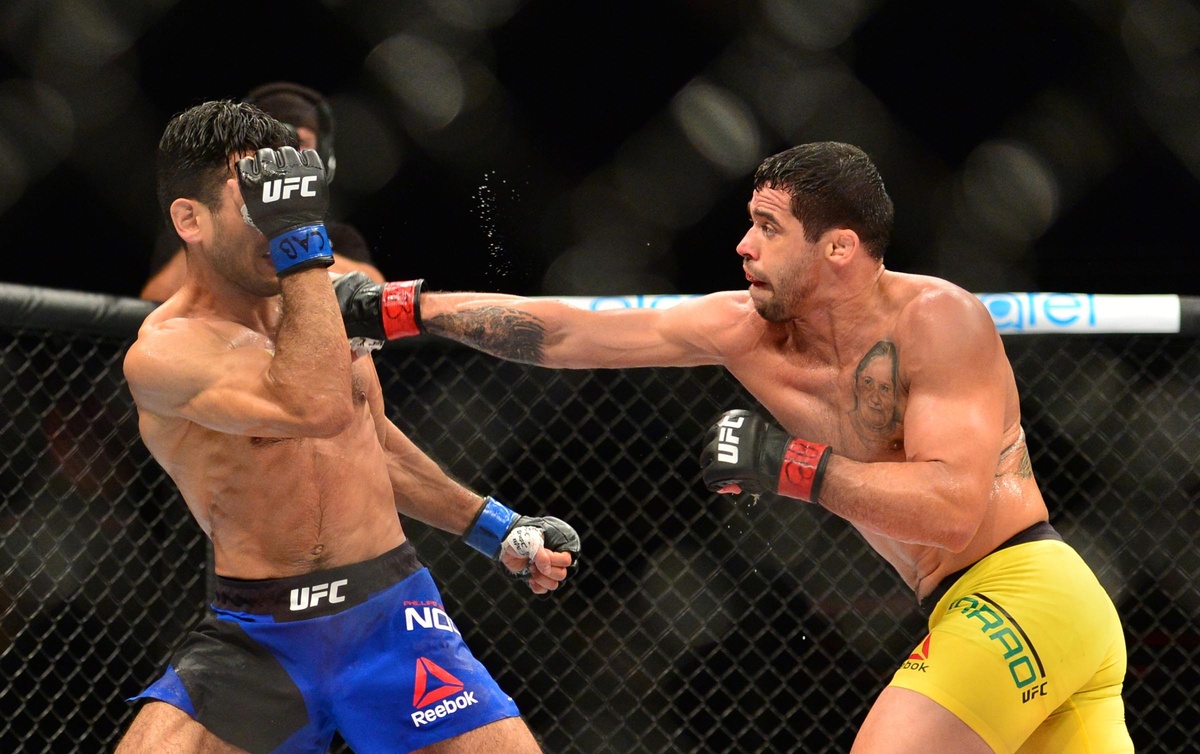 Aljamain Sterling $8400 / Renan Barao $7800
Aljamain Sterling, a Serra-Longo Fight Team product, has been pretty impressive since his UFC debut. He dropped a couple very close split-decisions, but considering his relatively short time in the sport (6 years compared to Barao's 12), he's done very well for himself. A decorated collegiate wrestler, Sterling shines on the ground and has a tidy submission game. Where he falls short is his striking and defense, and against Renan Barao, that might prove troublesome.
Barao hasn't looked the same since the losses to Dillashaw, but he still presents a legitimate threat to most of the Top 15 guys at bantamweight. He's well versed in the stand-up and on the ground and finds wins with submissions just as easily as he does with (T)KOs. It's worth noting that Renan will have the added advantage of this bout being at a special 140lb limit, enforced by the California Athletic Commission based on his previous troubles making 135.
I don't think we'll see a finish from either side here, but when it comes down to the nitty-gritty, I'm confident that there is slightly more upside with Barao in this fight.
Renan Barao via
DEC
---
Robbie Lawler $8500 / Donald Cerrone $7700
Both Robbie Lawler and Donald Cerrone are very special athletes, and this contest, which features two of my all-time favorites, is my choice for some "of the night" performance bonus or other.
Lawler brings a very aggressive, forward-moving pressure game. He is ready and willing to stand toe-to-toe, trading leather-wrapped bombs with whoever happens to be in front of him. Years and years with Miletich Fighting System and American Top Team have crafted a well-rounded skillset, evidenced by one hell of a career resurgence.
The problem is, after seven straight wars and a devastating knockout, the wear-and-tear is starting to show. The second point to factor in is that he left ATT after his last fight and is now breaking in a new team (Combat Club under Henri Hooft).
Cerrone, who's looked absolutely phenomenal at welterweight (Masvidal fight excluded), has more routes to victory than Lawler, especially on the ground. Despite his past struggles with pressure fighters, I think that he'll be able to weather the early storm to wear "Ruthless" down. It's a very, very close call for me, but I'm going to take "Cowboy" for the upset.
Cerrone via
SUB
---
Jon Jones $8900 / Daniel Cormier $7300
The rematch between Jon Jones and Daniel Cormier has been years in the making and the buildup to it has been nothing short of electric. Their rivalry, stemming back years before the first fight, has been bubbling over in interviews, press conferences, social media… anywhere the two have to interact with one another and make no mistake, the bad blood is real.
When we examine the fight itself, we find that the victory is going to come down to a few factors, the most important one being Jones' extended time away from the cage. Just before he fought Ovince St. Preux, Jonny Bones boasted that ring rust wasn't going to be a factor when he stepped into the Octagon. That, however, was not the case, and the former champion put forth one of the least dominant performances of his career.
That said, Jones is exceptional in the clinch and has a marvelous kicking game. His oblique kicks to the thigh (he plants them just barely above the knee for maximum efficacy) are the best in the business, bar none. Keeping this fight in a phonebooth is going to be his path to victory, in my opinion. That may seem odd since he's so tall and rangy, but Jones is the very definition of a "dirty boxer" and his finest work is in the pocket where he can land uppercuts, hard knees and those devastating "hellbows."
Cormier has good striking technique and power, but obviously, his elite-level wrestling is his bread and butter. He has been victorious in all four of his outings since losing to "Bones," with the most recent win coming in the rematch with Anthony Johnson that saw "DC" put on an even more dominant display than the first fight.
If Cormier can keep Jones guessing with tricky feints, good head and foot movement and solid combinations to set up his takedowns and wrestling, he may find himself with the biggest, most impactful victory of his career.
Daniel Cormier via
DEC
---
I am a promoter at DraftKings and am also an avid fan and user (my username is crooklyn949) and may sometimes play on my personal account in the games that I offer advice on. Although I have expressed my personal view on the games and strategies above, they do not necessarily reflect the view(s) of DraftKings and I may also deploy different players and strategies than what I recommend above.