I love food. I wouldn't call myself a "foodie" because I at least have some respect for myself, but let's just say I've had my fair share of epic meals. Prior to joining DraftKings I traveled the country and was in a different city every weekend…on per diem. You better believe I ate anything and everything under the sun because it was FREE and I'm not scared of trying new things #HardoLyfe.
Part of my journey brought to me to over 40 different stadiums, some of which have some pretty wild options for food. In celebration of baseball season I present to you my TOP 5 BALLPARK TREATS of 2015:
5. Wilmington Blue Rocks- "Sweenie Donut Dog"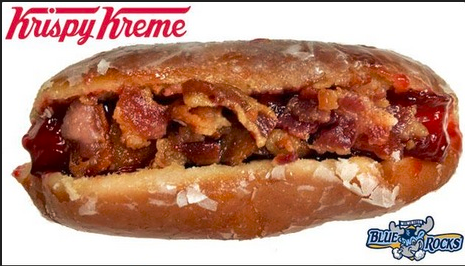 A ballpark staple with a melt-in-your-mouth Krispy Kreme donut? Now that's a winning combo! Add in the bacon and raspberry jelly you hit sweet, savory, and bacon (because bacon is its own everything).
4. Texas Rangers- "The Choomongus"
This is a two-foot Korean beef sandwich with coleslaw and Sriracha mayo. An aggressive amount of food, but if you've never had Korean beef you haven't lived. Also, Sriracha is the special sauce of our generation, gimme all of this.
3. Houston Astros- Chicken & Waffle Cone
You have to be nuts to not love popcorn chicken dipped in honey mustard, now toss that in a waffle cone with some mashed taters…WHAMMY. Talk about comfort food.
2. Minnesota Twins- Bacon Cheeseburger Bloody Mary
This isn't for faint-hearted. I personally LOVE Bloody Mary's. But if you're telling me that I get a BACON cheeseburger with some fine meats and cheeses all in one? (pulls out wallet)
1. Cincinnati Reds- Chicken Spice Box
If I had to eat one thing for the rest of my life it would be Buffalo chicken. This box of goodness has shredded Buffalo chicken atop crispy French fries and covered with celery and blue cheese crumbles. All the essentials of wings, just next level.
If this doesn't make you want to head to the ballpark I don't know what will, EPIC MEAL TIME like you read about! Speaking off which, I'll leave you with my favorite episode of all-time…
I'm on Twitter @wrobbieh aka the "DK Twitter Guy"