@KayleeHartung Have some feel. pic.twitter.com/V93Sl0mxgg

— Dylan Fitzgerald (@DFitz38) June 17, 2015
Superstitions exist for a reason. MAINLY BECAUSE THEY'RE REAL. It's a known fact that over the course of history, any successful no-hitter thrown has never ever been spoken about in progress, ever. Not a single word and barely even a breath. Look if people could talk about no-hitters AND throw them they'd do it. But of all baseball traditions it is probably the most sacred.
People in the stands don't even whisper about it…. so this coach knew he was screwed seconds into the interview. Unless; maybe it's all a made up fairytale like ghosts n' goblins n' aliens OH MY! Let's check out the 3rd pitch thrown immediately after this interview…
Bruhhhhhhhhhhhhhhhhhhhhhhhhhhhh
Alright well the no-hitter dream is VERY much collapsed but there's still plenty of innings left! LOL not like that's gonna decide the game or anything. That'd be silly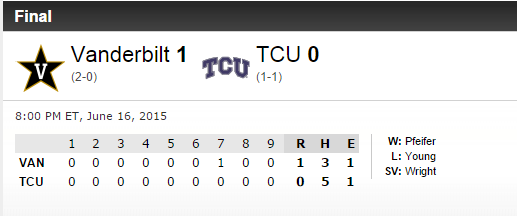 WHY KAYLEE WHY?!? WHY DO YOU REFUSE TO HAVE ANY CHILL WHATSOEVER??
Ok Ok maybe you have a smidge of chill BUT LEAVE THOSE NO-HITTERS ALONE WILL YA!?