Happy National Burger Day! To celebrate, we have for you the top 5 Ballpark Burgers:
5. Washington Nationals- StrasBurger
A great play on words and an even better burger. This thing is EIGHT pounds, and the patty is comprised of ground brisket, chuck, and short ribs. It may cost $59, but is 1000% worth every penny.
4. Pittsburgh Pirates- Brunch Burger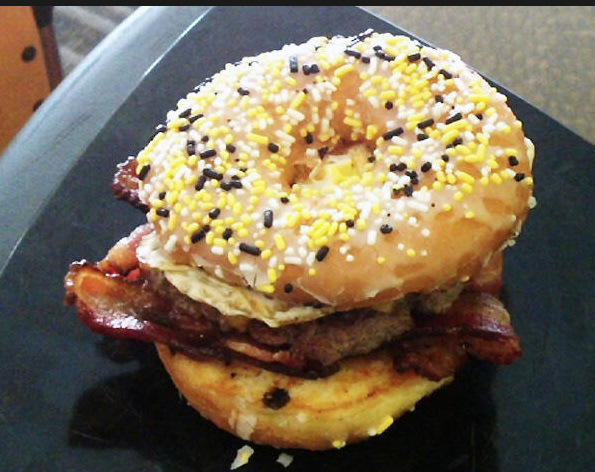 Breakfast food is a good idea anytime. This hybrid beauty boasts a burger patty that is 40% ground bacon AND has bacon on top of it (can't have enough bacon). Add the egg, cheese, and put it on a sprinkled donut, boom… Brunch Burger.
3. Philadelphia Phillies- Wayback Triple Triple 9-Patty Burger
Holy burger, Batman! This baby has NINE patties. NINE!!! I think I would put in a pretty solid dent, maybe 5 patties tops, I will save you half.
2. Timber Rattlers- Big Mother Funnel Burger
You had me at funnel. Just looking at the cheese on this makes my mouth water. Powdered sugar definitely complements the bacon, and I love the concept – quite a unique delivery method!
1. Gateway Grizzlies- Krispy Kreme Burger
This little number has been around for a few years now, but remains on my food bucket list. Bacon, melty cheddar cheese in combination with the warm and sugary glazed donut HAS to be the best flavor complex out there.
If this list doesn't make you hungry, you must either be a vegan or crazy. Let me know if you've tried any of these or have some better suggestions, tweet me @wrobbieh!