There is no doubt, of course, that a player having eligibility at multiple positions, in any sport, increases his value in a season-long league. And as far as
DFS
goes, I am always in favor of anything that gives players more choices, and multi-position eligibility certainly does that. But in what situations does it really increase a player's value in a daily format? And how can you take advantage of that increase in value?
Enter the PGA $2.5MM Millionaire Maker during the U.S. Open, June 20th – $20 Entry >> RESERVE NOW!!
Of course the first question is, "well, which positions?" And the answer can vary player to player, obviously. And certain combinations certainly are more
helpful,
at the very least. In basketball, you had to love, for example, a guy actually running point with SG eligibility. First of all, point guards have the ball more, with more chances for fantasy production, but more importantly, there just aren't any shooting guards. Another option at a weak position can only help.
Looking instead to baseball, it is still obvious which positions are the most useful: catcher, and short stop. However, just having eligibility for those positions makes a good hitter more valuable. In other words, he doesn't have to be eligible at multiple positions – if a good hitter's only position is short stop, he is more valuable than if he played in the outfield. Think, for a second, about Buster Posey, or Stephen Vogt. Great fantasy options, to be sure, and players you would consider in a good matchup no matter what position they played. But instead, you consider them every. single. night… because they play catcher. Does the fact that they are also eligible at 1B make them more valuable? No, because why would you ever start them there?
OK, "ever" might be an exaggeration. And that brings us to our first strategy point: it is very simple to see a guy you want to play who has catcher or short stop eligibility and plug him into that spot, and never look back. In a way, it makes sense, and you might very often end up liking your lineup that way. But you have to keep your options open. Again, never do anything consciously that will limit your choices. Short stop might be a thin position, but it is not completely devoid of talent, and a good matchup here and there, or a recent call-up or injury replacement who is underpriced can create value you might be overlooking. So, first piece of advice: make sure you look through all your options at BOTH of the positions before you plug a multi-positional guy into your lineup, because once that lineup slot is filled, it gets tougher to make sure you aren't narrowing your focus too much, to your own detriment. Mentally, you just get locked into the choice you already made, and you are less inclined to change it.
But even if "ever" is too strong, the fact remains that as far as multiple position players go, Posey and Vogt are seeing their value increase less than others. And why? Because they are actually catchers. Getting that bonus 1B eligibility doesn't mean much of anything. So who is getting helped? Hanley Ramirez would be a great example, if he was actually hitting. He's playing in the outfield, and has this short stop role grandfathered in – and all of a sudden you (in theory) have a power-hitting slugger playing in the outfield, but somehow filling that middle infield role in your DFS lineup. Bonus.
Xander Bogaerts and Yunel Escobar have both been playing more third than short (although that might be changing for Bogaerts). And yes, there might occasionally be a different SS you like, making you start one of these guys at third instead – but that scenario is much more likely to play out in the other direction. There is just a better chance of you finding a 3B you're comfortable starting. Again, in positions that have very few appealing options to begin with, anything that adds another good hitter to the mix is going to be welcomed, making it easier to build your lineups. And while third base is somewhat limited when compared to 1B or OF, there are still lots of good choices; you could remove Bogaerts and Escobar from the 3B choices, and leave them at first only, and it wouldn't affect your life much (or your lineup decisions).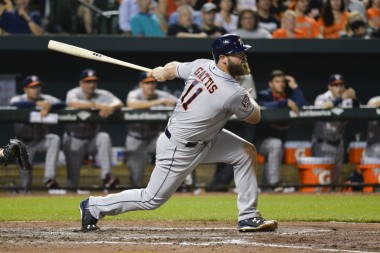 And last but certainly not least – Evan Gattis qualifies. This guy is DH'ing for the Astros, almost exclusively, and actually playing just about as much in the outfield as at catcher when he does play in the field. And yet, there is that sweet catcher eligibility. Bonus.
Good luck.