Opening Day 2017 has arrived, which means Daily Fantasy Baseball on DraftKings is back!
"MLB Top Stacks" will be a staple on the DK Playbook this season every day of the week, providing you with my top-5 teams to stack for that day's/evening's slate. I'll use information like projected run totals, matchups, splits, ballpark factors and batter vs. pitcher matchups to give you everything you need to make a decision on which team you're going to stack when you build your lineup.
Typically this article will come out the day of the games, so I'll have a bit more info to throw at you. But with so much excitement around the start of the season, I'm writing this a few days before the actual nine-game Monday afternoon slate gets underway (note that this article only covers the day slate).
What is stacking? Quite simply it is drafting several players from a team you think will score a lot of runs. If a team you target has a big day at the plate, you will see the benefit as your hitters will all build on each other. If a leadoff hitter hits a single, the next batter walks and the third place hitter knocks a home run, then you will receive points not only from the home run and RBIs, but from each base runner scoring and getting on base. Stacking is an effective way to rack up points very quickly. For more, check out this quick video on stacking hitters:
Hit me up on Twitter with comments or questions: @julianedlow.
---
1. Philadelphia Phillies
The Phillies will be going up against Scott Feldman of the Reds, who spent last season coming out of the bullpen for Houston and Toronto (starting just five games). This is as sad as is gets for an Opening Day starter, and the up and coming Philly offense could take advantage. Feldman's only faced two current Phillies in his career (Kendrick and Saunders), and they've combined to hit 15-for-42 (.357), each going yard against him.
Players to Consider
Howie Kendrick ($3,600)
Michael Saunders ($3,800)
Maikel Franco ($4,200)
Tommy Joseph ($3,700)
Cesar Hernandez ($3,800)
Odubel Herrera ($4,200)
---
2. Toronto Blue Jays
Toronto will be facing Kevin Gausman, who allowed five earned runs to the Blue Jays in one of his last starts of the 2016 season. The current Blue Jays' roster is hitting .326 overall vs. Gausman in 89 total at-bats, including five individuals who've hit home runs off him. Nobody has been better than Josh Donaldson, who is 6-for-16 with a homer, four RBI and a pair of walks. Gausman's reverse splits mean righties hit him better, which Toronto has a lot of.
Players to Consider
Josh Donaldson ($4,900)
Kevin Pillar ($3,800)
Troy Tulowitzki ($4,400)
Jose Bautista ($4,700)
Devon Travis ($4,000)
Kendrys Morales ($4,100)
---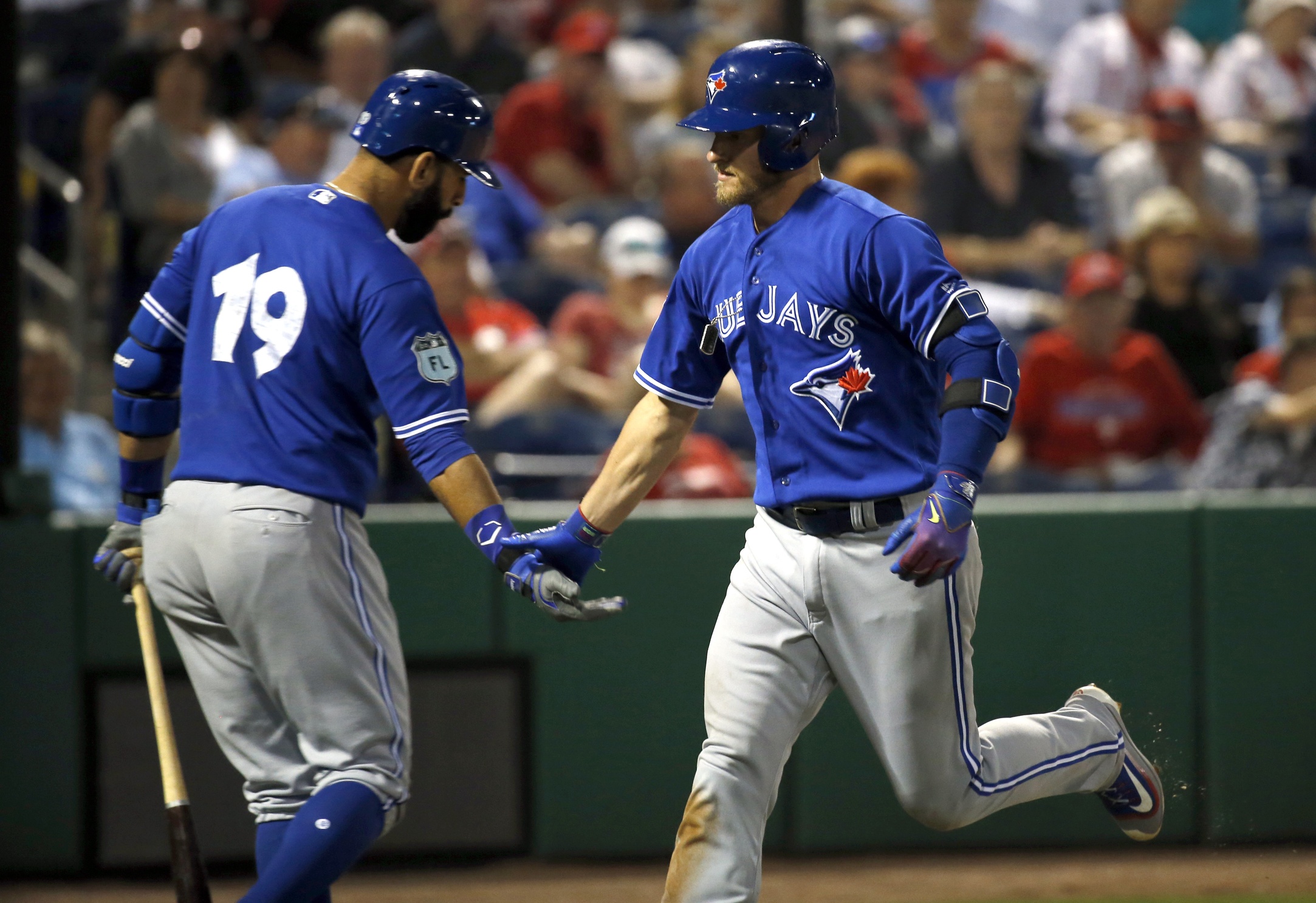 ---
3. Detroit Tigers
Jose Quintana was a legit starter last year, posting a 3.20 ERA and striking out 181 batters while posting a winning record for the White Sox (no small feat). But the Tigers right-handed bats have gotten to Quintana in the past, which is all we have to go on when it's Opening Day. The Tigers have four players hitting .304 or better vs. Quintana in a minimum of 28 career at-bats against him — highlighted by Miggy going 15-for-43 with two bombs, five doubles and six walks.
Players to Consider
Miguel Cabrera ($4,600)
Ian Kinsler ($4,200)
Victor Martinez ($3,500)
Nick Castellanos ($3,600)
Justin Upton ($4,000)
Jose Iglesias ($2,500)
---
4. Baltimore Orioles
It would be surprising not to see this TOR/BAL matchup among the games projected for the most runs on Opening Day. Marco Estrada finished last season on a high, but he was also very inconsistent. The O's will be at home, and although the current players on their roster haven't hit very well for average against Estrada (.188), they have clobbered him for 14 homers in 186 at-bats. Surprisingly, Estrada's had the most trouble with Welington Castillo, who's 7-for-23 with four dingers off him.
Players to Consider
Welington Castillo ($3,700)
Manny Machado ($5,100)
Chris Davis ($4,300)
Jonathan Schoop ($3,900)
Mark Trumbo ($4,200)
Ryan Flaherty ($2,700)
Adam Jones ($4,300)
---
5. Miami Marlins
Call this one your contrarian stack of the day. Presumably, most won't be stacking against Stephen Strasburg to kick the season off, which should leave the Marlins extremely low owned in general. When Strasburg is on his game he can be tough, but he's been far from automatic. There are two clear-cut guys that have given Strasburg a difficult time in his career you'd want to start your stack around, and it's exactly who you'd expect: Stanton — 14-for-38 (.368), three homers, seven doubles, five walks. Ozuna — 10-for-28 (.357), two bombs, two extra-base hits, two walks.
Players to Consider
Giancarlo Stanton ($4,600)
Marcell Ozuna ($3,600)
Christian Yelich ($4,200)
Justin Bour ($3,200)
Dee Gordon ($4,200)
Derek Dietrich ($3,100)
---
I am a promoter at DraftKings and am also an avid fan and user (my username is jedlow) and may sometimes play on my personal account in the games that I offer advice on. Although I have expressed my personal view on the games and strategies above, they do not necessarily reflect the view(s) of DraftKings and I may also deploy different players and strategies than what I recommend above.