WATCH: STACK TO CONSIDER – COLORADO ROCKIES
---
Thursday evening brings just a seven-game slate, but that doesn't mean there are limited stacking options. Five teams are still projected for five or more runs, and they happen to be my top five stacks below. Feel free to reach out to me on Twitter with comments or questions: @julianedlow.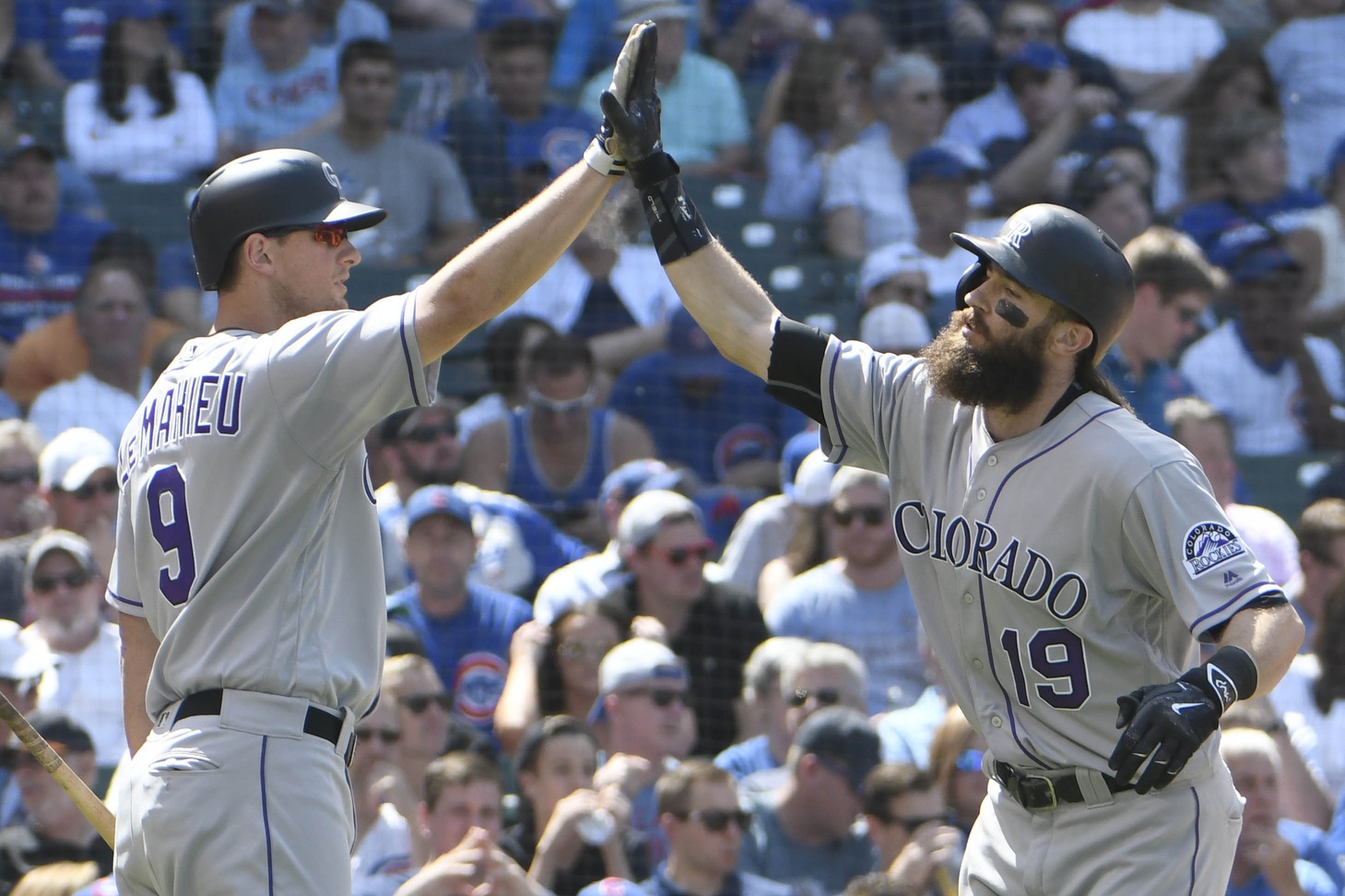 1.
COLORADO ROCKIES
The Rockies are home at fantasy baseball's favorite ballpark, where they're projected for more than six runs against LHP Matt Moore. The Colorado bats have dominated Moore in the past, going 32-for-86 (.372) against him with five homers and eight more extra-base hits. The cherry on top? Moore is 0-2 with a 10.24 ERA against these Rockies this season.
Players to Consider
Charlie Blackmon ($5,500)
Mark Reynolds ($5,300)
Nolan Arenado ($5,400)
DJ LeMahieu ($4,600)
Ian Desmond ($4,300)
Trevor Story ($3,700)
---
2.
BOSTON RED SOX
The Sox haven't exploded yet against the Phillies but they keep churning out solid performances. Last night it was a pair of home runs from Mookie Betts that sparked them. Tonight they'll be up against RHP Nick Pivetta, who's 5.52 ERA is even worse both when he's at home and in night games. RHB are hitting .319 against Pivetta and have hit all five homers he's allowed, while LHB are still hitting nearly .300 against him as well.
Players to Consider
Mookie Betts ($5,200)
Dustin Pedroia ($4,000)
Xander Bogaerts ($4,700)
Hanley Ramirez ($3,600)
Andrew Benintendi ($5,000)
Jackie Bradley Jr. ($4,300)
UPDATE: Hanley Ramirez is not in the lineup tonight for the Red Sox.
---
3.
DETROIT TIGERS
There could be some weather concerns in Detroit, so be sure to check the forecast. But assuming there's a game to be played here, the Tigers are projected for more than five runs against RHP Alex Cobb. Cobb's ERA jumps to over five on the road, and his reverse splits allowing RHB to hit close to .300 with six long balls this season plays into Detroit's strength. LHB are not far behind and are in play as well.
Players to Consider
Justin Upton ($4,400)

J.D.

Martinez ($4,400)
Alex Avila ($4,100)
Ian Kinsler ($3,600)
Nick Castellanos ($4,200)
Miguel Cabrera ($3,400)
---
4.
SAN FRANCISCO GIANTS
The Giants will be up against RHP Jeff Hoffman, who's having a terrific season … on the road. In his lone start at Coors, he allowed four runs to the Dodgers in 6.2 innings. Solid given the circumstances, but nothing special. The Giants' lineup doesn't wow you, but it's just about as cheap a stack at Coors Field as you can get, and that's worth looking into. San Fran is still projected for five runs in this game. If there's such a thing as a sleeper stack at Coors, this is it.
Players to Consider
Buster Posey ($4,800)
Brandon Belt ($4,500)
Eduardo Nunez ($4,900)
Hunter Pence ($3,800)
Brandon Crawford ($3,500)
Denard Span ($3,800)
---
5.
ST. LOUIS CARDINALS
RHP Zach Davies has faced the Cardinals twice this season, surrendering six runs in 10.1 innings. Matt Carpenter (6-for-15, two doubles, two homers) and Jedd Gyorko (9-for-13, three doubles, one homer) have hit Davies well when they've had the chance to in their careers. Batters from both sides of the plate tend to hit Davies well, so you can keep your options open by combining LHB and RHB.
Players to Consider
Matt Carpenter ($4,000)
Jedd Gyorko ($3,500)
Stephen Piscotty ($3,500)
Aledmys Diaz $3,100)
Kolten Wong Q ($3,400)
Tommy Pham ($3,700)
UPDATE: Kolten Wong and Tommy Pham are not in the Cardinals' lineup tonight against the Brewers.
---
I am a promoter at DraftKings and am also an avid fan and user (my username is jedlow) and may sometimes play on my personal account in the games that I offer advice on. Although I have expressed my personal view on the games and strategies above, they do not necessarily reflect the view(s) of DraftKings and I may also deploy different players and strategies than what I recommend above.