Sunday afternoon brings us a 12-game slate. With so many stacks to choose from, I'll break down my top-5. Let's jump right into all the information, and as always, you can get me on the ol' Twitter machine @SBuchanan24.
1. Houston Astros
The Astros have the luxury of facing off against Kyle Gibson this afternoon and check in as my top stack. Gibson has allowed at least one home run in six straight games and 16 overall on the year. Gibson has been "better" on the road than he has at home, but he still sports a .353 wOBA with a .475 SLG and a .325 OBP. Over his last three starts, Gibson is allowing a 45% hard hit rate, which has totaled 12 earned runs in 16.1 innings. At home, the Astros own a .349 wOBA with a .483 SLG and a .343 OBP.
Players to Consider
George Springer ($5,500)
Jose Altuve ($5,300)
Josh Reddick ($4,500)
Marwin Gonzalez ($4,400)
Brian McCann ($3,600)
---
2. Boston Red Sox
Honestly, I'm amazed Sabathia has pitched so well lately with the numbers I'm about to throw at you. Over his last three starts, Sabathia has allowed a 70% hard hit rate. Not a typo, a true 70% hard hit rate with an average distance of 275 ft. Somehow, he's allowed just four runs in his last 14.2 innings in that three game span. He'll be at Fenway Park today taking on the Red Sox, who own a .343 wOBA against lefties with a .436 SLG and a .365 OBP. Sabathia has certainly pitched well lately, but those hard hit numbers have to catch up to him soon.
Hanley Ramirez ($4,400)
Dustin Pedroia ($4,600)
Mookie Betts ($5,200)
Jackie Bradley Jr. ($4,000)
Andrew Benintendi ($4,300)
---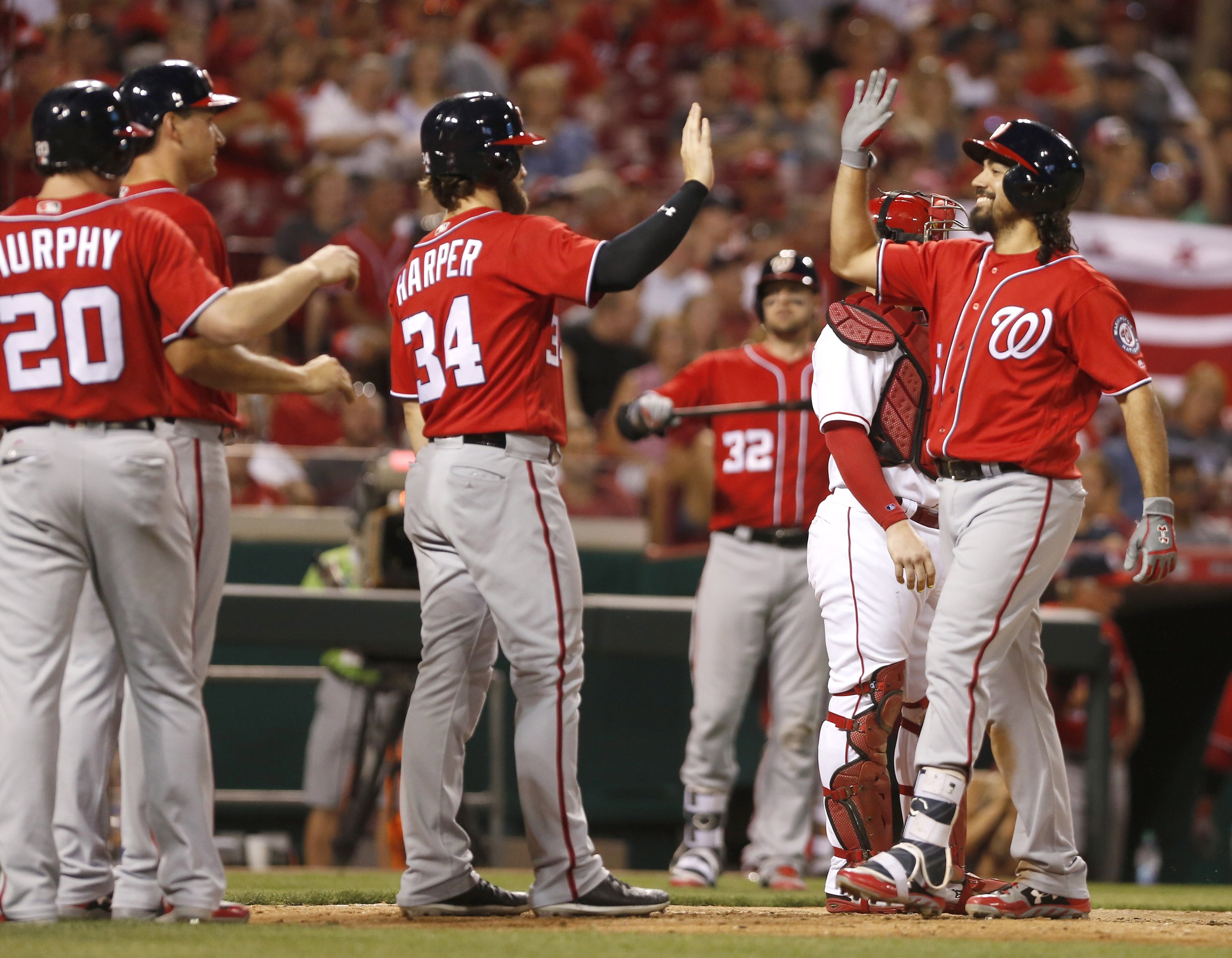 3. Washington Nationals
The Nationals take on Homer Bailey for the second time this season, after completely annihilating him in his first start of the year. It was a short and brutal start for Bailey, lasting just 1.2 innings allowing eight runs on six hits. Since then, Bailey has turned in back-to-back good starts, but I can't see that happening again here today. On the road, the Nationals own a .332 wOBA with a .457 SLG and a .331 OBP. As you'd expect, a Nationals stack will be a pricey one, but one that I think should be considered today.
Players to Consider
Bryce Harper ($5,400)
Daniel Murphy ($5,000)
Brian Goodwin ($3,900)
Ryan Zimmerman ($4,400)
Stephen Drew ($3,200)
---
4. Milwaukee Brewers
The Brewers will take on Jeremy Hellickson this afternoon with his 42% hard hit rate in his last three starts. Hellickson has been having a rough go of it on the road this year, sporting a .347 wOBA with .518 SLG and ten of his 20 home runs on the year. The Brewers have been one of the top teams against right-handed pitching this season, owning a .331 wOBA with a .452 SLG and a .325 OBP. The Brewers currently lead the league in home runs against right-handed pitchers as well, which certainly spells trouble for Hellickson. On the year, he's averaging just under two home runs per nine innings.
Players to Consider
Travis Shaw ($4,500)
Ryan Braun ($4,800)
Domingo Santana ($4,700)
Eric Thames ($4,600)
Jonathan Villar ($3,900)
---
5. Chicago Cubs
The Cubs have enjoyed their time at Camden Yards this series, scoring 19 runs in the past two games. They face off against Ubaldo Jimenez this afternoon, who has been the definition of boom-or-bust. Jimenez is sporting a .390 wOBA at home with a .565 SLG and a .366 OBP. After a stellar start against the Blue Jays to end the month of June, Jimenez has since allowed nine runs in 10 innings with three home runs allowed against the Brewers and the Twins. With how hot the Cubs are hitting right now, they're worth the look.
Players to Consider
Anthony Rizzo ($4,900)
Ian Happ ($4,600)
Ben Zobrist ($4,000)
Willson Contreras ($3,700)
Kyle Schwarber ($3,800)
---
I am a promoter at DraftKings and am also an avid fan and user (my username is Steveazors) and may sometimes play on my personal account in the games that I offer advice on. Although I have expressed my personal view on the games and strategies above, they do not necessarily reflect the view(s) of DraftKings and I may also deploy different players and strategies than what I recommend above.