STACK TO CONSIDER: MINNESOTA TWINS
---
We have a nine-game slate here on Monday night, and we have four teams projected for over five runs thanks to a game at Coors Field. Here are my top-5 stacks.
Hit me up on Twitter with comments or questions: @julianedlow.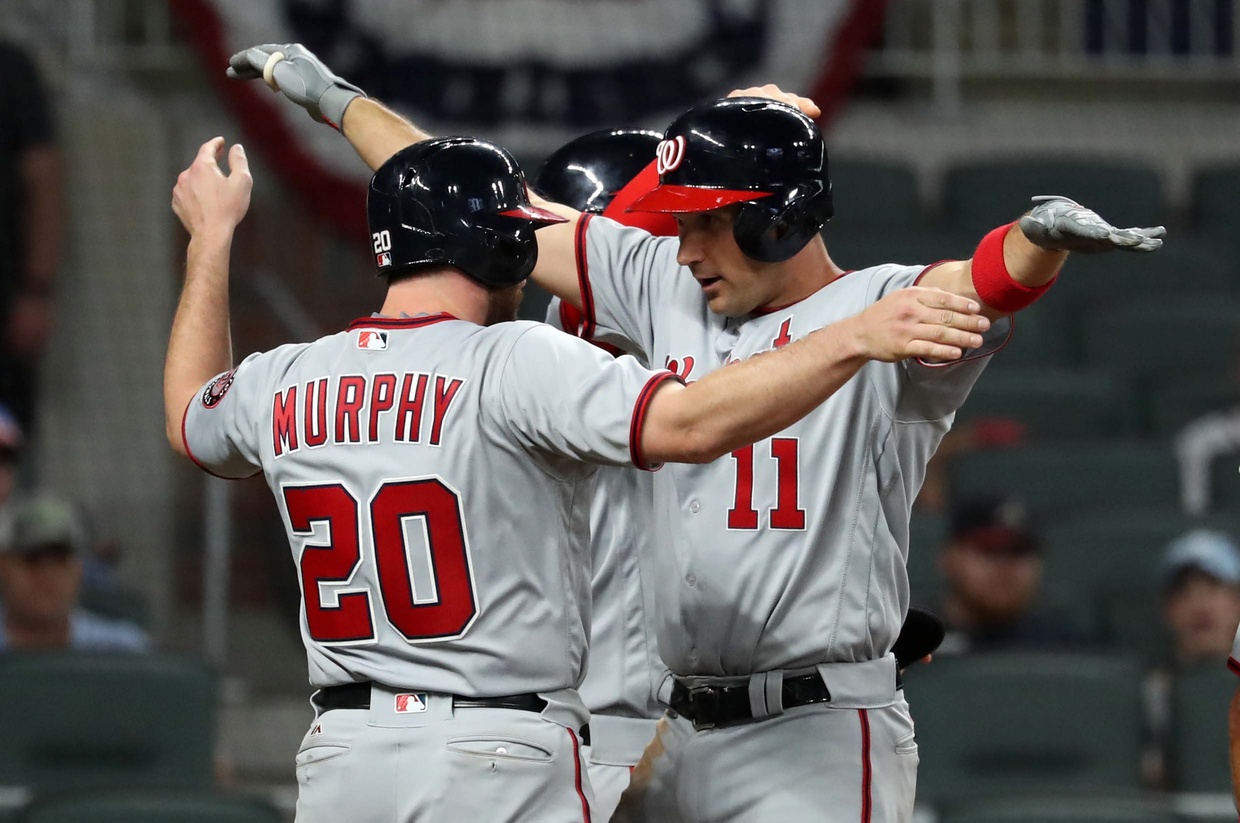 1. Washington Nationals
UPDATE: Bryce Harper is NOT in the Nationals lineup tonight.
Even if this game wasn't being played at Coors, Nats vs. Rockies would still be my top two stacks of the evening based on the pitching matchup. Tyler Anderson and his 7.32 ERA will be on the mound for Colorado, having allowed five runs in five innings in his lone home start. LHB are fully capable of hitting Anderson, so all the usual suspects are in play.
Players to Consider
Bryce Harper ($6,100)
Ryan Zimmerman ($4,900)
Daniel Murphy ($5,600)
Trea Turner ($5,500)
Adam Eaton ($5,500)
Jayson Werth ($5,000)
---
2. Colorado Rockies
The Nationals aren't putting anything much better out there tonight, as journeyman Jacob Turner will toe the rubber. Turner has a 5.09 career ERA, including 6.57 last season. Although LHB hit him very well, Turner's been particularly dominated by RHB throughout his career. Coors won't do this guy any favors.
Players to Consider
Nolan Arenado ($5,600)
DJ LeMahieu ($4,800)
Charlie Blackmon ($5,500)
Carlos Gonzalez ($5,300)
Gerardo Parra ($4,200)
Mark Reynolds ($4,600)
---
3. Arizona Diamondbacks
UPDATE: Paul Goldschmidt is NOT in the Diamondbacks lineup tonight.
Jhoulys Chacin is set to square off against the D-Backs on their home field tonight, which could make all the difference. Chacin is 2-0 with a perfect ERA when the Padres are at home … and on the road? Well, how about a 12.96 ERA, surrendering 13 runs in just 8.1 innings. Arizona tends to hit well at home, so this has all the makings of the potential perfect storm.
Players to Consider
Paul Goldschmidt ($5,200)

A.J.

Pollock ($4,400)
David Peralta ($4,000)
Jake Lamb ($4,300)
Chris Owings ($3,700)
Brandon Drury ($3,700)
---
4. Texas Rangers
Texas is matched up with Phil Hughes in their home ballpark. Both Arizona and Texas are projected for more than five runs, but you might be able to get low-ish ownership on both of them with all the Coors stacking that'll be going on. The Rangers are by no means cheap, but they're affordable given what the price tags on those Coors bats are. You can build a more balanced lineup around these guys.
Players to Consider
Mike Napoli ($4,300)
Rougned Odor ($4,700)
Nomar Mazara ($4,100)
Joey Gallo ($4,000)
Shin-Soo Choo ($4,600)
Jurickson Profar ($3,600)
---
5. Los Angeles Dodgers
The Dodgers will face Matt Cain tonight, whom they've just dominated in the past. This should be a great spot for LHB home run hitters, which the Dodgers have plenty of. Gonzalez and Utley have both hit Cain very well over a large sample size over the years.
Players to Consider
Adrian Gonzalez ($3,600)
Chase Utley ($3,200)
Joc Pederson ($3,500)
Corey Seager ($4,200)
Yasmani Grandal ($3,200)
Yasiel Puig ($3,600)
---
I am a promoter at DraftKings and am also an avid fan and user (my username is jedlow) and may sometimes play on my personal account in the games that I offer advice on. Although I have expressed my personal view on the games and strategies above, they do not necessarily reflect the view(s) of DraftKings and I may also deploy different players and strategies than what I recommend above.