We've got a 10-game slate on Tuesday night, which means plenty of stackable teams to choose from. Some beautiful weather on the East Coast also makes things easier in mid-April with not much to worry about in terms of PPD chances as of this morning.
What is stacking? Quite simply it is drafting several players from a team you think will score a lot of runs. If a team you target has a big day at the plate, you will see the benefit as your hitters will all build on each other. If a leadoff hitter hits a single, the next batter walks and the third place hitter knocks a home run, then you will receive points not only from the home run and RBIs, but from each base runner scoring and getting on base. Stacking is an effective way to rack up points very quickly. For more, check out this quick video on stacking hitters:
Hit me up on Twitter with comments or questions: @julianedlow.
Here are my top-5 stacks: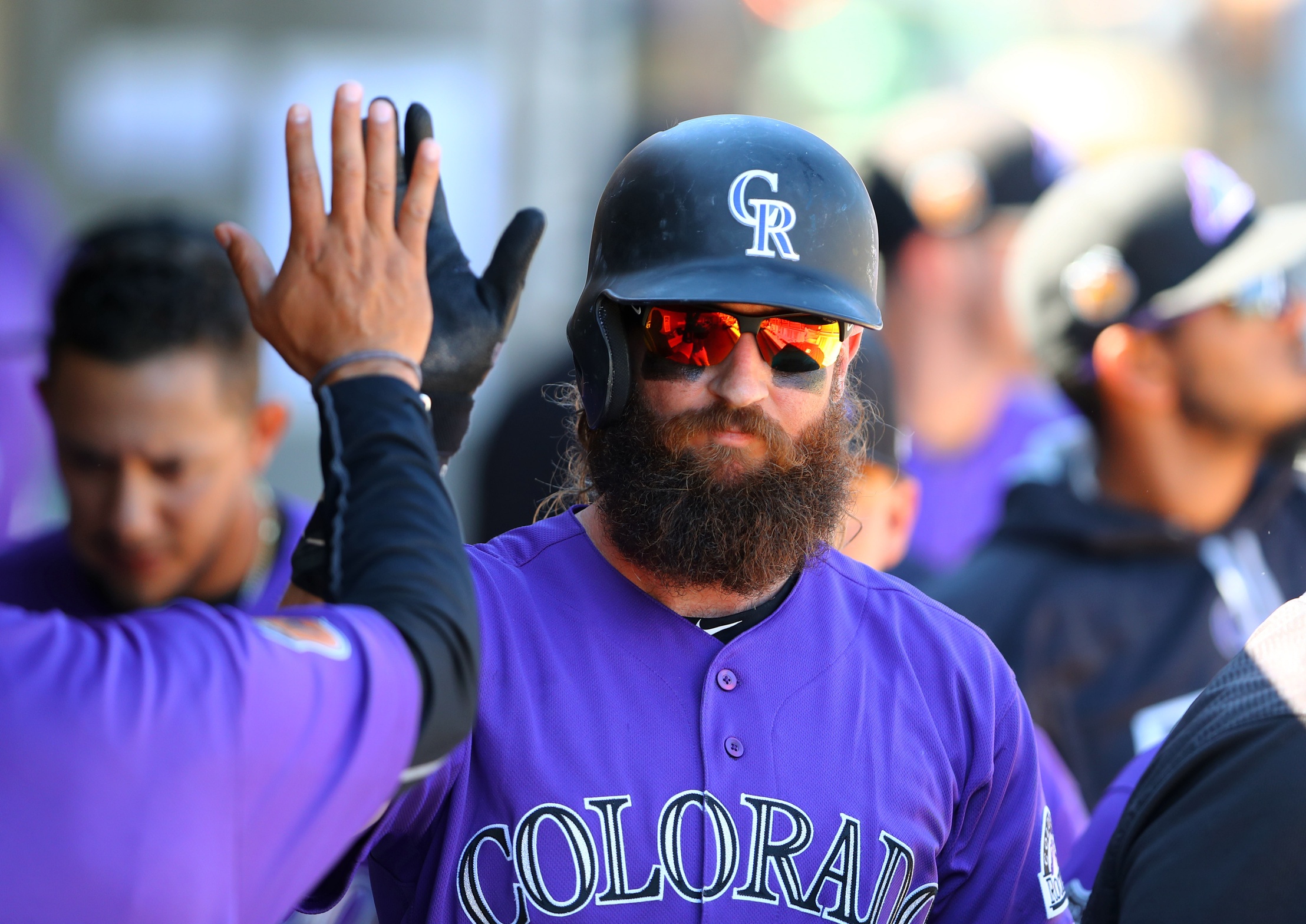 1. Colorado Rockies
The Rockies were my top stack yesterday, and they failed, scoring just three runs at Coors. That's why tonight I'm going right back after them even after the dud performance. The Rockies are projected for practically seven runs yet again, going up against another shaky pitcher in Jered Weaver. If you want to differentiate yourself, maybe look to some of the cheaper LHB at the bottom of the order.
Players to Consider
Charlie Blackmon ($5,100)
Nolan Arenado ($5,200)
DJ LeMahieu ($4,700)
Mark Reynolds ($5,000)
Gerardo Parra ($4,100)
Tony Wolters ($3,100)
---
2. Toronto Blue Jays
The Jays are at home, and although they aren't facing off against a LHP, Wily Peralta simply just isn't very good. Toronto still has one of the best offenses in MLB, but they haven't found their stride yet. Donaldson is questionable for this one, so if he doesn't play, the Jays could be a less popular stack. I still like them either way in this spot.
Players to Consider
Jose Bautista ($4,500)
Kendrys Morales ($3,700)
Russell Martin ($3,600)
Justin Smoak ($3,000)
Troy Tulowitzki ($3,900)
Josh Donaldson ($4,900)/Devon Travis ($3,800)
---
3. Washington Nationals
The Nats were my third stack yesterday going up against a starting RHP and smashed in 14 runs. I'm high on them against today against Lance Lynn, who gets smacked around by LHB. That trio of lefties at the top of Washington's order is going to put them in stacking consideration all season against RHP.
Players to Consider
Bryce Harper ($5,000)
Daniel Murphy ($4,500)
Adam Eaton ($4,100)
Ryan Zimmerman ($3,400)
Jayson Werth ($3,600)
Anthony Rendon ($3,900)
---
4. San Diego Padres
It was the Padres that outproduced the Rockies last night at Coors, winning 5-3. San Diego is projected for over five runs in this one, so they're impossible to ignore when it comes to stacking. However, with the focus on the Rockies, the Padres do fly a little under the radar. Antonio Senzatela was very good in his first start, but now he gets his first taste of Coors.
Players to Consider
Yangervis Solarte ($4,700)
Wil Myers ($5,200)
Manuel Margot ($4,600)
Hunter Renfroe ($4,400)
Travis Jankowski ($4,000)
Ryan Schimpf ($4,800)
---
5. Boston Red Sox/Baltimore Orioles
Two for the price of one here! I love stacking Fenway Park tonight, particularly in this amazing weather. With the game at Coors, you may be able to get great ownership on both teams.
Dylan Bundy was spectacular in his first start of the season, striking out eight Blue Jays in seven innings and allowing just one earned run — good for more than 30 DKFP. The Red Sox have the ability to hit anyone at home, though, and should finally be fielding their actual lineup after losing many players to a flu bug that ran through the team. Boston has a history of hitting Bundy well, with current players hitting .329 against him in 73 at-bats — including a pair of home runs from Mookie Betts in just nine at-bats.
On the other side, Drew Pomeranz hasn't proven to be very good. The O's should be poised for a big game as well, with plenty of RHB with the ability to take Pomeranz deep at Fenway.
Players to Consider
Mookie Betts ($5,100)
Dustin Pedroia ($4,100)
Xander Bogaerts ($4,400)
Mitch Moreland ($3,300)
Andrew Benintendi ($3,900)
Pablo Sandoval ($3,700)
Adam Jones ($4,300)
Manny Machado ($5,100)
Mark Trumbo ($4,400)
Welington Castillo ($3,800)
Jonathan Schoop ($3,800)

J.J.

Hardy ($3,100)
---
I am a promoter at DraftKings and am also an avid fan and user (my username is jedlow) and may sometimes play on my personal account in the games that I offer advice on. Although I have expressed my personal view on the games and strategies above, they do not necessarily reflect the view(s) of DraftKings and I may also deploy different players and strategies than what I recommend above.