WATCH: PIVOT PLAY – ROBBIE RAY
---
We have a 14-game slate tonight with a few interesting decisions to make at the top of the salary range. Let's get right into my top-five options.
1. Chris Sale –
BOS

@

CHW

– $13,400

The narrative heading into this game is going to be all about the revenge game. Sale is going to be taking on his former team, which he didn't exactly leave on good terms. The relationship between the White Sox and Sale went south when he infamously cut up an alternate uniform that he claimed inhibited his ability to perform. The White Sox suspended him and his departure was all but guaranteed once the offseason arrived. While this doesn't have a massive impact on how I view Sale tonight, Boston may let him throw a few extra pitches if he is line for a monster night. So, there is an angle where I can justify the revenge game making Sale slightly more valuable. Regardless of the opponent, Sale is going to be the top pitching option just about every time he takes the mound. He has been dominant with a 2.34 ERA and has scored at least 22 DKFP in every outing this season. Sale has an incredibly high floor and is a very safe cash option.
---
2. Jeff Samardzija – SF vs
WAS

– $8,600

For those who didn't see, Bryce Harper was involved in one of the more entertaining fights in recent baseball history yesterday. The fallout is that he is likely to be suspended for tonight's game. Assuming that Harper is out, we can give a significant boost to Samardzija. Harper is easily one of the game's best hitters and the Nationals offense takes a sizable hit with him out of the lineup. Samardzija also comes into tonight's game in good form. He has scored at lest 21 DKFP in four of his last five starts. His 4.50 ERA isn't pretty, but he has a 3.27 FIP, which suggests positive regression is coming his way. Samardzija is putting up career best strikeout and walk rates. By striking out 10.46 hitters per nine innings, The Shark has been able to erase the woes of allowing some runs here and there.
---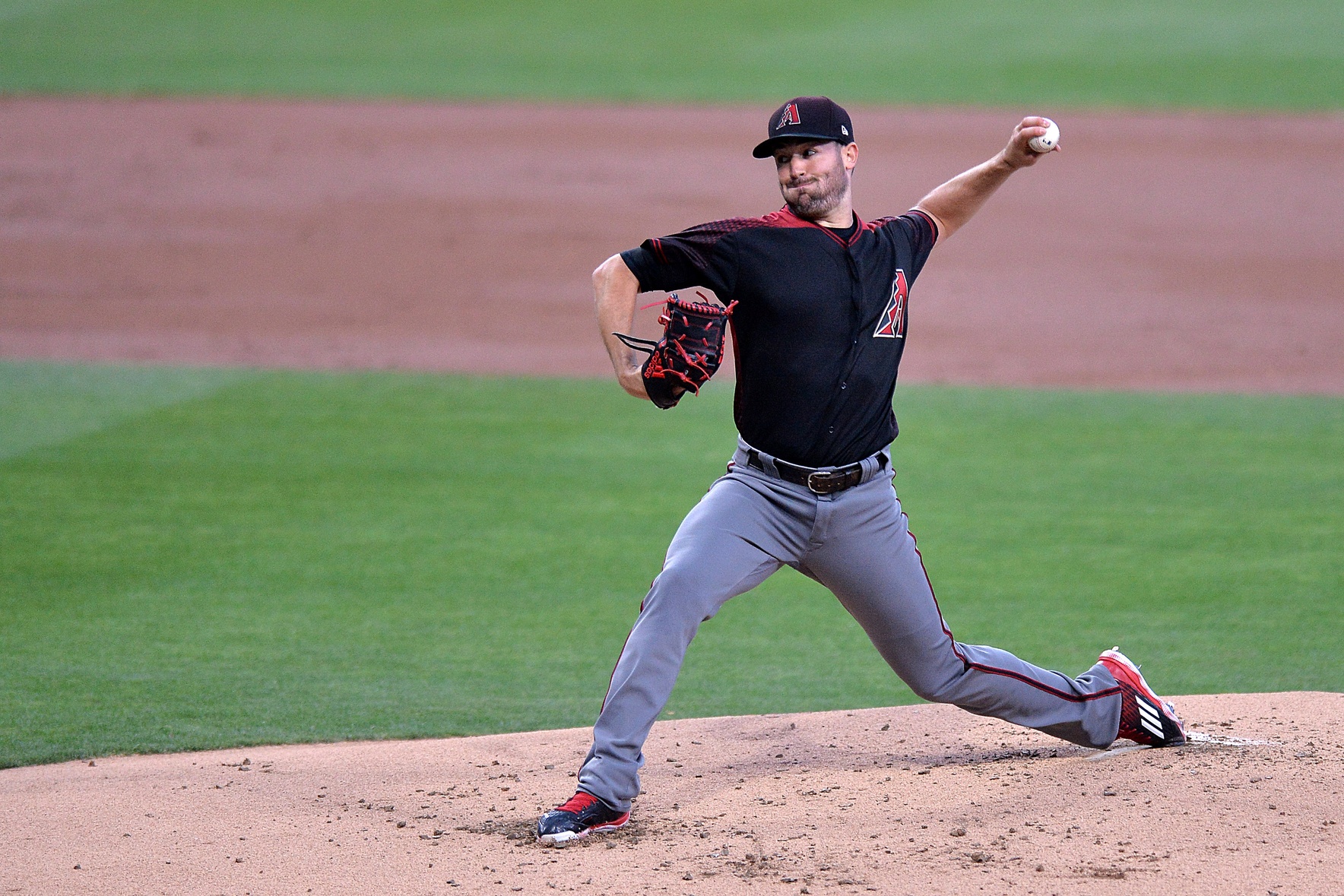 3. Robbie Ray –
ARI

@

PIT

– $9,600

Robbie Ray has evolved as a pitcher this year. He has upped his FB rate from 32.6% to 41.7%. The result has been a much lower BABIP and fewer base runners to deal with. Ray is also an elite strikeout pitcher and is whiffing 11.10 hitters per nine innings. This has helped Ray become a very valuable DFS asset in 2017. He has scored the 20th-most DFKP of any player in baseball and has scored at least 22 DKFP in six of last nine starts. Ray is still a bit volatile, but he has flashed his upside more often than his downside this year. The Pirates have been dealing with injuries lately, which has their offense with the 28th-ranked wOBA for the month of May. They are also likely to be without Gregory Polanco, who was carted off the field last night following an ankle injury.
---
4. Jose Berrios –
MIN

vs

HOU

– $7,300

Berrios is quickly becoming one of the best young starters in baseball. In three starts, he has a 1.66 ERA and is averaging 29.85 DKFP per start. The matchup isn't ideal, but the price tag is. Berrios is averaging more than double the 14.6 DKFP he needs to score to match his salary expectations. The negative matchup isn't a reason to be totally scared away from Berriors as his three starts (all wins) came in extremely tough games at Cleveland, against Colorado and at Baltimore. Berrios has shown that not only can he perform against top-ranked offenses, but he has the ability to to shut them down while posting massive strikeout numbers. He has 18 strikeouts in last two starts across 14 innings.
---
5. Gio Gonzalez –
WAS

@ SF – $8,200

Gonzalez has struggled a bit with his command at times this season, but he has still managed to post a 2.90 ERA in his first 10 starts. My main reason for including Gio in my pitcher ranks is due to his matchup. He is going to be benefiting from a massive park upgrade. AT&T Park ranks as the top pitcher's park in baseball for 2017. In addition, the Giants have struggled to get guys across the plate this year. The Giants are the second-lowest scoring team in the National League and are ranked 27th in the MLB with a .274 wOBA against left-handed pitching.
---
I am a promoter at DraftKings and am also an avid fan and user (my username is gehrenberg) and may sometimes play on my personal account in the games that I offer advice on. Although I have expressed my personal view on the games and strategies above, they do not necessarily reflect the view(s) of DraftKings and I may also deploy different players and strategies than what I recommend above.