We have all thirty teams in action tonight, and it is shaping up to be a fine game set for tournaments. There are a couple high-end pitching options, games in Coors Field, Yankee Stadium, Great American Ballpark, U.S. Cellular Field and Miller Park so there will be plenty of hitters to choose from. The key will be to figure out a way to get the premium bats in our lineup, and the recommendations below will provide several ways to achieve that goal. On to the fun!
Pitchers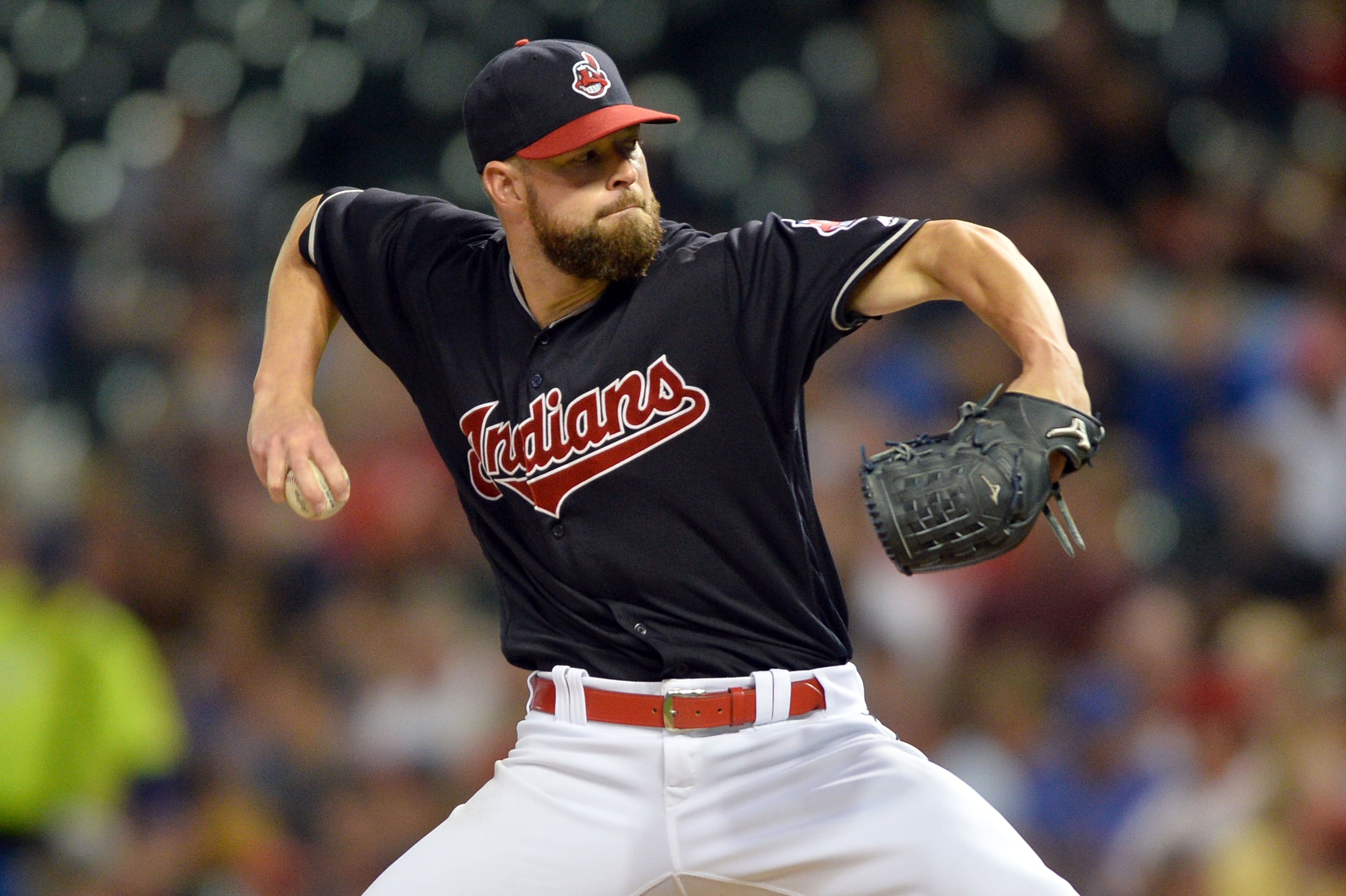 Studs
Corey Kluber CLE vs HOU – $12,500 – When Kluber faced Houston back in early-May, he was run out of the game in the third inning having allowed eight baserunners and five earned runs. That was then, this is now. Since June 21st, Kluber has posted 21+ DraftKings points in ten of his twelve starts. He is the top option taking the mound tonight, and though his price reflects it, I will want to have him on my rosters if at all possible.
Aaron Sanchez – TOR at NYY – $9,600 – If it is not reasonable to reach up to the top shelf for Corey Kluber, then Sanchez is a solid alternate option. He has faced the Yankees twice this season allowing just one earned run and fifteen baserunners which have been offset by eleven strikeouts. The Blue Jays are actually road-favorites in this matchup and the victory is worth four bonus points on DraftKings.
Values
Luke Weaver – STL at PIT – $4,700 – At this price point we will likely see the right-handed rookie heavily owned tonight. That is just fine in my opinion since I think we will be able to differentiate with the many hitting options that are available on this slate.
Jason Hammel – CHC at MIL – $7,500 – This will be the fifth time Hammel has faced the Brew Crew this season, and over the previous 18 innings, he has had mediocre results with a 15.4 DraftKings point average allowing six runs, three home runs, 18 baserunners and racking up 18 strikeouts. Tournaments only, since Hamels has upside as evidenced by racking up 23.9+ DraftKings points in three of his last five games, unfortunately the other two were both negative point performances, so caution is warranted.
---
Batters
Studs
Adrian Beltre (3B) – TEX at SEA – $5,000 – Beltre always seems to do better when he returns to Safeco Field as a visitor than he did during his five seasons there as a Mariner in the mid-2000s. A noted lefty-masher with a career .379 wOBA and a .220 ISO this is a nice matchup for Beltre against LHP James Paxton. In ten at bats against Paxton, Beltre has five hits, a home run, three walks and just one strikeout. Enjoy!
Daniel Murphy (2B) – WAS vs ATL – $5,300 – Murphy is in the midst of a tremendous season, and he is steadily outperforming teammate and reigning National League MVP Bryce Harper. On the season in 371 plate appearances against right-handed pitching, Murphy has tallied a .416 wOBA and a .270 ISO with 50 extra base hits. I think this price point will keep most gamers at bay, making him a fine option in tournaments. Bryce Harper (OF) – $5,400 and Trea Turner (2B/OF) – $5,300 are also potential targets today as one-offs or as part of a Nationals synergistic trio.
J.D. Martinez (OF) – DET at CHW – $4,600 – Martinez has a solid matchup against RHP Miguel Gonzalez who is rejoining the ChiSox after a rehab assignment in their farm system. After some mid-season injury issues, Martinez is running on all cylinders and over his last 270 righty/righty at bats he has compiled a .409 wOBA and a .260 ISO.
Corey Seager (SS) – LAD vs ARZ – $5,300 – Seager has simply been outstanding this season and tonight he gets a matchup with the enigmatic RHP Shelby Miller. This season the young shortstop has been giving right-handed pitchers fits with a .407 wOBA and a .970 OPS through 413 plate appearances. He is in line to be the top scorer at his position tonight.
Anthony Rizzo (1B) – CHC at MIL – $5,400 – On tap is a matchup with RHP Wily Peralta who has actually been serviceable since returning from his Triple A demotion. Over five starts, he has allowed more than two runs just once and only ten total over thirty innings. However, on the season, even including those starts, he still has a 5.53 ERA and a 1.65 WHIP and is no match for the assembly line of Cubbies BIG BATS that are headed his way tonight.
Martin Prado (3B) – MIA vs PHI – $4,400 – There are a lot of mediocre left-handed hurlers on the mound tonight, and we can pick on them liberally. Though Prado does not possess a lot of home run upside in his bat, he does a fine job of hitting doubles and is patient enough to get on base with a 1.130 OPS this season in 133 plate appearances against southpaws.
Carlos Gonzalez (OF) – COL vs SFG – $4,600 – Normally, I don't call out many players from the Coors Field Extravaganzas; however, Cargo and teammate David Dahl (OF) – $4,900 are both sub-$5,000 players with the platoon advantage against RHP Jeff Samardzija who has struggled against hitters swinging the stick from the left-side of the plate over his last 57 starts allowing a .348 wOBA and a 1.52 HR/9 culminating in a 5.51 ERA.
Values
Gerardo Parra (OF) – COL vs SFG – $3,500 – At this price point, if Parra is in the Rockies lineup, I think we can run him out across the board in ours. When the matchup and salary are this favorable, it's tough to stay away.
Franklin Gutierrez (OF) – SEA vs TEX – $3,500 – All season Gutierrez has been a discounted source of upside with a .396 wOBA and a .260 ISO through 195 plate appearances against southpaws this season. While he is always a risk to be pinch hit for, he can easily make his supporters happy in the early innings.
Mike Zunino (CATCH) – SEA vs TEX – $3,100 – Zunino looks to have figured out how to control the strike zone this season, and it has made him much more effective at the plate. He is an excellent play against LHP Martin Perez and has a healthy .367 wOBA and a .240 ISO against lefties this season since rejoining the big club. If he is out, we can pivot to teammate Chris Iannetta (CATCH) – $2,800 who is also adept in righty/lefty matchups.
Josh Bell (1B) – PIT vs STL – $3,400 – Bell will be facing fellow rookie RHP Luke Weaver in this matchup and his price tag will allow us to work in some upgrades with our hitters or a premium pitching option. The switch-hitting youngster has 55 plate appearances against right-handed pitchers and has compiled a .407 wOBA and a .210 ISO in that admittedly small sample size.
Andrew Toles (OF) – LAD vs ARZ – $2,800 – The Dodgers outfield is getting crowded again with Yasiel Puig back from his minor league banishment and Andre Ethier due back next week. Anytime we see that Toles is in the lineup against right-handed pitching, he makes for a great discount dandy with his .413 wOBA and 1.000 OPS through his first 55 plate appearances.
Chris Davis (1B) – BAL at TBR – $3,900 – The current hitters for the Baltimore Orioles have a combined .289/.332/.503 slash line with 21 extra-base hits in 197 at bats against RHP Jake Odorizzi. In addition to "Crush" Davis, we can look to Mark Trumbo (OF) – $3,900, Pedro Alvarez (1B) – $3,100, Adam Jones (OF) – $3,800, J.J. Hardy (SS) – $2,300 and Hyun Soo Kim (OF) – $2,700 as a mix-and-match team stack in tournaments as an excellent counter-move against the Coors Field Crowd.
---
I am a promoter at DraftKings and am also an avid fan and user (my username is emac) and may sometimes play on my personal account in the games that I offer advice on. Although I have expressed my personal view on the games and strategies above, they do not necessarily reflect the view(s) of DraftKings and I may also deploy different players and strategies than what I recommend above.