It's Friday night, and the Midsummer Classic is here with a million bucks in prizes. The Phillies and Cubs face off at 4:05, so they are left out of the fray – and therefore they are left out below (although you could find an All-Day contest if you just need some Jon Lester in your life). Here are a few players to target from every position, in every price range, to help you narrow down your choices (and win a boatload of money!). Good luck!
Enter the MLB $1M Midsummer Classic – $100 Entry >> DRAFT NOW!!
Pitchers
Studs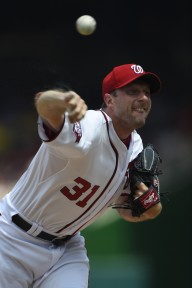 Max Scherzer @ PIT ($14,000) – This is going to be a big question for everyone – do I start Scherzer? Can I find this level of production elsewhere? What will "this level of production" be, anyway? Despite some big names on Pittsburgh's offense, as a team, their numbers make them a plus matchup, and with a guy like this on the mound, with his strikeout potential and ability to get his pitch count down and go deep, the sky is the limit in terms of fantasy points, even if a couple of Pirate stars do manage to do a little bit of damage here and there.
Michael Pineda @ MIN ($9,000) – He's got nine wins on the season, with a good shot at another against former-Yankee Phil Hughes and the Twins. Before his last outing, he had been working on a stretch with at least 24 fantasy points in three straight, averaging eight K's and over 7 innings per game. That level of production is within reach in this one.
Values
Jimmy Nelson @ ARI ($7,100) – He's won four out of his last five starts, and the Diamondbacks had one win in nine tries heading into Thursday's action. He is up to 97 K's on the year, as well, meaning that he has been regularly at or approaching 20 fantasy points lately, excellent at this price point.
Chris Tillman @ TB ($5,800) – He's really cheap, making him the kind of guy you turn to if you really want Scherzer or another top guy in your rotation. He's coming off an eight-inning shutout at Detroit, so clearly he is capable, and the Rays are no Tigers.
Catchers
Studs
Buster Posey vs. Chavez ($4,300) – He's the best catcher option every night. Right now, you don't need my advice to tell you that – he is making good things happen at the plate with more consistency than any other signal-caller in the game, and it is really not close.
Nick Hundley @ DeSclafani ($4,000) – He is slugging .551 at home and .353 on the road, thanks in large part to hitting all but one of his home runs at Coors Field so far on the year. Yes, he is playing at home Friday night.
Values
Stephen Vogt @ Peavy ($3,500) – He's 1-for-2 with a walk and two RBI against Peavy for his career. He hasn't been hitting for a lot of power lately, but the A's have a few guys with good numbers against Peavy and baserunners can always lead to opportunities where even singles can end up very useful.
Salvador Perez vs. Kazmir ($3,400) – He had been struggling a bit since the break, but he now has three hits in his last two games, including two doubles.
First Basemen
Studs
Paul Goldschmidt vs. Nelson ($5,600) – No offense to Nelson, of course, since Goldschmidt has good numbers against most everyone, but he is 2-for-3 with two doubles so far in this particular matchup, lifetime. I don't see those numbers turning in favor of the pitcher suddenly with the way he is raking right now.
Albert Pujols vs. Lewis ($4,300) – A fantasy stalwart for years now, he is having a resurgent season, having hit 29 home runs so far, through 91 games (on pace for 51). He's got eight hits in six games since the break, including a double and three home runs. He's also 9-for-20 against Colby Lewis with a double and three home runs. It's a pleasant convergence.
Values
Victor Martinez @ Porcello ($3,700) – He had another hit and two more RBI last night, and tonight he's got Porcello, the man who's given up 11 runs and five home runs in his last three starts – and that is one of his better stretches this season.
Billy Butler @ Peavy ($3,100) – Lifetime, Butler is 14-for-33 (.424) with a double and three home runs against Peavy, and that goes back years, to a time when Peavy was downright dominating, and pitching in San Diego, a great pitcher's park. Neither of those things is true any longer.
Second Basemen
Studs
D.J. LeMahieu vs. DeSclafani ($4,300) – He is currently sitting on a 13-game hit streak. Sure, there are plenty of singles, but the Rockies are no longer an offense that relies on solo home runs. As they become more well rounded, guys like MeMahieu can thrive because there are teammates on base all around him, and when he himself gets on, he can always hope for the occasional home run blast pushing him across the plate for runs as well.
Rougned Odor @ Tropeano ($4,300) – Tropeano might prove to be a very useful fantasy option, considering his strikeout potential, but this is his first game back since April, when he pitched in one game and then hit the DL. In his time in AAA, he's mediocre at best, and he is only getting this start to ill a need, not necessarily because he is going full-time back into the rotation. Odor and the rest of the Rangers hope they can take advantage of any potential weaknesses, so it should be interesting.
Values
Robinson Cano vs. Hutchison ($3,700) – Cano is the type of hitter who, even when he is scuffling, you just know he is capable of busting out at any given moment – and busting out in a big way. Well for the past couple of weeks he's been averaging double-digit fantasy points. That do it for you? At this price, of course it does.
Justin Turner @ Niese ($3,400) – He's been, um, streaky. And by streaky I mean really, really unbelievably hot at a couple of points in this season. Well, he went 1-for-4 last night, capping off a 10-for-22 run since the break (.456). Get on board before the price spikes, removing any value to be had until he hits another bad stretch and the price drops again.
Third Basemen
Studs
Todd Frazier @ Butler ($5,800) – The definition of a stud: consistent with upside. Hitting .280 (consistent), while also slugging almost .580 (upside). Against Butler, that upside more likely to show up than not in this one.
Alex Rodriguez @ Hughes ($4,300) – He is a really good hitter. He always has been. Everyone's opinion on him might have turned once, or twice, or multiple times over the year, but there is no denying the man knows how to hit a baseball. Missing most of last year, he's never had chance to face the former Yankee, but tat, to me, only means Hughes' chances of a successful outing are even worse than past numbers might suggest.
Values
Matt Duffy vs. Chavez ($3,700) – He's been slashing right around .300/.340/.450 all season long, numbers you might not have expected out of him at the beginning of the year. If you missed the boat at the draft, someone else now has him on their team, and it cost them next to nothing. But you have the chance to correct that mistake every single day. Gotta love DFS.
Adrian Beltre @ Tropeano ($3,500) – Beltre has got games of 13 and 17 fantasy points in two of his last three starts, with a couple doubles, a couple RBI, and four walks. A disciplined and talented hitter who has been struggling with injuries for a while. But when he is all recovered – as he is looking like he may be right now – he is a dangerous man with a bat in his hands.
Shortstops
Studs
Troy Tulowitzki vs. DeSclafani ($4,600) – Yeah, wow, Tulo is the top SS. I know, creative. No history between these two, and in this particular case, that favors the stud hitter, not the unknown pitcher. Tulo could do some serious damage with a single mistake from the pitcher. That seems like a distinct possibility, no?
Alcides Escobar @ Kazmir ($3,900) – He's been averaging almost 8 fantasy points per game recently, a slight increase compared to his season-long norms so far, and I would like to attribute that to an increase in his discipline, and nothing more. His OBP has gone up recently, and once his speed gets on the bases (two steals in his last four games), there are a bunch of ways he can produce for your fantasy squad.
Values
Xander Bogaerts vs. Verlander ($3,400) – This might be a position you end up deciding to save on, because these two value-plays seem to make no sense to me – I'd expect Bogaerts to cost at least $500 more than he does here, and that people would still be willing to pay. But who knows?
Erick Aybar vs. Lewis ($3,200) – Colby Lewis doesn't get many people out, and the longer you leave Aybar out there by himself watching every play, he is thinking about how it will be when he takes over. I am interested to see how he handles that whole situation,
Outfielders
Studs
Mike Trout vs. Lewis ($5,500) – The kind of guy who makes you want to spend less on pitching, which is really saying something when you think about the importance (and relative predictability) of top pitchers.
J.D. Martinez @ Porcello ($4,800) – Porcello had one or two decent starts a few weeks ago, and people wondered for a second or two if maybe the Sox had been right to stick with him all along. No one is wondering that anymore. And Martinez is just the guy to bring the conversation to a close for good.
Nelson Cruz vs. Hutchison ($4,400) – He had one hit in six at-bats last night, making it five hits in his last three nights, including three home runs. Hutchison hasn't been able to slow anyone down all season – I see no reason to expect him to start now.
Jacoby Ellsbury @ Hughes ($4,200) – He is much more experienced against Hughes from his time in Boston than are most of his teammates, and he has good success to show for it: 7-for-22 (.318) with a pair of doubles and four walks. Just getting on base could end up being very valuable in this one, and he has proved himself capable of at least that much.
Values
Shin-soo Choo ($3,800) – His batting average has dropped lately, but his fantasy point output has not – all of which usually means "power surge." In a big GPP (we might have something like that going on here at DraftKings – look into it), that raw power could be exactly what you're looking for to set your lineup apart.
Carlos Beltran @ Hughes ($3,400) – He's got two hits and two walks in the last two games, for a total of 14 fantasy points. But what that shows is that he is getting on base, and if a cheap DFS option can get on base in a good offense, you can't ask them for a lot more, and it is another place you can mentally catalogue as a possibility for built-in value.
Mark Trumbo vs. Hutchison ($3,100) – He hasn't done much as a Mariner, and his fantasy price has been slowly dropping ever since the trade. But like everyone else, he has nice numbers against Hutchison in a limited sample size, so this could be your chance to pounce on some ready made value.
Good luck!