With a decent number of early games already kicking off, the focus switches to the late starts where we have a nice mixture of star pitchers and high-scoring contests. I really like the mix of action tonight, which should lead to some fun scores here at DraftKings. Let's take a look at the best and brightest MLB Daily Fantasy Plays for Saturday, May 9th.
$100K in Prizes, Just $27 to Play! Enter the Payoff Pitch HERE
ALERT: There is a lot of rain in the area of the Dodgers at Rockies game tonight (at Coors Field). Be VERY careful when targeting players in the game. Check the weather report as the game gets closer to first pitch
Starting Pitchers
Studs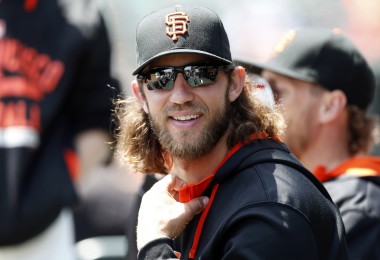 Madison Bumgarner vs. MIA ($11,000) – Bumgarner again gets the nod as my favorite pitcher of the night, but he's also the most expensive. Miami has struggled to swing the bat over the last couple of games, including getting shut down by Tim Lincecum last night. There are a few tough outs here, including Giancarlo Stanton, but if he can get by Stanton he should have a field day against this lineup. He's the heaviest favorite of the night in terms of both over/under and the line as well.
Matt Shoemaker vs. HOU ($7400) – Houston has quietly faded offensively over their last week. They've scored just 8 runs over their last 5 games. Shoemaker is coming off a 7.1 IP, 10 K effort where he somehow got the loss but pitched wonderfully. The biggest risk with Shoemaker is that he hasn't hit 100 pitches in a while, so you never know how deep in the game he'll throw, but the upside with this matchup is terrific.
Values
Aaron Harang vs. NYM ($6500) – Harang has flown under the radar despite a reasonably high K-rate and very good numbers this season and last. In two home starts this year he's averaging 30.3 FPPG and while his only start against the Mets wielded sub-par results, this Mets offense isn't clicking like it was just a few weeks ago. He should be able to manage most of this offense and put together a solid dollar per point outing.
Other Pitching Options: Clayton Kershaw ($10700, love for tournaments), Jonathon Niese ($7300), Chase Anderson ($5900), Carlos Rodon ($6700)
Catchers
Studs
Devin Mesoraco vs. Rodon ($4600) – Rodon is a mega prospect but it's his major league debut as a starter and Mesoraco mashes left-handed pitching. Meso is fresh off the disabled list but has hit .306 with an .882 OPS against lefties over the last three seasons.
Values
A.J. Ellis vs. De La Rosa ($3300) – Ellis is cheap and hitting in Coors against a marginal left-handed pitcher. There are a lot of reasons I'll be loading up on Dodgers today, but De La Rosa's struggles in Coors are the main variable. In two starts this year at Coors, De La Rosa has an 11.57 ERA with 9 ER in just 7 IP.
Other Catcher Options: Yasmani Grandal ($4200), Miguel Montero ($3300)
First Basemen
Studs
Jose Abreu vs. Marquis ($4500) – Abreu hasn't started the 2015 campaign like he did in 2014, but he still has incredible raw power and the ability to hit multiple home runs on any given night. The matchup with Marquis is above average, and Abreu's price is at a very manageable point. A mini White Sox stack might be a solid approach for Saturday night as well.
Values
Lucas Duda vs. Harang ($3200) – I like Harang tonight, but I also fall for the upside of Duda anytime he gets a marginal right-handed pitcher. Duda has a ton of pop, and Harang has allowed a .330 wOBA to left handed bats over the last two seasons. That also includes an insanely high 43% fly ball right to lefties, leaving the door open for a Duda homer tonight.
Other First Base Options: Matt Adams ($4300), Anthony Rizzo ($5100), Adam LaRoche ($3200), Darin Ruf ($3300)
Second Basemen
Studs
Neil Walker vs. Martinez ($4100) – Martinez has been pretty solid this season, but the struggles against left-handed bats can't be ignored. He's allowing a .363 wOBA vs. lefties over the last two seasons and Walker, a switch-hitter, is much stronger when he bats from the left side of the plate.
Values
Alex Guerrero vs. De La Rosa ($3400) – Walker is a nice tournament play at 2B, but I love Guerrero as a value who is both 2B and 3B eligible. Guerrero has a 1.250 OPS on the season in general, let alone the benefits of hitting in Coors against a lefty in De La Rosa. There are a ton of Dodgers in this write-up because, well, they should post a ton of runs.
Other Second Base Options: Robinson Cano ($3900), Howie Kendrick ($4700), Daniel Murphy ($3900)
Third Basemen
Studs
Kris Bryant vs. Lohse ($4200) – Lohse has shown over the last couple of years that he can be either a really solid 2nd pitcher in the Brewers rotation, or he can leave the ball up in the zone and let up a boat load of homers. He's allowed at least 1 HR in 6 of his 7 starts this season and 9 HRs overall already. Sure, Bryant has yet to put one out yet but he's been impressive at the plate and tonight is a really good spot in a hitter-friendly park against a fly-ball pitcher.
The King of the Hill Continues with a $10 Qualifier Tonight – DRAFT NOW!
Values
Conor Gillaspie vs. Marquis ($2800) – Gillaspie is another target from the White Sox lineup, and he comes at an incredible discount at just $2800. Marquis is the definition of a mediocre pitcher, but he struggles against left handed bats and Gillaspie has been solid over the last week. He has 16 and 13 fantasy points in his last two games and should be a good bet to reach value.
Other Third Base Options: Pedro Alvarez ($4100), Todd Frazier ($5200), Juan Uribe ($4000), Cory Spangenberg ($2900)
Shortstops
Studs
Jean Segura vs. Wood ($3900) – Segura has been a little disappointing of late, and this depends heavily on the health of Carlos Gomez, since Segura will likely lead off if Gomez is out of the lineup. If that happens, I like him hitting in a bat-friendly park against the lefty Travis Wood. Wood has allowed a .371 wOBA to right handed bats over the last two seasons, which is the worst split vs. RHBs of all the pitchers in tonight's slate of games.
Values
Marcus Semien vs. Happ ($3600) – Semien is another guy who is dependent on batting order, but has been moved around a ton this season. He could be high up in the order tonight against J.A. Happ and his .327 wOBA allowed to right handed bats over the last two years. Semien comes at a nice discount and allows you to load up on some of the more expensive Dodger and Brewer bats.
Other Shortstop Options: Wilmer Flores ($2900), Jimmy Rollins ($4000), Starlin Castro ($3700)
Outfielders
Studs
Scott Van Slyke vs. De La Rosa ($4200) – Van Slyke is my favorite play of the night. He might be my favorite non-Red Sox player in baseball. He has so much power against left-handed pitching and he always seems to be a bit cheaper because he's a true platoon player (usually only faces lefties). He has an .892 OPS against left handed pitching over the last three seasons and, as mentioned above, De La Rosa is below average against right handed bats.
Ryan Braun vs. Wood ($4900) – Braun has another solid left/right matchup tonight against Travis Wood. As noted above, Wood's allowed a .371 wOBA to right handed bats over the last two seasons and Braun has notoriously mashed left-handed pitching. It doesn't hurt, if you care for BvP stats, that he has a 1.041 OPS against Wood in his career but I think those stats are derived off the other numbers mentioned before.
Values
Chris Heisey vs. De La Rosa ($3700) – Make sure Heisey is in the lineup, but if he is then he's in a terrific spot. He has a .756 OPS against left handed pitching over the last three seasons which is about the same that De La Rosa has allowed to RHBs in that time (.760 OPS allowed to righties).
Khris Davis vs. Wood ($3900) – Khris Davis is a notoriously streaky hitter who went 4-5 with a HR and a 2B last night and now gets a lefty at home in Miller Park. Davis has a .839 OPS against lefties over the last three years and comes at a nice price point.
Other Outfield Options: Jorge Soler ($4100), Gregory Polanco ($4200), Marlon Byrd ($4700), David Peralta ($3800), Colby Rasmus ($3600), Adam Eaton ($3400)