Today's recommendations will focus on the twelve games making up the evening contests. Let's get to the targets!
Pitchers
Studs
Jake Arrieta – CHC vs LAD – $13,000 – He is expensive, and we probably don't need to go there because, with a game in Coors Field we will have to pay a premium for hitters. However, Arrieta is the best pitcher on the slate. In the six games since his no-hitter, he has allowed just ten runs.
Gerrit Cole – PIT at MIA – $9,600 – If Giancarlo Stanton is out of action again on Tuesday, we can give Cole consideration as our SP1. While he is facing Miami's ace RHP Jose Fernandez and the Pirates are a slight road underdog, wins are too fickle to predict and the average MLB starter only earns one about a third of the time. It is my belief that most gamers are not going to want to go against Miami, and we should have a golden opportunity here.
Values
J.A. Happ – TOR vs NYK – $7,400 – Well here we are on a Tuesday giving strong consideration to J.A. Happ at home in the Rogers Centre. Normally I would have skimmed right over him, but I have been impressed with his results this month. Other than running into the buzz saw that is the Tampa Bay Rays (who have gone into beast mode this season against southpaws), Happ has been really, really good from a fantasy perspective.
At the beginning of the month, he shut down the Rangers in Toronto for 23.6 DraftKings fantasy points (DKFP), then it was on to San Francisco where he was one out shy of a complete game shutout. Skipping the NEGATIVE 12.3 DKFP against Tampa Bay, he then put up 16.9 DKFP against the Twins in Minnesota and finally in his last start, he rolled through the Yankees lineup in their home park for 24.2 DKFP. Happ is pitching well, and is an interesting option tonight.
Drew Smyly – TBR at KCR – $8,800 – Smyly has come back down to Earth, but that also means we can deploy him at a more palatable price point. The Royals have been a bottom three team against lefties this season and while they still don't strike out a ton, they are missing too many key hitters on offense to not want to target them at this time.
---
Batters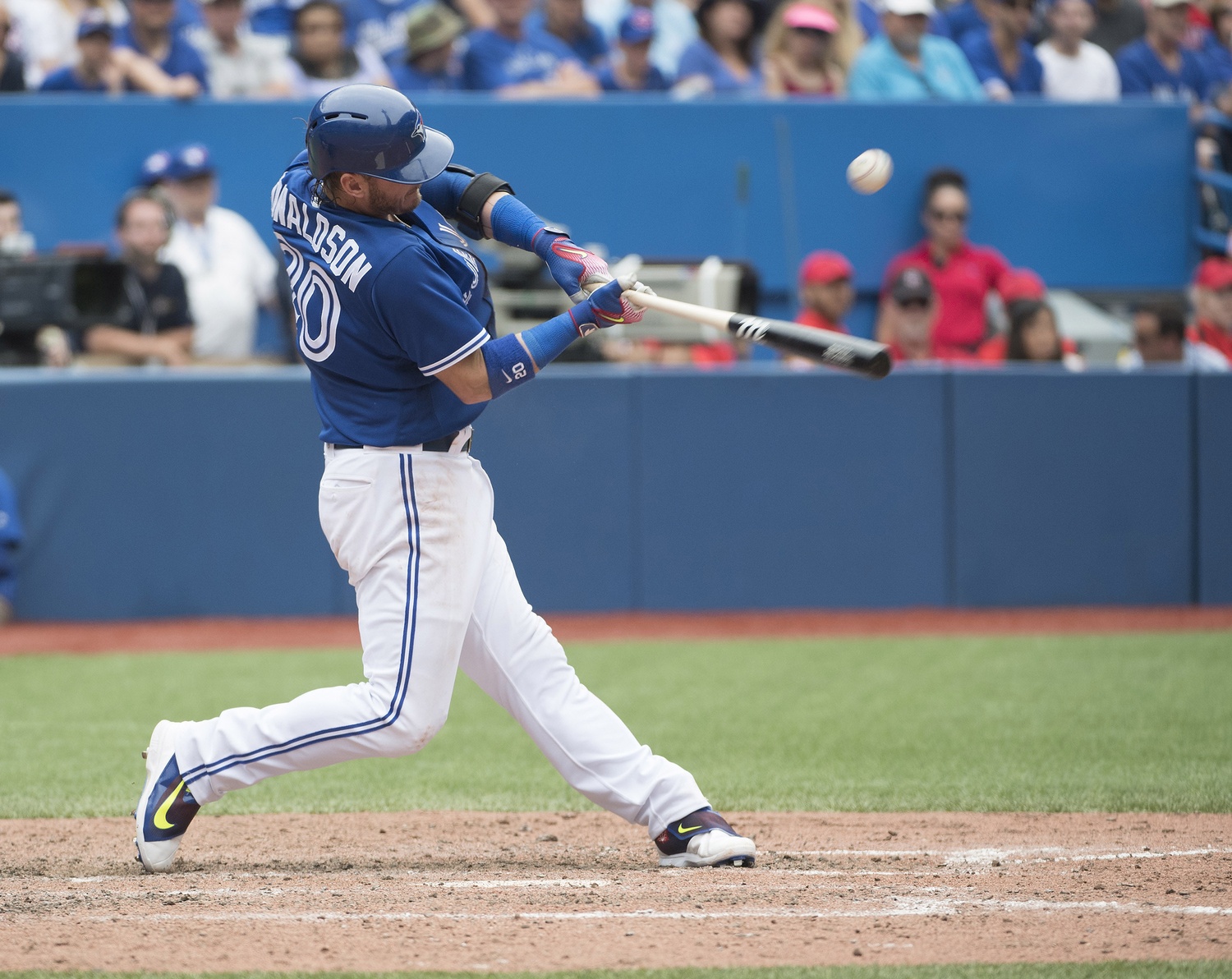 Studs
Josh Donaldson (3B) – TOR vs NYY – $4,700 – Here is a perfect counter to the Coors Field popularity, Josh DONGaldson going against a mediocre lefty. While C.C. Sabathia has had a long and storied career, he is just playing out the string at this point. In his last 317 at bats against southpaws, Donaldson has a .433 wOBA and an otherworldly .340 ISO. Enjoy!
Jose Bautista (OF) – TOR vs NYY – $4,300 – Sticking in the same matchup, we have Joey Bats who is no slouch against lefties himself with a .406 wOBA and a .250 ISO over the last two seasons. Now that he is batting leadoff, the chances of him getting an extra at bat have increased which has not been factored into his current price level.
Editor's Note: Bryce Harper is not in tonight's lineup for the Nationals.
Bryce Harper (OF) – WAS at PHI – $4,700 – While RHP Aaron Nola is a fine young pitcher, we are talking about getting the reigning National League MVP for under $5,000 in a lefty/righty matchup in the band box that is also known as Citizens Bank Park.
Ian Kinsler (2B) – DET at LAA – $4,200 – For his career, Kinsler has a .382 wOBA and a .203 ISO against lefties including 60 home runs in those 1,441 at bats. LHP Hector Santiago is allowing a 34.8% hard hit rate and a 1.81 HR/9 to right-handed batters over his last 42 starts.
Joey Votto (1B) – CIN at COL – $4,300 – At this price point, Votto will be very popular in a matchup against RHP Jonathan Gray who has allowed a 39.8% hard hit rate to opposite-handed hitters over his last 16 starts.
Adam Duvall (OF) – CIN at COL – $4,400 – On Monday, Duvall hit his 12th and 13th home runs of the season. He has now hit five over his last seven games and four in his last four. He is locked in folks.
St. Louis Outfielders at Milwaukee – We will want to target hitters against RHP Wily Peralta as he is sporting a 6.62 ERA and 1.90 WHIP over ten starts this season. Based on price and potential, I would rank them as Matt Holliday – $4,200, Jeremy Hazelbaker – $4,500, Brandon Moss – $4,000, Randal Grichuk – $4,200 and Stephen Piscotty – $5,200
Values
Aledmys Diaz (SS) – STL at MIL – $3,900 – While his price has bumped up to a more appropriate level, if Diaz is hitting in the top of the order he is a fine option. Through 115 career at bats against right-handed pitching he has produced a .400 wOBA and a .260 ISO. At some point he will cool off, but until then ride the streak.
Corey Dickerson (OF) – TBR at KCR – $3,800 – Dickerson is in a major slump and he has been dropped to the seventh spot in the batting order. However, he still packs power in his bat and RHP Dillon Gee is not much of a strikeout artist and allows a lot of contact which bodes well for Dickerson.
Neil Walker (2B) – NYM vs CHW – $3,900 – Walker has been moved back to the middle-of-the-order with the injuries to the various Metropolitan hitters. He has a nice matchup on Tuesday against RHP Matt Latos and he is much better when he can swing the stick from the left-side of the plate.
Chris Davis (1B) – BAL vs BOS – $3,800 – LHP Eduardo Rodriguez has electric stuff, and he performed well last season with a 10-6 record in 21 starts. Once he harnesses his command, he should be a mainstay in the middle of the BoSox rotation. He is making his first start since a mid-winter knee injury and looking at his profile he allowed a 36.6% hard hit rate to lefties last season and a 2.15 HR/9. This lines up perfectly for Crush Davis to take him deep.
James McCann (CATCH) – DET at LAA – $3,000 – If McCann is in the lineup for the Tigers, he is a fine option since he will be in a righty/lefty matchup and over his last 128 at bats he has tallied a .351 wOBA and a .200 ISO in that situation.
Michael Saunders (OF) – TOR vs NYY – $3,700 – The former Mariner has found a home in Toronto and has been hitting in the cleanup spot the last few games. He excels against left-handed pitching and provides a viable alternative to outfielders in the Coors Field extravaganza.
Brandon Belt – (1B) – SFG at ATL – $3,600 – Over his last 28 starts, RHP Matt Wisler has allowed a .363 wOBA to opposite-handed hitters and we can look to Belt as well as teammates Denard Span (OF) – $3,600 and Joe Panik (2B) – $3,500 as individual plays or as part of a stacking strategy.