Greetings Gamers! This article will focus on recommendations for the fourteen games with a first pitch of 7:05pm. Let's dive right in to find the best studs and values for your roster tonight!
Pitchers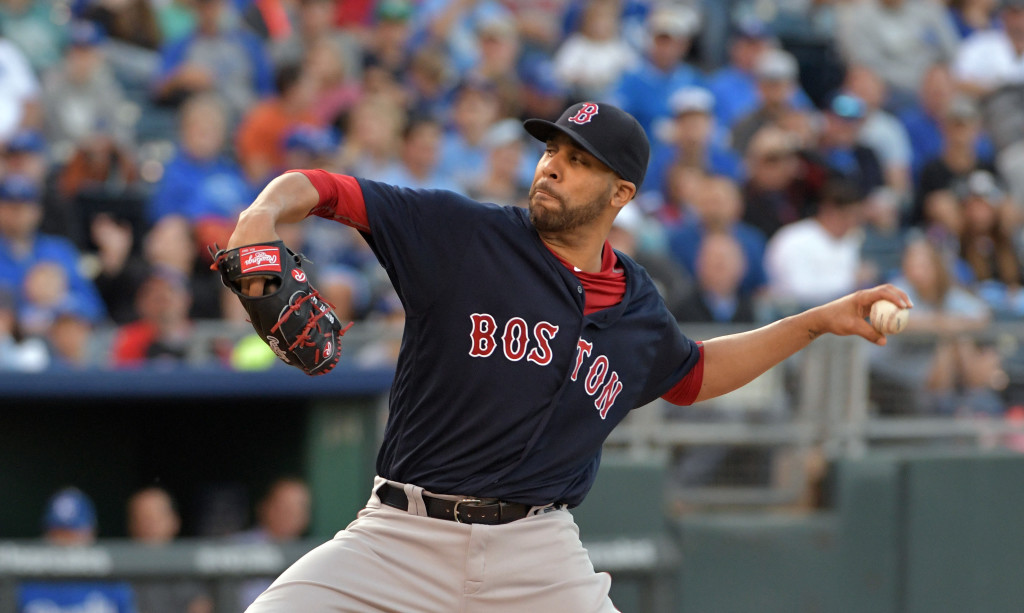 Studs
David Price – BOS vs COL – $8,900– With today's pitcher salaries, everything is going to start and end with David Price. From a raw points perspective, I project him similarly to Stephen Strasburg, Chris Sale and Jeff Samardzija, and he can be had for a 25-35% discount. If you believe that Price has worked through the issues that plagued him at the beginning of the month when he managed just 8.3 total DraftKings points in back-to-back games, then lock him in. If you are in the camp that thinks his last two starts against Houston and in Kansas City that produced nearly 60 points is the outlier, then fading him would be the choice. He's flashed upside of 40+ DraftKings points, and his price is certainly favorable, but keep in mind, he'll likely be highly owned.
Stephen Strasburg – WAS vs NYM – $13,400 – The Mets are very familiar with Strasburg with their current hitters compiling a .245/.316/.336 slash line with just three home runs and two doubles over 122 at bats. Daniel Murphy is now on the Nationals as an off-season acquisition, Lucas Duda is dealing with a stress fracture in his back and likely to be on the disabled list any day, Curtis Granderson is another year older and David Wright has his own back/spine issues. As long as Strasburg can negotiate Neil Walker, Yoenis Cespedes and Michael Conforto, he should be in line for an outing that can come close to justifying this price point.
"Through two starts against the Padres this season, The Shark has averaged 25.4 DraftKings points"
Jeff Samardzija – SFG vs SDP – $11,700 – Through two starts against the Padres this season, The Shark has averaged 25.4 DraftKings points with 13 2/3 IP, 6 earned runs, allowing just 10 baserunners and a heathy 15 strikeouts. This is what we will need to see again in order to justify this lofty price point. His last start was actually in San Diego on Thursday, and he went eight innings with four base runners allowed, one earned run and eight strikeouts for 34.2 DraftKings points. The matchup and production is there.
Values
Nate Karns – SEA vs OAK – $8,800 – On the season the Athletics have posed a 79 wRC+ (weighted runs created plus which is an advanced metric designed to neutralize ball park factors and create a league-wide scoring efficiency baseline of 100), which means they are scoring 21% less efficiently than the average team in similar situations. They will be without Josh Reddick who fractured his thumb on a stolen base attempt last week. The Mariners are solid favorites to garner the victory, and the Athletics are projected to plate just 3.1 runs.
---
Batters
Studs
Paul Goldschmidt (1B) – ARZ at PIT – $4,400 – While PNC Park is nowhere near as advantageous to hitters as Goldy's home digs in Chase Field, the matchup against the volatile Francisco Liriano is one to give strong consideration to. Over his last 230 at bats against southpaws, Goldschmidt has tallied a .442 wOBA and a 181 wRC+ (meaning he creates 81% more runs against lefties than the average MLB hitter), and as we saw last week when he stole two bases in a single game against the Yankees, he does have some hidden upside in that category.
Jose Bautista (OF) – TOR at NYY – $5,000 – 68 of his 85 home runs since the beginning of 2014 have come against same-handed pitchers, and we know that hitters know that RHP Nate Eovaldi is going to challenge them with his fastball frequently in this matchup.
Xander Bogaerts (SS) – BOS vs COL – $5,200 – This is an intriguing spot for Bogaerts as most gamers are not going to want to pay this inflated price point for his services. LHP Jorge De La Rosa is coming off the DL to make this start, and on the season he has posted a 10.2 ERA and a 2.07 WHIP through five starts. He has not looked good, and there is no indication that will be any different on Tuesday night.
Manny Machado (SS/3B) – BAL at HOU – $4,300 – This is a fine price point for the budding superstar against RHP Doug Fister who has struggled against same-handed hitters with a .330 wOBA over his last 23 starts. Machado excels in right/righty matchups himself, so this is a very nice confluence of events.
Chris Davis (1B) – BAL at HOU – $4,300 – Hey, what do you know, Fister is even worse against hitters swinging the stick from the left side of the plate and is allowing a 31.6% hard contact rate and a .341 wOBA since the beginning of last season. Loading up on Orioles will be a viable option.
Roughned Odor (2B) – TEX vs LAA – $4,100 – We will want to keep an eye out to see if Odor drops the appeal of his suspension, but if he is in the lineup he is good to go against RHP Jhoulys Chacin who has allowed a hard hit rate of 40.2% and a 1.97 HR/9 to lefties over his last eleven starts.
"…The BoSox are projected to be the highest scoring team on the day with 5.1 runs"
Mookie Betts (OF) – BOS vs COL – $5,400 – Another spendy option; however, the BoSox are projected to be the highest scoring team on the day with 5.1 runs. It is almost like the Rockies are bringing Coors Field with them to Fenway Park.
Daniel Murphy (2B) – WAS vs NYM – $4,400 – Murphy is one of the hottest hitters in baseball right now, and he will again be facing his former team. Something is awry with RHP Matt Harvey, and until he makes the necessary adjustments, we can look to target him with elite batsmen hitting from the left-side of the dish.
Values
Chris Young (OF) BOS vs COL – $3,100 – Chris Young is still very effective against left-handed pitching, and he is a fine value option on Tuesday as he should be in the Red Sox lineup.
Welington Castillo (CATCH) – ARZ at PIT – $3,300 – The Beef, as he has become known as in daily fantasy baseball circles, is someone to target when he gets to square off against southpaws. Normally we look to him at his home park; however, he should draw a favorable spot in the D'Backs batting order and is a fine option at the backstop position.
Yunel Escobar (3B) – LAA at TEX – $3,700 – Long known for his ability to play every infield position, Escobar has actually been on one heck of a hitting heater. Last season with the Nationals, he ended up sixth overall for the National League batting title with a .316 average, and this season he is in the mix for the American League title sitting in thirteenth was a .310 average for his new team. Targeting Halos hitters against LHP Martin Perez is a savvy play.
Seth Smith (OF) – SEA vs OAK – $3,500 – The Seattle hitters have a nice matchup on Tuesday against RHP Kendall Graveman who has been just awful against lefties and righties. Smith and teammate Leonys Martin – $3,700 should both be in plus spots in the batting order, and they are fine options as individual plays or as part of a Mariner synergy effort.
Jose Abreu (1B) – CHW vs CLE – $3,600 – In a fun twist, RHP Josh Tomlin has actually stymied left-handed hitters allowing just a .224 wOBA over his last 17 starts. However, during that same timeframe, he has been smacked around by righties with a .337 wOBA and a soul-crushing 38.8% hard contact rate. Keep an eye on the weather, but Abreu is among the potential home run candidates on Tuesday.
Aledmys Diaz (SS) – STL vs CHC – $3,300 – At some point he's going to cool off, but until he does we can continue to enjoy this discounted price point if we are not going to spend at the shortstop position Tuesday.
Robbie Grossman (OF) – MIN vs KC – $2,000 – He is not a lock to remain in the lineup, but if he does draw another start, Grossman is an outstanding minimum price option who will allow a lot of salary flexibility.