WATCH: IMPACT PLAYER – DUSTIN PEDROIA
---
It's an interesting nine-game slate tonight. There are a few appealing matchups, but otherwise it seems like a whole lot of question marks. This is perfect though, because it will only make tournaments more enticing. If you agree, disagree, feel the need to vent frustration from previous recommendations, let me know @BZweimanNHL.
Pitcher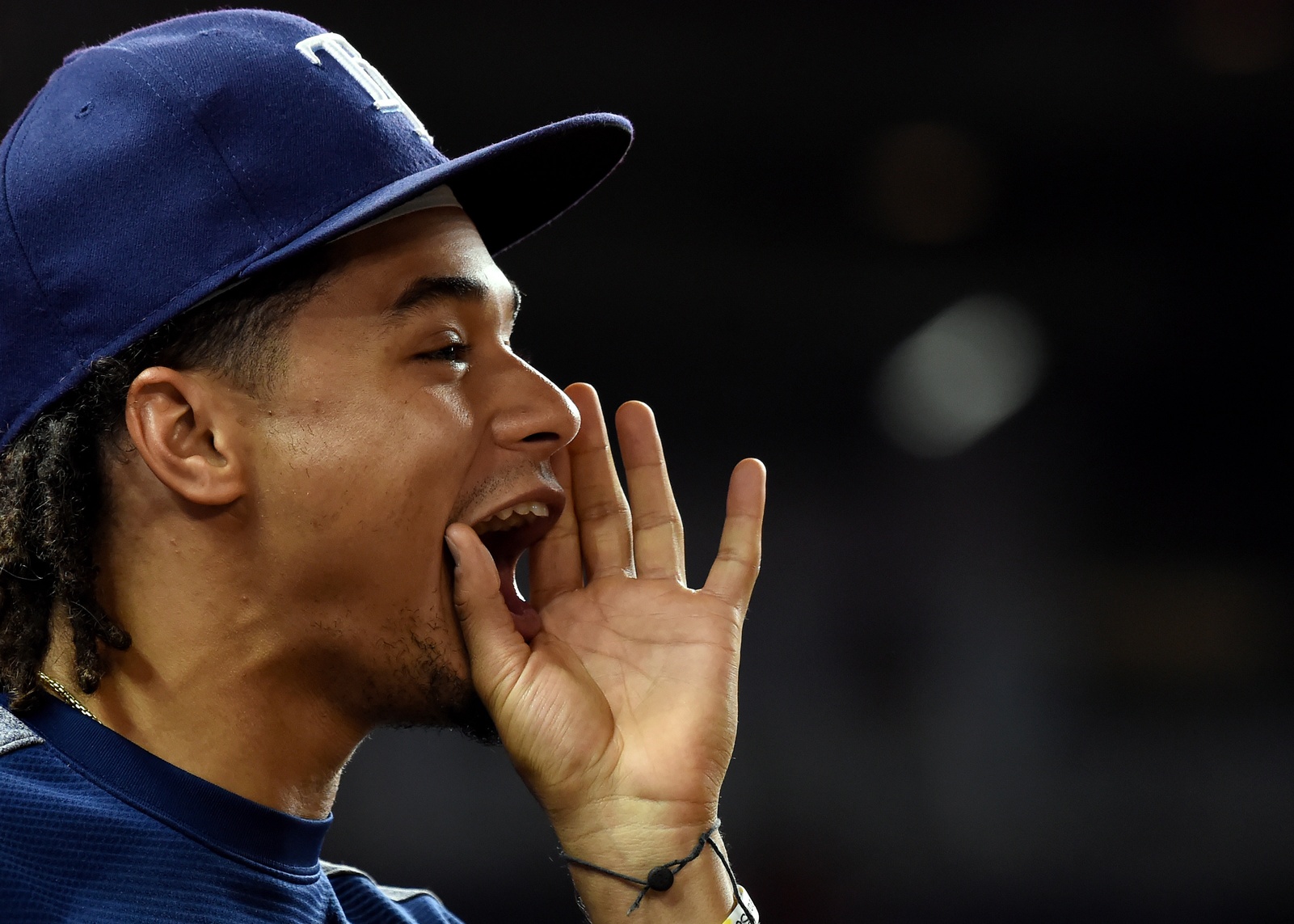 Stud
Chris Archer — TB vs. KC — $10,800 – If you're going to spend big, might as well go with Archer. He has at least 20 DKFP in five of seven starts this season, with a 9.5 K/9 going up against the Royals last-place offense (96 runs). Kansas City hits into contact a lot, but has an inept lineup when it comes to power. Aside from allowing three HRs in a start on April 24, Archer has allowed just one long ball in six starts.
Other Options: Danny Salazar ($9,700)
Value
Wade Miley — BAL vs. WAS — $6,500 – A captain always must go down with his ship, that's the saying, right? Well, I'm riding the Wade Miley ship to the bottom of the Atlantic on Wednesday. But there's a slim chance Miley can pull out a win vs. the Nationals top-ranked offense. He hasn't allowed over three runs in any of his starts this season and has a 10.8 K/9. Miley is ultra-contrarian for GPPs.
Other Options: Phil Hughes ($6,000)
---
Catcher
Stud
Yasmani Grandal — LAD vs. PIT — $3,700 – Grandal has come alive in the series vs. the Pirates, going 5-for-10 with a HR and four RBI in two games. He'll look to close it out strong vs. Chad Kuhl, who has pitched well but has the tendency to falter should he struggle early. There are limited options at catcher for the night slate, so I expect high ownership for Grandal.
Other Options: Jonathan Lucroy ($3,400), Yadier Molina ($3,200)
Value
Francisco Cervelli — PIT vs. LAD — $2,800 – Potentially on the other side of Grandal will be Cervelli, who has a five-game hitting streak going, and has hits in seven of eight. He doesn't have a very high ceiling, but has steadily produced with 7.7 DKFP per game in his last 10. Dodgers SP Kenta Maeda is prone to fly balls, which could give Cervelli a chance at some XBHs.
Other Options: James McCann ($2,900), Jesus Sucre ($2,500)
---
First Base
Stud
Eric Thames — MIL vs. BOS — $4,600 – Thames has busted out of his slump with homers in back-to-back games after going nine straight without leaving the park. He's slowing down in May after a torrid April, but that was to be expected. His matchup vs. Kyle Kendrick is a strong one, with the Red Sox starter having allowed six ER over 4.0 IP in his season debut after being called up from AAA.
Other Options: Miguel Cabrera ($4,400), Cody Bellinger ($3,900)
Value
Trey Mancini — BAL vs. WAS — $3,100 – I know, I know, Stephen Strasburg isn't exactly an ideal matchup for the strikeout-prone Mancini. But the O's rising star has a higher ceiling than any first baseman given his salary. Mancini has homered in two of four games and Strasburg hasn't been the same pitcher at home this season (13 Ks in 21 IP). The bargain bin is thin at 1B, so I'll go with the boom-bust option.
Other Options: Rickie Weeks Jr. ($2,700)
---
Second Base
Stud
Dustin Pedroia — BOS vs. MIL — $4,200 – Pedroia is on a seven-game hitting streak, four straight on the road, which is unorthodox given his strong numbers at Fenway Park. He has a double in three of four and has done a nice job getting on base with a .413 OBP in his past 10. Brewers SP Chase Anderson got off to a hot start but has cooled off, allowing eight ER on 11 hits and six BB over his past two starts.
Other Options: Jonathan Villar ($4,100), Jedd Gyorko ($3,900)
Value
Darwin Barney — TOR vs. CLE — $2,300 – The Blue Jays lineup is a dumpster fire, but Barney could see a bump should Kendrys Morales be ruled out. Barney is batting .297 this season, which would place him second on Toronto if he had played a few more games. He doesn't have much pop to his bat, but that's what you're going to get with such a low salary.
Other Options: – Brandon Drury ($3,300), Chris Taylor ($3,100)
---
Third Base
Stud
Todd Frazier — CWS vs. MIN — $4,100 – You know who likes giving up HRs? Phil Hughes. You know who (usually) enjoys hitting them? Todd Frazier. Hughes has given up 45 HRs in the past three seasons, and Frazier has hit 78 of them in that span. Frazier is in a rut so far this season, but could pay dividends in GPPs for Wednesday.
Other Options: Justin Turner ($3,800), Ryan Schimpf ($3,800)
Value
Josh Rutledge — BOS vs. MIL — $2,900 – Rutledge has done a nice job splitting time at third base with Pablo Sandoval on the mend. He has hits in five of six games this season (7-for-23) with at least one run scored in three straight. The Red Sox offense is clicking lately, with 35 runs in the past three games, so any cheap exposure to that is a plus.
Other Options: Yolmer Sanchez ($2,400)
---
Shortstop
Stud
Chris Owings — ARI vs. DET — $3,700 – If there's one player on the D-Backs who can hit lefties, well, obviously it's Owings otherwise I wouldn't be recommending him, right? Owings is 13-for-37 with three doubles, a HR and seven RBI vs. southpaws this season. Matthew Boyd isn't a particularly scary left-hander, posting a 5.68 ERA and 2.05 WHIP in three road starts.
Other Options: Xander Bogaerts ($4,700), Corey Seager ($4,600)
Value
Jorge Polanco — MIN vs. CWS — $3,400 – Polanco's price is a bit high to be considered a value play, but he's got a good chance of returning said value vs. LHP Derek Holland. Polanco has hit his lone HR and eight of his 14 RBI this season off lefties, and is on a five-game hitting streak with multi-hit outings in back-to-back contests.
Other Options: Tim Anderson ($3,300), Tim Beckham ($3,000)
---
Outfield
Stud
Ryan Braun — MIL vs. BOS — $4,900 – Ahhh, finally a position with some decent options! The Brewers' plus matchup vs. Kendrick has already been well documented above, so no need to backtrack. Braun's track record vs. Kendrick makes things even easier, as the slugger is 9-for-21 with two HRs and seven RBI in his career against the RHP.
Other Options: Giancarlo Stanton ($4,500), Jayson Werth ($4,200)
Value
Magneuris Sierra — STL vs. MIA — $2,500 – Seriously how can you not toss a guy named Magneuris Sierra into your lineup every night? I certainly can't avoid it. Names aside, Sierra is 5-for-14 with five runs scored in his first three MLB games. Should his stint with St. Louis continue into Wednesday, he presents a nice cash-game play.
Other Options: Corey Dickerson ($3,400), Chris Young ($3,400)
---
I am a promoter at DraftKings and am also an avid fan and user (my username is bzweiman521) and may sometimes play on my personal account in the games that I offer advice on. Although I have expressed my personal view on the games and strategies above, they do not necessarily reflect the view(s) of DraftKings and I may also deploy different players and strategies than what I recommend above.