It's shaping up to be a fantastic night for tournaments with so many top pitchers in the field. Let's dive in and breakdown the studs to help you dominate the slate tonight!
Pitchers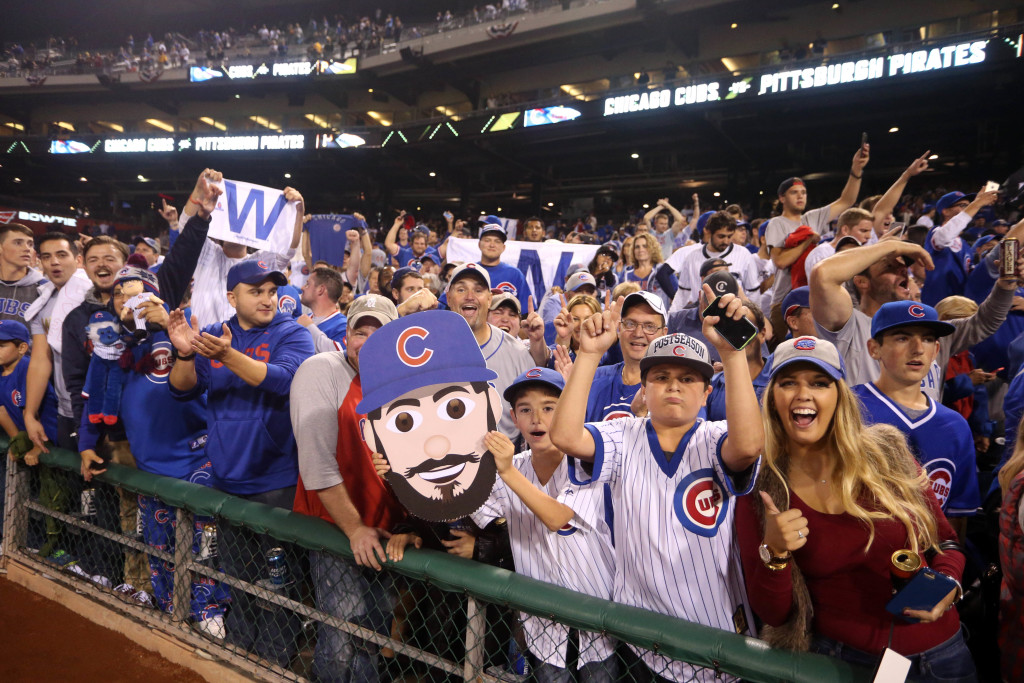 Studs
Kyle Hendricks – CHC at PHI – $10,800 – The Cubs are favored to garner the win today, which is worth four points on DraftKings. This season the Phillies have an 85 wRC+ (weighted runs created plus is an advanced metric that neutralizes ball park factors and creates a league-wide scoring efficiency baseline of 100), meaning they score 15% less efficiently than the average team would against right-handed pitching. Their current collection of hitters has an 86 wRC+ if we expand the timeframe back to the beginning of 2014, so this is not an anomaly. They are pretty far from good, and Hendricks should have no problem dispatching them tonight.
Zack Greinke – ARZ vs TBR – $11,900 – While Greinke has been better over his last few starts this season, four out of his eleven have resulted in single digit fantasy points (including a negative seven in the season opener against Colorado). His last start was a gem in Houston against the Astros with seven scoreless innings and eleven strikeouts. This is baseball, so there is always risk associated with pitchers, just know that Grienke has a very wide range of outcomes and spending almost a quarter of our salary cap on his is no guarantee of a good performance.
Values
Julio Urias – LAD vs COL – $5,900 – Checking in at half the cost of Zack Greinke, we have the 19 year old LHP Julio Urias. He has been absolutely hammered through his first two starts in The Show in New York against the Mets and in Chicago against the Cubs. In those starts he lasted a combined 7 2/3 innings allowing three home runs, 18 baserunners and eight earned runs. On the positive side he does have seven strikeouts. The Rockies will be experiencing a major downgrade in hitting environments going from Coors Field to Dodger Stadium and the Rockies also have been one of the worst teams against left-handed pitching over the last two seasons. If we can get to double digit fantasy points, this is a good play. It is not hard to envision a five inning, five strikeout performance where he allows two or three runs and that will get us there.
Adam Conley – MIA at MIN – $7,600 – This is not a particularly comforting recommendation, but once again we can utilize a pitcher going against a struggling team. The Minnesota Twins have not been nearly as good against left-handed pitchers this season as they have been over the last couple years. Miguel Sano is on the disabled list, Trevor Plouffe has been dealing with nagging injuries and Brian Dozier has been slumping for most of the season. That leaves Eduardo Escobar and Byung Ho Park as the biggest hurdles, which shouldn't scare any competent pitchers. Conley has been up and down all season with his results, but he does have 20+ DraftKings points in five of his eleven starts this season.
---
Batters
Studs
Bryce Harper (OF) – WAS at CHW – $4,800 – The Nationals get to play in US Cellular Field with a designated hitter on Tuesday, in a matchup against RHP Matt Latos who has allowed a 1.52 HR/9 rate over his last 34 appearances. Both Harper and teammate Daniel Murphy – $5,300 are fantastic options on Tuesday night.
Joey Votto (1B) – CIN vs STL – $4,800 – Votto has been steady, even in this down season. After a frigid start he has really begun picking things up with hits in ten of his last twelve games. He has a favorable lefty/righty matchup against former teammate RHP Mike Leake who has allowed 21 home runs to lefties in his last 42 appearances and 32 overall.
"He has actually been better against right-handed pitching over his young career with a .380 wOBA and a .220

ISO

"
Kris Bryant (3B/OF) – CHC at PHI – $4,600 – Bryant was a very popular option Monday night, and he rewarded his backers with two doubles, a single and two runs scored. The best part is that he has actually been better against right-handed pitching over his young career with a .380 wOBA and a .220 ISO (as compared to a .345 wOBA and a .230 ISO), making him a bit of an under-the-radar play for gamers not aware of just how good he is in same-handed matchups.
Manny Machado (SS/3B) – BAL vs KCR – $5,200 – Machado is phenomenal against same-handed pitching with a .379 wOBA and a .230 ISO since the beginning of 2014. RHP Yordano Ventura likes to pound the strike zone and a multi-extra base hit game is definitely in play with this matchup.
Wilson Ramos (CATCH) – WAS at CHW – $4,100 – If only Ramos had more at bats he would currently be sitting in second place behind teammate Daniel Murphy for the NL Batting Title. He has two home runs in his last three starts and after Monday's off-day, he should be behind the dish for the Nationals against RHP Matt Latos who is someone we want to pick on whenever we get the chance.
Paul Goldschmidt (1B) – ARZ vs TBR – $5,100 – Finally, Goldy at home against a left-handed fly ball pitcher. Over his last 23 starts, Matt Moore has allowed a .367 wOBA to right-handed batters along with a 37.9% fly ball rate, a 1.52 HR/9 and a 33.6 hard hit rate. If you have the salary, then invest in Goldschmidt.
Stephen Piscotty (OF) – STL at CIN – $4,600 – The Redbirds get a great upgrade with this game being in the Great American Ballpark against LHP John Lamb, who projects to be an innings eater in the best case scenario. Through 107 at bats in his career against left-handed pitching, Piscotty has posted a .442 wOBA and a .220 ISO. Yes, those numbers will come back down somewhat, but the guy can hit.
Josh Donaldson (3B) – TOR at DET – $4,900 – When he is facing southpaws, Donaldson turns into DONGaldson with his absurd .330 ISO over the last two plus seasons which includes 25 doubles and 26 home runs.
Values
Welington Castillo (CATCH) – ARZ vs TBR – $3,500 – We can only hope that "Beef" Welington is in the lineup on Tuesday night against LHP Matt Moore. Over his last 238 at bats, Castillo has posted a .372 wOBA and a .250 ISO. I can imagine the Mariners wish they had held on to him instead of Mike Zunino last season.
Devon Travis (2B) – TOR at DET – $3,600 – Travis is finally healthy and hitting in a great lineup that scores a lot of run and creates RBI opportunities up and down the batting order. He has been someone who performs well against left-handed pitching, and this is a very nice price point because most gamers will be spending more, or dropping all the way down to the extreme discount dandies.
"A-Rod can still get it done, and he has been great over his last 200 at bats versus southpaws"
Alex Rodriguez (1B/3B) – NYY vs LAA – $3,500 – A-Rod can still get it done and he has been great over his last 200 at bats versus southpaws with a .382 wOBA and a .270 ISO. He will be facing LHP David Huff who was sporting a 5.40 ERA in the minors this season, and in his Major League career he has a 5.08 ERA and a 1.49 WHIP. Oddly enough, his two best years were back in 2013-2014 when he was working out of the bullpen for the Yankees.
Trayce Thompson (OF) – LAD vs COL – $3,600 – Thompson had a great weekend series against the Atlanta Braves pitching going 3 for 7 with four runs scored, a solo home run and three stolen bases. He looks to have been promoted to the top third of the lineup and is someone we will want to continue to play until his price gets too high.
Rajai Davis – (OF) – CLE at SEA – $3,400 – Davis generally moves to the top of the order when Cleveland is facing a lefty, and they will be doing so for the second night in a row in Seattle with LHP Wade Miley taking the mound.
Brandon Drury (3B/OF) – ARZ vs TBR – $3,300 – Another Diamondback, I know. Just trust me that we want to target LHP Matt Moore. Drury allows us some nice position flexibility to work in his discounted price somewhere in our lineups. Even with teammate David Peralta rejoining the team, he should still be in a favorable lineup spot, and he is great when he gets the righty/lefty matchup at home.
Justin Turner (3B) – LAD vs COL – $3,200 – Turner led off on Monday night and if this is his new spot at the top of the order, we will want to work him in some lineups if we are in need of salary relief. Since the beginning of 2014, he has been outstanding against same-handed pitching with a .365 wOBA over 607 at bats.