Tuesday is a very deep slate for baseball with fifteen games. Therefore, a great day for DFS action with so many ways to go with it. Here are some players to target, at every position and price range:
Strike 'em out in the MLB $250,000 Slugfest for $33 — Draft Now!
Starting Pitchers
Studs
Max Scherzer vs. Toronto Blue Jays ($12000) – Scherzer has been the best pitcher in the game thus far in 2015. Since coming over from the American League in the off season, he has quickly established himself as the top Ace in the game. He currently sports a 1.51 ERA, a WHIP of 0.88, and 85 strikeouts in 71 innings of work. He gets a matchup with Toronto who is 17th in the league for batting average vs. right-handed pitching. They do lead the league in runs scored, but a lot of that has come at home in a very hitter friendly ballpark. They hit a lot of homeruns in the Rogers Centre so the average is not as important, but it will matter a lot more against Scherzer in Washington as neither the pitcher nor the park are conducive to allowing the long balls. He is the biggest favorite on the board as well in at -200 in a game with a run line of only seven. The choice today is between him and Johnny Cueto who is a -150 favorite in a game with a run line of seven as well. Despite the Phillies offense being a little weaker (Worst BA vs. RHP) and Scherzer being a tad more expensive, Scherzer is still the higher upside guys with Cueto's elbow bothering him and the strikeout rate of Toronto being 23.1% vs. 21.7% for Philly. Cueto seems to be healthy though, so he makes for a solid option as well if you choose to spend up.
Value
Noah Syndergaard vs. San Diego Padres ($8100) – Jacob DeGrom dominated this Padres lineup on Monday and Syndergaard has very comparable stuff. San Diego has bottomed out since the fast start and now have a batting average in the lower third of the league and a K-rate of about 24% after factoring in DeGrom's gem. San Diego is a great place to pitch, rivaling only Citi Field where Syndergaard has been good already. He is a -120 favorite in a game that opened at 6.5 runs and crept up due to how bad Ian Kennedy has been on the other side of the mound today. The "Norse God of Strikeouts" has 22 of them in only 24 innings of work with a 2.55 ERA and a WHIP of 1.10. He is throwing about 100 pitches per start which is getting him a little over 6 innings of work per turn. He has the most upside and best matchup of the mid-tier options and should provide a nice value return at only $8100.
---
Catchers
Studs
Stephen Vogt ($4200) – Vogt has been one of the best offensive catcher eligible players all season. He is batting .322 with eleven homeruns and an OPS over one. Those are insane numbers from any position, but especially from a catcher. 37 of those hits, including 15 for extra bases (10 HR) have come against right-handed pitching. He gets a guy in Alfredo Simon who has not been terrible, but does allow a .290 batting average to left-handed batters in 2015. Vogt has a seven game hitting streak, with hits in nine of his last ten. He has also reached base more than once in 6 of those last ten, so he is cash game safe and has the tournament ceiling as well do to the HR and RBI upside.
Value
Brayan Pena ($2900) – The Left-handed hitting catcher has been smashing right-handed pitching this season. He is currently batting .338 against them with an OBP of .407. He has been slotted into the five hole in that Cincy order against righties recently and should find himself there again in this one. He gets a matchup With Sean O'Sullivan of Philly in a ballpark that plays well to left-handed hitters with power. O'Sullivan has been one of the worst pitchers in all of baseball against left-handed batters. In only 9.2 innings of work, he has allowed a .372 batting average, a 2.07 WHIP, and nine homeruns. You could not ask for a better price, ballpark, or matchup on Pena and he may be the top catching option on the day.
---
First Basemen
Studs
Anthony Rizzo ($5100) – I may be out on an island here, but Rizzo is my favorite tournament first baseman on the slate. There's a ton of great matchups that are easy to spot at the position. Votto vs. O'Sullivan, Adrian Gonzalez vs. Hale, Moss vs. Guthrie, Freeman vs. Collmenter, and even Duda (if Healthy) vs. Kennedy. Yet the one that is flying under the radar is Rizzo vs. Hand. Rizzo always hits left-handed pitching well. He hit over .300 in 2014 and is currently at .438. Hand has been tougher on lefties, but he is just not a good major league pitcher, so it's not a scary swerve to make. The ballpark in Miami also is not great, so between the splits being wrong and the ballpark being bad, most will glance right over him to the easy to spot options for their rosters. Rizzo should be in the middle of a lot of hits in this one and should see pitches to hit as Hand tries to attack him to avoid some of the big righty bats. All of the guys mentioned make good plays for cash or GPP, but Rizzo gives me the sneaky play with upside at a low ownership today.
Value
Justin Bour ($3200) – He finally snapped the streak of three games with a homerun on Monday, but you can not argue with his production or price lately. Bour has been residing in the cleanup spot for the Marlins as a lefty against right-handed pitching. He has five double digit scores in his last 11. 4 of those have been multi-hit games and he currently sports a .353 average with five homeruns in only 63 at-bats. A red hot $3200 cleanup hitter with homerun upside can free up a lot of cash to spend elsewhere and keep you in the running with some of the expensive options.
---
Second Basemen
Studs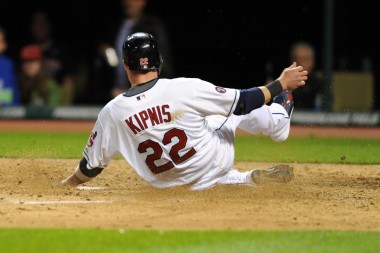 Jason Kipnis ($5100) – Yes he is very expensive, but the matchup is elite. Kipnis is on fire. He has scored double digit points in six of the last ten. He has only scored less than seven once over this stretch as well, so he is cash game safe with tournament upside. He is averaging 11.6 points per game during his recent run and the best part is he currently is hitting over .400 against right-handed pitching. He also gets a matchup with one of the worst pitchers to left-handed batters in all of baseball. Jeremy Guthrie has allowed them to hit .359 with eight homeruns in only 23 innings of action so far in 2015. They hit .297 with 19 homeruns and .337 with 20 homeruns in the last two seasons, so the trend is long and strong. This left-handed lineup will be trouble for Guthrie, and Kipnis will be spearheading the charge.
Value
Dustin Pedroia ($4300) – Pedroia is the rare right-handed batter that probably enjoys facing right-handed pitching more. He hit .288 against them in 2014 and this year he is already over .310. Pedroia has been solid, safe, and consistent since moving to the top of that Red Sox order. He just snapped an eight game hit streak, but had a few multi-hit games to go along with it. He matches up with Mike Pelfrey, whose reverse splits we will discuss with Hanley Ramirez in a minute, but the same applies to Pedroia who is also a right-handed bat that hits right-handed pitching well. He has been so good lately that the running joke is you can not spell PEDROIA without ROI in daily fantasy.
---
Third Basemen
Studs
Kris Bryant ($5000) – While it is getting tougher to pay up for Bryant at his current price tag, it still makes sense to do so here. Bryant gets a matchup with Brad Hand, whose stats we discuss below with Castro. He basically struggles with right handed batters and Bryant has been as hot as any of them. He has 101 fantasy points over his last ten games, which breaks down to an average of 10.1 per contest. In six of those ten, he has scored double digit fantasy points, so he has upside and consistency for cash or tournaments. As long as he is hitting near the top of that order and producing, there's no reason not to keep rolling him out there in good spots.
Value
Matt Carpenter ($4200) – You will be fading too many good matchups at third if you go much lower than this, so the value play today is not a dirt cheap option. Carpenter has a great mix of matchup, skill, and opportunity in this one at a square price. Milwaukee is rolling out a double AA rookie call up named Tyler Cravy. Cravy has not even been dominate in AA with an ERA over 4 and a WHIP of 1.28. Carpenter is probably the most professional hitter the Cardinals have and he profiles well against all right-handed pitching. He currently sports a .333 Average in over 140 at-bats and has upped his power output with six homeruns already out of his new run producing two hole spot in that order. He is super consistent and safe for cash games and in this matchup, he is tough not to use there.
---
Shortstops
Studs
Hanley Ramirez ($5100) – Han-Ram has his swing back and the results are undeniable. He now has three multi-hit games over his last four with 15 or more DK points in all three. He is still batting cleanup for the Red Sox and gets a matchup here with Mike Pelfrey. Pelfrey is a reverse splits guy. He has allowed a .337, a .463, and currently a .295 batting average against right-handed hitters over the last three seasons. Pelfrey has also allowed a lot of homers and most have been to those right-handers. A guy who allows right-handed hitters to hit for a high average and has a problem with long balls is not an ideal matchup against a guy like Hanley, who can hit for both average and power from a great spot in that lineup to drive in runs.
Value
Starlin Castro ($4000) – Castro has one of the best matchups at the position tomorrow and always go lowered owned than you would expect. He smashes left-handed pitching and gets a weak one in Brad Hand here. In 2014, Hand allowed a .280 batting average to RHB with 9 homeruns in 77 innings pitched. In 2015, he allowed a .300 batting average already with 10 earned runs in only 15 innings. Castro hit .304 vs southpaws in 2014 and already in 2015 he has upped that to over .400. Castro generally resides in the middle of that Cubs order and the right-handed dominate lineup should produce a lot of baserunners for him to knock in. Hand does not allow a ton of homeruns, so the Cubs will most likely be riding the carousel around the bases to score and that should mean at-bats with runners on for Castro. Multiple hits and a few RBI will go a long way to paying off his price tag, which is friendly enough to use in cash or tournament play.
Others
Rueben Tejada ($2400) – There are a lot of pricey options today, so if you really need to save, Tejada is likely the top cheap option at any position on the day. He is batting in the two hole for the Mets and added another double digit fantasy score on the back of multiple hits and runs scored on Monday. It now pushes his last six game average over the 10 points per mark and he has scored double digits in three of his last six. At a Price of $2400 and with those numbers and a his prime lineup real estate, it's tough not to consider him for the savings he provides.
---
Outfielders
Studs
Nelson Cruz ($4800) – This price is an absolute steal. The fact he is not the top priced option on the day is just silly. Nelson Cruz gets a matchup with CC Sabathia, who has allowed a .342 batting average and 9 homeruns to right0handed batters in 2015. Despite being better lately, his struggles with RHB are real. He's still good enough to befuddle most average bats, but Nelson Cruz doesn't have an average bat, he has a BOOMSTICK which works best against left-handed pitching. Cruz hit .314 in 2014 against southpaws with 8 homeruns in 137 at-bats. He has trumped that so far this year with an average of .516 in 31 at-bats with 6 homeruns. This guy crushes southpaws and gets one who has been prone to getting crushed so far this season. He's my most likely player to homer on the slate and worst case scenario, CC smartens up and walks him a few times. He's got cash game written all over him in this matchup and the GPP upside is even more compelling.
Melky Cabrera vs. Texas Rangers ($4000) – Melky has hits in seven of his last eight games. His upside is usually limited for tournament play, but he makes a great cost saving option in the outfield for cash on most nights. On this slate though, he looks to be a guy that is both safe for cash and has upside for a tournament. He should near the top of an order that faces Colby Lewis with a high run line, in a hitter friendly ballpark in Texas. Lewis was lit up by Cleveland last time out and it highlights his struggles with left-handed bats, which is Melky's favorite side to hit from. Lewis has allowed left-handed hitters to bat .313 against him so far this year, which is actually down from the .320 clip he allowed in 2014. The Matchup here is just too good to pass up, and there's always room for a great outfield option in your lineup at the $4K price point to help save some cash to be deployed elsewhere for a big bat.
Bryce Harper ($5200) – Marco Estrada has a homerun problem. He is an equal opportunity offender to either side of the plate, but has given up 6 in about 37 innings of work in 2015, 29 in 150 innings in 2014, and 19 in about 125 innings in 2013. Bryce Harper has been a monster at the plate this year. He has 18 homeruns, a .325 batting average and is averaging 11.4 fantasy point per game FOR THE SEASON. Power is Harper's biggest asset and Estrada's biggest weakness. It's fair to say that the pieces all fit together to point towards upside in this one.
Value
Preston Tucker ($3800) – Preston Tucker has been hot and finally has some prime real estate as he has been batting in the three hole. He currently sports a batting average over .300 and he has plenty of RBI opportunities with Altuve and Springer in front of him. He does not have a great matchup as the young right-handed Mike Wright from Baltimore has been solid so far, but Tucker is still under the radar and has produced a lot of solid stat lines around the 10 point mark with consistency lately, so makes for a solid cash game play if he remains in the three hole.