We have a huge slate of games today! Here are some guys I think you should at least consider, at every position and price range. Good luck!
Early and Late options today for contests:
$120K MLB Payoff Pitch for a $27 Entry fee
Starting Pitcher
Stud
Michael Wacha ($9100) – Wacha is a great cash game play, because he is solid and consistent. He also faces a very weak hitting line-up today. The downside for Wacha is that he has not been a high strikeout guy all season. The Phillies do not have a high batting average, but they also do not strike out a ton, so he likely will not have a huge ceiling here. He is the biggest favorite on the day at -221 in a game with a run line of 7.5, so he is a definite cash game play.

Value
Yovani Gallardo ($7100) – If you are looking for a mid tier priced guy with some upside, Gallardo might be your man. His scores have been in the low 20s for five straight starts. At his price today a repeat of those games would be excellent value. He faces a White Sox team that has a low strikeout rate, but also one of the worst batting averages n the league against right-handed pitching. Gallardo has been going about seven innings per recent start, with five or so strikeouts. If he limit the other team to three runs or less and about a hit per inning, he should still end up close to the 20 fantasy point mark even without a win.

Catcher
Stud
Sal Perez ($3700) – Sal Perez homered yesterday ad has a better matchup to repeat that performance in this one. He gets to go up against Wade Miley. Miley is allowing right-handed bats to his .289 against him with 7 homeruns. Last year he allowed them to hit .270 with 18 homeruns. Since this is a day game after a night game, Perez might not be in the lineup. Sunday is always a tough day for catchers as many do sit out. If Perez is in the lineup though, he already has 4 homeruns in 67 at-bats vs. left-handed pitching this season. He is definitely a guy that is in play.

Value
Fransisco Cervelli ($3100) – Cervelli has been the value catcher of the month. He has raised his average up to .311 and even found himself hitting in the 5 or 6 hole recently. He gets a matchup today against Gio Gonzalez, who has struggled more against right-handed batters. Cervelli is really cheap at only $3100, so if you needed a salary saver that has produced, he is a great option to continue his roll in his preferred splits matchup. Again here, check the lineups as many catchers do get the day off on Sundays.

First Base
Stud
Anthony Rizzo ($5300) – Rizzo is fresh off a big two homer game two days back. He has one of the lowest strikeout rates amongst elite first baseman and one of the highest walk percentages. He smashes weak right-handed pitching and has a great matchup with Kyle Gibson. Rizzo has been in the two hole and scoring a ton of runs with his high OBP. He also has been seeing the ball well with multiple hits in three of his last four games. His price is starting to creep up to the Miggy and Goldy level, so I would not be surprised or argue if one of them was higher owned. Still Rizzo has been hot, so I think you can keep riding him for now in a good splits matchup.

Value
Kendrys Morales ($3800) – Morales has six hits in his last fifteen at-bats including a homerun and 4 RBI. He is a very low owned option as mot people forget abut him and gravitate towards Eric Hosmer who is the other 1B eligible Royal. Morales is hitting a respectable .286 against left-handed pitching and has the matchup with Miley that we spoke of with Sal Perez. Right-handed bats with some power have done well against Miley, so Morales has upside at a low price and low ownership which makes him a sneaky play for a tournament.

Second Base
Stud
Jason Kipnis ($4900) –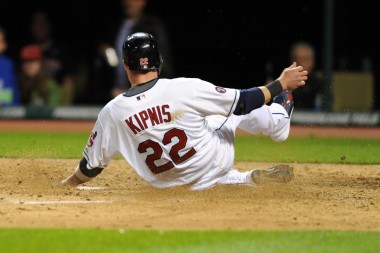 Kipnis has been one of the better hitter's in all of baseball this season. He is currently averaging over 11 points per game during his last five. He gets a matchup with Alex Colome who has a .311 batting average to left-handed batters and a WHIP over 1.70. The left-handed heavy Cleveland lineup should be tough on Colome, and I expect Kipnis to continue to lead the charge from his lead off spot. He is cash game safe and consistent as they come. My biggest concern s whether he has enough upside to make him a play in tournaments. At $4900, he really needs to go big.

Value
Derek Dietrich ($3600) – This is purely a salary saving option if you need one, but there's few cheaper sources of power, batting high in their order, and with a decent matchup that I like better at the price and position. Dietrich has good power for a second base eligible player and as long as Prado remains sidelined, he should be showing off that power as the two hitter for Miami. He hits in front of Stanton, so you know no pitcher is looking to put him on base. He should continue to get pitched to and that gives him a good chance to score some fantasy points.

Third Base
Stud
Manny Machado ($5400) – Manny Machado has been blazing hot. He has averaged 17.5 fantasy points over his last ten. That is not a typo, 17.5 points per game average in his last ten. He has at least 7 in nine of the last ten, so he is cash game safe. He has scored double digit points in seven of ten, 20 or more in four of ten, and had a 37 point game last week, so the upside is there too. Machado leads off for the Orioles in a solid matchup against a rookie up in the hitter friendly Rogers Centre. The high end choice today is between him and Todd Frazier, who also is red hot. I prefer Machado, but would not argue with either.

Value
Aramis Ramirez ($4200) – This is about the only spot I would pay $4200 for Aramis Ramirez in, but the case for him is compelling. He gets to hit today in Coors field, likely in the five hole if Gomez remains out and is facing Chris Rusin. Rusin is a young left-hander who has struggled in recent starts. He is allowing right-handed bats to hit over .300 this season, .393 in 2014, and .278 with 8 homeruns in 2013. Ramirez hit .327 with 8 homerun in 101 at-bats in 2014, and has 3 already in 33 at-bats this year. He loves hitting left-handers and gets a weak one in great hitter's park today.

Shortstop
Stud
Johnny Perralta ($4100) – Peralta should again be in the cleanup spot for the Cardinals and gets a great hitter's matchup. He faces the young left-handed the Phillies called up for a spot start here and gets a huge park bump as they switch to hitter friendly Citizen's Bank park. The Cardinals are expected to put up a lot of runs, so there is a ton of upside with Perralta today. He has the most power of the right-handed bats on the Cardinals team, so he should be one of the higher probable homerun options today and his price is easy to fit into your lineups.

Value
Jung Ho Kang ($3400) – $3400 is way too cheap for a clean up hitter in his preferred splits matchup. Kang draws Gio Gonzalez today who has struggled with right handed bats. Kang is hitting .333 against left-handed pitching in 2015 and should be in line for a solid performance today. You will not find many salary saving options with better upside at any position. With SS being a thin position, it makes a lot of sense to take the savings and upside Kang offers here.

Outfield
Stud
Lorenzo Cain ($4300) –
Cain has started to heat up again. He is 10 for his last 24 and is averaging just shy of 14 fantasy points per contest over his last 7 games. He gets his preferred splits matchup against Wade Miley today, and we already discussed Miley's struggles with right-handed bats. He is hitting .313 against lefties this season and the warm KC climate should prove to be an excellent hitter's day for the Royals against a weak left-handed pitcher who struggles to finish batters.

Charlie Blackmon ($4300) – Blackmon is still pretty cheap for a guy who has a good matchup and is playing in Coors Field. He has averaged 12 fantasy points per game over his last eight and gets a good splits matchup against Matt Garza. Garza has struggled with left-handed bats and Blackmon has done well against righties, so all the pieces fit here. He has flashed his homerun and stolen base upside recently, which gives him a lot of ways to score points and get over the value hump today. At only $4300 and likely leading off for the Rockies, he is a steal.

Brett Gardner ($4800) – Brett Gardner has turned from a leadoff hitter into an all around stud player. He has at least 20 fantasy points in three straight games and is averaging 23 over that stretch. Gardner gets a good matchup at home against Anibal Sanchez who has been prone to blowups. Gardner has always had speed, but he is hitting for average and flashing some pop this season, which makes him a dangerous all-around player with huge upside. He s another guy that can score fantasy points in a variety of ways and those skills should be on display here again. He has been lower owned as player's gravitate towards the power guys in this price range, but no one who is rostering him lately is upset about the return he has provided.

Value
Chris Colabello ($3500) – Colabello remains stubornly cheap despite the good production he has this year. He faces a guy in Tillman today that has allowed a high average and a good deal of homeruns to right-handed bats. Colabello finds himself in the middle of that Blue Jays order and has a .328 batting average against right-handers so far in 2015. Vegas expects the Blue Jays to get some runs off of Tillman, and Colabello is a good cheap option to get some exposure to the predicted massacre.