With every team in action Wednesday night, the only thing you have to look out for are three or four games with a chance of some rain (@Atl, Cin, Cle and Min). I won't be recommending pitchers from those games, but hitters from them could make their way in. Obviously you need to check the weather report for potential rain-outs before you start anyone from those games, but the big concern is with pitchers, where even a short delay could get them pulled. Good luck!
Enter the MLB $150K Wednesday Special – $20 Entry >> DRAFT NOW!!
Starting Pitchers
Studs
David Price @ CIN ($11,300) – Going against the Reds offense, coming off back-to-back complete games, I like Price more than I like Kershaw tonight, which I feel like it worth noting. Gett who I consider to be the best pitching option of the night and "saving" a few bucks? I am in.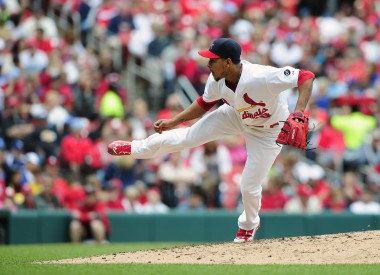 Carlos Martinez @ MIN ($8,400) – I feel like at this price, Martinez will make his way into pretty much any lineup I construct for tonight. You are getting what could be an elite option, while still leaving the room in your salary cap to make room for one or two elite hitters. Six straight with no more than two earned runs.
Values
Ubaldo Jiminez @ PHI ($7,200) – He's pitching against the Phillies. And if you want a really simple way to pick effective pitchers on the cheap, go through the games and think which ones have the best chance of winning, and then see which of those scores the most points, on average, in games they win. Make sense?
Joe Kelly @ ATL ($5,600) – Same logic here. Kelly usually keeps getting sent out for more innings than you might expect, and he has a good of a chance at a W in this one as he ever does, so if you want to really scrape the bottom of the barrel, save room for two or three $5,000+ hitters, he could be an option.
Catchers
Studs
Travis d'Arnaud @ Hutchison ($4,400) – Three home runs since he return, hitting well over .300… oh, d'Arnaud, how we missed you.
Jason Castro @ Kendrick ($4,000) – Castro has got some pop, going into a matchup in Colorado, with a pitcher on the mound who has been struggling to get guys out. At a position where you don't need to do much to be a factor for fantasy, that's potential enough for me.
Values
Salvdor Perez vs. Fiers ($3,600) – Perez has been ON FIRE, now with two hits in three in a row and five of his last six. With two home runs over that span, you are getting yourself a catcher with 15+ point potential on the cheap.
Miguel Montero @ Marcum ($3,300) – He is not very consistent, so you are taking a risk getting him out there, but Marcum seems to throw a lot of balls over the plate, so I'd be surprised if Montero didn't make solid contact with at least one. And when he does that, lately, you notice – four home runs in his last ten games enough for you?
First Basemen
Studs
Anthony Rizzo @ Marcum ($5,000) – He has been cooling off a little lately, but only to DFS players. Someone who is still hitting over .300 isn't "cooled off" – it's baseball. It's unpredictable. Anything where one out of three gets you in the Hall of Fame is a little wacky, you have to admit. So don't freak out yet, and enjoy the power he could easily put on display in this matchup.
Albert Pujols @ Anderson ($4,700) – Pujols has looked like the Pujols of three or four years ago lately, now with 19 home runs on the season, including five in his last nine games. And he is in the heart of a very productive offense, giving him plenty of opportunity to rack up RBI and runs scored as well.
Values
Mark Canha vs. Despaigne ($3,500) – He's one who isn't in the lineup every night, but he could have success against a pitcher like Despaigne, who doesn't create a lot of swing and misses.
Logan Morrison vs. Bumgarner ($3,300) – He is hitting 5-for-12 against Bumgarner lifetime (.417) and he is hot right now, slugging just about .450 for the past two weeks. He has been over 20 fantasy points twice in his last four games, upside you normally just don't see at this price.
Second Basemen
Studs
Jason Kipnis vs. Wada ($4,700) – I am just going to keep recommending him, ok? OK. Good, glad that's settled.
D.J. LeMahieu vs. Oberholtzer ($4,100) – He isn't that expensive, and he has seven of ten games with at least five fantasy points, and four in that stretch with nine or more. Consistency + upside.
Values
Ben Zobrist vs. Despaigne ($3,800) – Despaigne allows contact, and right now, Zobrist is finding empty spaces. The upside might not be there with this pick, but with the way he is swinging the bat lately, he should be a good bet to get you at least a handful of fantasy points, not useless at this price.
Jace Peterson vs. Kelly ($3,700) – Five multi-hit games in his last ten have meant a boost in his fantasy scoring by almost 50% over that span. His price didn't go up that fast. And Kelly is a great matchup for any hitter right now, putting very hit-able balls in very hit-able places.
Third Basemen
Studs
Manny Machado @ Correia ($4,800) – If you follow baseball, and I assume you do, what you might need here are reasons NOT to start Machado. 1. A bunch of other people probably will too. That's the whole list. His OPS is over 1.300 for the past two weeks, if you are wondering what the hype is about.
Chris Davis @ Correia ($4,500) – Chris Davis just keeps plugging along. The power is obvious, and the average is slowly climbing – pretty soon you might even be able to call him consistent. But he is someone that can give you a heap of fantasy points in a hurry, which is always useful.
Values
Pablo Sandoval @ Wood ($3,800) – Sandoval is finally starting to hit! We all expected him to be more expensive than $3,800, and he might be, and soon. You should take advantage now if you are ever going to want to, because Wood is an exploitable matchup, and Pablo has a seven game hit streak, with five multi-hit games, including his last four, a stretch in which he has had four doubles and a triple.
Mike Moustakas vs. Fiers ($3,600) – Consistently producing for his real-life baseball team all year, and for your fantasy team sporadically. But when his bat is going well, you can trust him, and he is hitting .355 over his last ten games.
Shortstops
Studs
Troy Tulowitzki vs. Oberholtzer ($5,000) – The difference between getting real upside at shortstop and a placeholder can be, when it works out, invaluable. And if something is even potentially invaluable, shouldn't you be willing to commit like 2% of your total salary cap to get it? In other words, I have a hard time seeing why you wouldn't pay up for Tulo when the matchup is right.
Carlos Correa @ Kendrick ($4,800) – When I see Kendrick on the mound at home, I think to myself, shouldn't they be trying to get ground-ball pitchers? What is happening here? But I bet opposing hitters don't mind.
Values
Yunel Escobar vs. Andriese ($3,500) – Andriese is just, possibly, the best matchup on the board tonight. Sometimes you just need to pound on that a little.
Xander Bogaerts @ Wood ($3,200) – He is finally getting all the run at short stop, and seeming to build some confidence. He is getting you 5-8 points consistently, and has the potential to get you 20, which is exactly what you're looking for at this price.
Outfielders
Studs
Bryce Harper vs. Andriese ($5,700) – Ho hum. 3-for-3, double, home run. Just another night.
Giancarlo Stanton @ Pineda ($5,500) – In a hitters park, against a pitcher who gives up contact, I'll take him. And I normally don't like to recommend two guys so high up the price list, but I wanted to make two points: the way Harper, Stanton and Trout are playing right now, you almost have to leave room for one of them. Which one is the tough question. For my part, for tonight, I eliminated Trout for you. He would be my clear third, at least until tomorrow.
Carlos Gonzalez vs. Oberholtzer ($4,700) – For when you are finally done deciding which of the truly top dogs you're going to go with, and you want someone with just as much upside. He has four games with 15+ fantasy points over the last ten days. That's a pretty good rate.
J.D. Martinez @ Cueto ($4,400) – Another guy who's price is climbing, but just not quite fast enough for me to stop recommending him. That .660 slugging % over the last ten days should be enough to convince you, but if it's not, remember how slugging is calculated: that number translates to five extra base hits in the past seven days. I'll take one of those, please.
Values
Joc Pederson vs. Rodriguez ($4,000) – Not yet consistently hammering the ball, but you just get the sense that it's coming. This guy is an eventual MVP candidate.
Mookie Betts @ Wood ($3,900) – Betts has finally started living up to some of the hype as the Red Sox offense as a whole has started to click. He has six hits in the last two nights, and is making things happen once he gets on the bases as well. Now featured closed to the top of the order, the potential for him as a fantasy asset is almost limitless.
Alex Gordon @ Fiers ($3,800) – He just isn't displaying the speed he has shown in the past, but otherwise, it seems like it's all systems go.
Chris Colabello vs. Niese ($3,400) – The guy hits .340. He is getting you 6 or so fantasy points almost every night, which is something for this price. Just take a look at the guys around him – not one of them has a stat to back up their selection as impressive as a .340 batting average.
Good luck!