With almost every team going Friday night, there will be plenty of great action on the field, and in the DFS arena as well. If you want to take advantage of some Reds and Cubs in your lineup, check out one of our All-Day contests, but this column is going to focus on the night games only. Stick to where the real action is and all that. So here are a few players to consider for your roster at every position and price range. Good luck.
Enter the MLB $100K Moonshot – Only $3 Entry >> DRAFT NOW!!
Starting Pitchers
Studs
Felix Hernandez @ HOU ($11,300) – King Felix is in a pitcher-friendly park against an offense that has had it's ups and downs all season. I'd almost give them a pass if this ended up being one of the downs.
Michael Pineda @ BAL ($8,900) – Pineda got skipped last time through the rotation, just to limit his innings, so he should be feeling nice and fresh coming into this one. And even though Baltimore has a productive offense, they like to swing, which means Pineda could have plenty of low-pitch-count innings, and they like to strike out. Combine that with his sometimes elite strikeout potential, and the possibility of a particularly live fastball after some time away, I like this matchup even with the potential for him to give up a handful of runs.
Values
Alex Wood @ NYM ($8,600) – Well, the Mets can't hit, so that's good. Maybe he'll channel some of his anger towards the plate instead of the ump this time and make up for his fifth-inning ejection last time out.
Wandy Rodriguez vs. MIN ($5,700) – There is a lot of pitching talent at the top of the lists tonight, but they all have some question marks – not a great matchup, facing a team that hits lefties well, maybe in a bit of a rough streak right now, etc. But they still cost. Or you can save the dough and hope for the best. Good matchup, been pitching well lately (three or fewer runs in last four starts), and with a decent shot at the win. This one could pan out.
Catchers
Studs
Russell Martin @ Kelly ($4,600) – All the best hitters on the Blue Jays are heating up, and NOW they've got Tommy Kelly. What you're really considering here is whether you want to go with Martin or Donaldson, or can you find a way to squeeze them both in there?
Salvador Perez @ Garcia ($3,700) – If there was another catcher you really liked, Perez would be enough to make you wish your DFS lineup had a DH spot. Or maybe the simple fact that he exists is the tiebreaker between Martin and Donaldson. I don't know, you decide. What I do know is that Perez is slugging .600 over his last ten games, with 4 home runs over that span.
Values
Stephen Vogt @ Santiago ($3,600) – Cheap tonight. He is 0-2 lifetime against Santiago, but if that's the reason you're scared off, two words should clear that up for you: sample size.
Travis D'Arnaud vs. Wood ($3,500) – Huzzah! Another catcher option back in the mix! No longer standing huddled in the dugout with the other injury cases, D'Arnaud is not just back, but seems to have picked up right where he left off with three total hits in his first two games back behind the plate, including two doubles.
First Basemen
Studs
Jose Abreu @ Andriese ($4,800) – Andriese is coming out of the bullpen for a spot start, so you can't really imagine many more than four or maybe five innings out of him. But, he's also their long-relief guy. So, um. Well. We don't know who Abreu will be facing by the eighth inning, but we do know there is at least a chance the score will already be pretty lopsided at that time.
Prince Fielder vs. Milone ($4,700) – Yes, Prince Fielder is really good. And while he has slipped up a little in the past handful of games, he's been solid most of the year, and now he is drawing a matchup with a pitcher against whom he is 3-for-9 on his career. I'll take those odds.
Values
Adam Lind vs. Zimmerman ($3,900) – Honestly, there are so many juicy options higher on the list, it's hard to imagine you actually reaching this far down and not just deciding to get your savings elsewhere, but if you did spend up on a different position, Lind is not a bad choice. Zimmerman doesn't blow people away anymore, and Lind has been making solid contact lately (three multi-hit games in the past week).
Michael Cuddyer vs. Wood ($3,400) – Cuddyer is probably having his price dinged here because he has been dealing with a neck issue that's kept him out of the lineup a couple of times, but when he is in there, it certainly doesn't seem to be affecting his swing (at least not in a bad way – maybe it's making him keep his head down),as he is hitting .300 over the last ten games he has played.
Second Basemen
Studs
Dee Gordon vs. Kendricks ($4,600) – Gordon is up to 20 steals. They are worth five points – same as a double. If he had 20 doubles (he actually does have five), would you call his hitting hard to predict?
Dustin Pedroia vs. Hutchison ($4,100) – He has hit safely in 19 out of 21 games, with at least two hits in nine of those.
Values
Neil Walker vs. Correia ($3,700) – Let's just say Correia is not a matchup I am afraid of. Walker has been consistent all year – he doesn't have a lot of power, so his upside is limited, but he has a very good chance of not being useless, which is a risk you run at the bottom half of the 2B pool.
Kolten Wong vs. Ventura ($3,600) – Wong is not hitting with any great consistency, but then again, neither are all that many other 2B either. But he is, at least, hitting for power – and tonight he is facing a pitcher who has given up seven home runs already on the season, not to mention well over a baserunner an inning. That seems to me like a chance to flash some power and even – oh man – have more than one hit. Maybe?
Third Basemen
Studs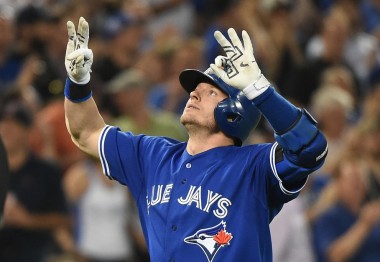 Josh Donaldson @ Kelly ($5,200) – Yeah, I think Donaldson over Martin. This guy is a beast. An OPS over .950 for the year is a manager's dream, and a fantasy point overage over 10 for the year is a DFS player's dream. Best of both worlds. This is a case of real-life awesomeness translating into fantasy dominance, which is always nice to see. He goes out and does whatever he can to help his team win (like two hits in each of his last four games, for example), or drawing walks, hitting sacrifice flies, etc – and then you look up at the end of the day and there are your ten fantasy points.
Alex Rodriguez @ Jiminez ($4,200) – A-Rod is 2-4 with a pair of doubles lifetime against Jiminez. He's been dropping off slightly of late, but still really swinging the bat well. He could use a couple of ropes for extra bases to get back on track.
D.J. LeMahieu @ Urena ($4,200) – See if you can follow this: he's had three hits three times in his last six games, including four doubles. For $4,200, even a mini-streak of 15+ point games is worth noticing, and taking advantage of, and fast. $4,200 doesn't have to last.
Values
Joey Gallo vs. Milone ($3,700) – He's only got eight games under his belt, but he is averaging 10 fantasy points per. Get on board with this before he cools down or his price spikes – because one of them is coming.
Shortstops
Studs
Troy Tulowitzki @ Urena ($5,300) – Urena should I guess just consider himself lucky the game isn't in Colorado. But for you, all that means is that maybe you shgy away from the deeper cuts into the Rockies lineup, not that you should shy away from Tulo – he is 1-for-3 against Urena for his career, and hitting .290 on the road so far this season.
Elvis Andrus vs. Milone ($4,000) – It's a big drop down form Tulowitzki, but that's just the way it goes. Fantasy reflecting reality, that. But Andrus is still making contact and getting on base in a really good offense, two skills that have gotten him 24 runs scored and 20 RBI, which isn't nothing.
Values
Xander Bogaerts vs. Hutchison ($3,600) – In case can't tell, I feel like there will be plenty of scoring in this one. And Xander has been a big part of that recently for Boston, going 14-for-36 with three doubles so far in June.
Andrelton Simmons @ Colon ($3,600) – He cooled off for a while there, but at a position with limited options, he presents you with some rare upside – 14+ fantasy points three times in the last week and a half.
Outfielders
Studs
Giancarlo Stanton vs. Kendricks ($5,700) – .358/.400./1.023. That's what you call doing work. Eight hits and four home runs in just his last four games, and maybe the best matchup of the bunch coming up tonight.
Bryce Harper @ Fiers ($5,300) – He is up to twenty home runs, while still hitting over .325. Does you really need to know any more than that to know he basically defines the consistency + upside mantra I always harp on so far this season? And against Fiers he's as much of a sure thing as anyone ever is to make contact with a round ball by swinging a round bat.
J.D. Martinez vs. Salazar ($4,300) – I've recommended him a few times recently, and he hasn't let me down yet, so I am going to keep doing it. Why change course just for fun when a guy's average has just been steadily climbing for weeks now?
Nori Aoki vs. Anderson ($4,200) – He's been playing well all year, but as the kind of guy who sets the tone at the top of the order, he has certainly benefited from the improved play out of the rest of the Giants as well. He has sixteen hits and eight runs scored in their past eight games.
Values
Mookie Betts vs. Hutchison ($4,000) – It's all about potential. Despite everything else, his OBP is still almost .300 and he's got wheels. He could start toput up better fantasy numbers if he starts swinging the bat better, OR if his teammates do – and anything that increases the odds of a surge is good news in my book.
Alex Gordon @ Garcia ($3,800) – Gordon has been picking up the pace in a big way recently, dragging all of his averages up with him, so don't let those numbers freak you out. No steals, but the power is still there, so there is always upside.
Kevin Kiermaier vs. Danks ($3,700) – I wish I had more Rays to recommend against Danks. This one is slugging over .500 ,for the past couple weeks, serving as a lone bright spot in this lineup, so there you go – take advantage of the good matchup any way you know how.
Chris Colabello @ Kelly ($3,500) – One more way to take advantage of this game – the highest over/under on the board in Vegas for obvious reason. Might as well get some cheap options out there where you can.
Good luck!