We have a great 14-game slate here tonight on DraftKings. We have the two Cy Young favorites on the mound but you might not even need to spend up on them because pitching is loaded at all pricing tiers. We also have a game at Coors tonight with a total that's approaching 12 runs, but that might not even be the best place to go when looking to fill in your bats. This should be a fun one. The best place for last minute info, other than DK Live, of course, is Twitter. Find me there @RyNoonan. Let's dig in.
Pitcher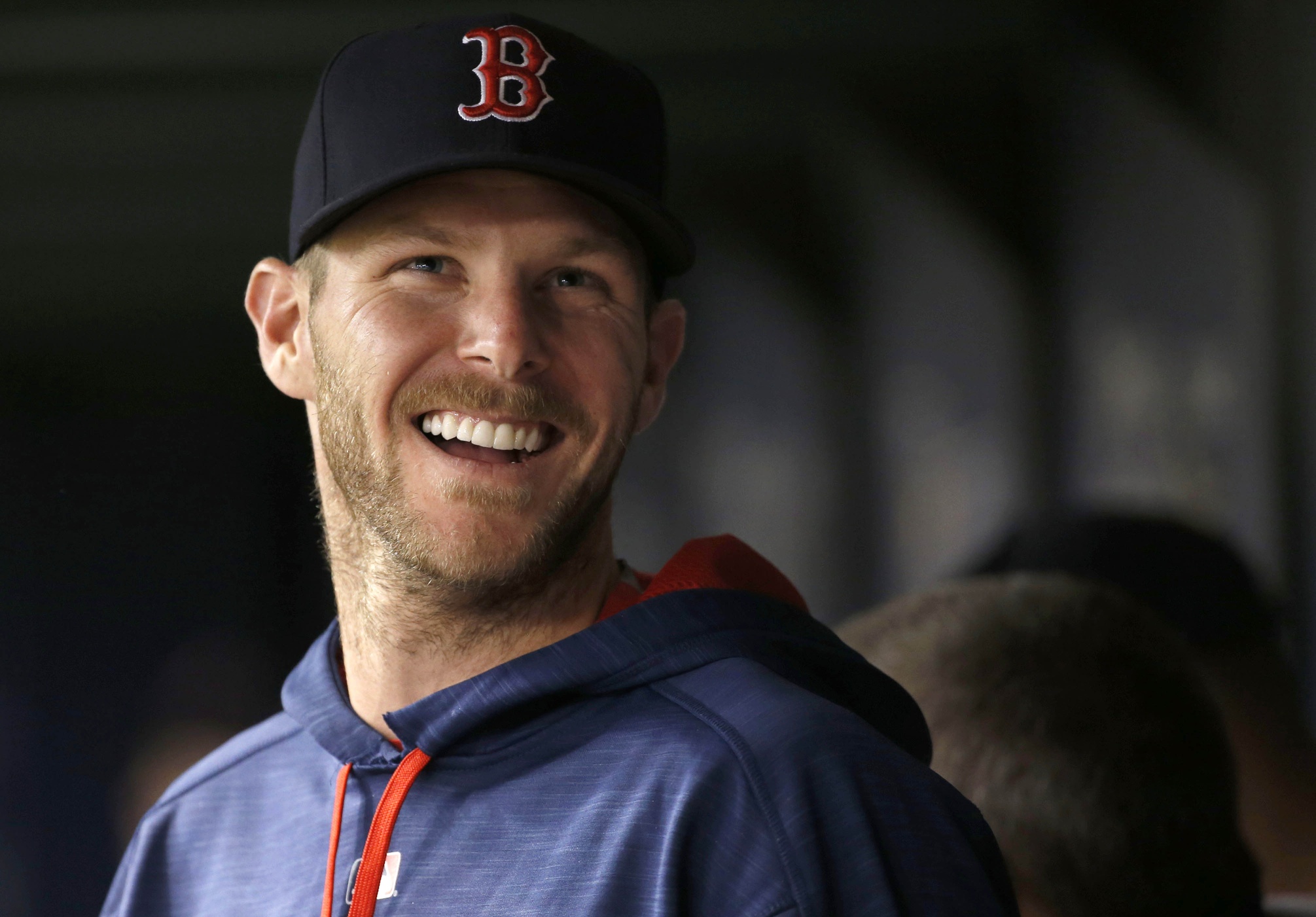 Stud
Chris Sale – BOS @ LAA –$13,400 – There aren't many times where we can expect Chris Sale to be relatively low owned, but I think Boston's ace gets skipped over by most tonight. For starters, you can save money and still roster Max Scherzer at $12,700, plus the Angels have one of the lowest team strikeout rates in the league. That total has been on the rise of late though, and pretending that Sale has anything less than double-digit strikeout upside is a mistake. It's a great park shift for him, too.
Other Options – Alex Wood ($11,800), Max Scherzer ($12,700)
Value
Aaron Nola – PHI vs. MIL – $8,400 – Aaron Nola is a $10,000 pitcher who's only $8,400 tonight. His swinging-strike rate is on the rise and he's facing a Brewers squad that's a little beat up, is facing a negative park shift, and has struck out 25.4% of the time this season against right-handed pitching. You can skip the top tier and not sacrifice a ton of upside here with Nola.
Other Options – Trevor Cahill ($8,300), Trevor Bauer ($6,200)
---
Catcher
Stud
Gary Sanchez – NYY @ SEA – $4,500 – The Yankees' backstop is consistently priced in a tier of his own and is a great contrarian play at the catcher position tonight. He'll hit second on the road in a negative park shift, but he's facing a right-handed pitcher in Andrew Moore who doesn't miss bats, and Sanchez has a slugging rate that's 100 points higher against RHP this season.
Other Options – Salvador Perez ($3,700)
Value
Francisco Cervelli – PIT @ COL – $3,300 – Francisco Cervelli is the cash game chalk at catcher tonight, and rightfully so. He's relatively cheap considering his recent form, with four multi-hit games in his last five starts, and the Pirates have a healthy 5.4 implied-team total tonight in Colorado.
Other Options – Mike Zunino ($3,300)
---
First Base
Stud
Joey Votto – CIN vs. MIA – $5,000 – I love this spot for the Reds' All-Star first baseman, facing Jose Urena at home in the Great American Ball Park. Urena has benefited from an unsustainable BABIP against left-handed bats, and it's only a matter of time before that comes crashing back down to earth. Votto is one of my favorite plays on the entire slate and will likely be low owned.
Other Options – Cody Bellinger ($4,900), Mark Reynolds ($4,700)
Value
Danny Valencia – SEA vs. NYY – $3,400 – I want to spend up at first base tonight because the upside at the top of the position is very high. If you're looking for savings at the position, though, I think Danny Valencia is in play if he's in the 2-hole tonight. He's been a lefty killer for most of his career and is facing C.C. Sabathia tonight in Seattle.
---
Second Base
Stud
Jose Altuve – HOU @ BAL – $5,100 – Rarely is Jose Altuve a bad play, but he's in a great spot tonight here against Ubaldo Jimenez. Baltimore's gas can is elite level bad when it comes to holding runners on. He's a perennial "leader" in both take-off-rate-above-average and swipe-rate-above-average, and I'd expect Jose Altuve to have the green light tonight when he inevitably gets on base.
Other Options – Daniel Murphy ($4,900)
Value
Cesar Hernandez – PHI vs. MIL – $3,300 – Brewers' starter Matt Garza hasn't been quite as terrible as he's been in past seasons, but I'm still looking to use left-handed bats against him whenever possible. Cesar Hernandez is a cheap bat who'll likely lead off and he's a viable punt at the position tonight.
Other Options – Starlin Castro ($3,200)
---
Third Base
Stud
Nolan Arenado – COL vs. PIT – $5,600 – Fresh off a three-homer, 58 DraftKings point performance, you can expect Nolan Arenado to be very popular tonight. The Rockies have a slate-high 6.2 implied-team total at home against Trevor Williams, and you'd be foolish to stack Colorado bats and not use Arenado. Obviously, his upside is off the charts, but it might be worth pivoting elsewhere in tournaments due to the inflated expected ownership.
Other Options – Miguel Sano ($4,500), Justin Turner ($4,600)
Value
Mike Moustakas – KCR vs. CWS – $3,600 – A .567 slugging mark against right-handed pitching jumps off the page here for Mike Moustakas at this price point. Add in the fact that he and his Royals teammates have a 6.1 implied team total tonight against Home Run Derby pitcher, James Shields.
Other Options – Eduardo Nunez ($3,500), Josh Harrison ($3,700)
---
Shortstop
Stud
Corey Seager – LAD vs. ATL – $4,700 – The shortstop position isn't particularly deep tonight, but Corey Seager is pretty safe and his price is down $300 compared to Thursday's slate. He and the Dodgers are at home against Braves' right-hander Aaron Blair, who doesn't miss many bats and will likely have his hands full here tonight. Los Angeles has an implied-team total of 4.9 runs and that number continues to climb.
Other Options – Zack Cozart ($4,300)
Value
Marcus Semien – OAK @ NYM – $3,300 – Marcus Semien has made his way back towards the top of Oakland's lineup and has massive power upside at this price. He needs to be on your radar when facing a low swinging-strike pitcher like Steven Matz. He's a great play in cash games yet possesses the type of upside that we want in tournaments as well.
Other Options – Freddy Galvis ($3,500)
---
Outfield
Stud
Charlie Blackmon – COL vs. PIT – $5,700 – You have to consider Charlie Blackmon when he's at home against a below average right-hander and he's even more enticing tonight because he's locked in at the plate. He has a 51% hard-hit rate over the past two weeks, and he's seen a spike in fly ball rate and average hit distance as well. He's my favorite play in this game, regardless of price.
Other Options – Andrew McCutchen ($4,600), Aaron Judge ($5,200)
Value
Nick Williams – PHI vs. MIL – $3,500 – I'm doubling down on left-handed bats against Matt Garza. The Phillies' young outfielder has made a splash this week, with four consecutive multi-hit games, and he's penciled into the 3-hole in Philadelphia's lineup. He has massive upside at this price and will likely be very low owned.
Other Options – Lorenzo Cain ($3,600)
---
I am a promoter at DraftKings and am also an avid fan and user (my username is RyanFix) and may sometimes play on my personal account in the games that I offer advice on. Although I have expressed my personal view on the games and strategies above, they do not necessarily reflect the view(s) of DraftKings and I may also deploy different players and strategies than what I recommend above.